This is a review of the Atoll 11' inflatable stand up paddle board.
The Atoll is one of the best inflatable paddle boards available and well-loved by the paddling community. Personally, I had a ton of fun testing it. And a couple of things stood out for me.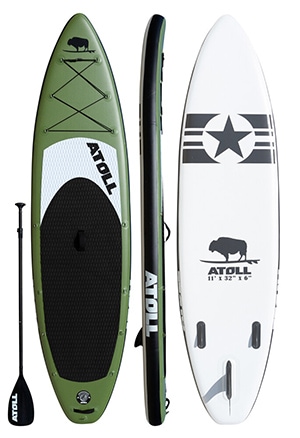 The Atoll 11 inflatable SUP balances speed, maneuverability, and stability so well. It glides fast enough to impress a pro paddler, yet remains stable and comfortable for the average beginner.
Its size and streamlined shape make the Atoll SUP one of the most versatile inflatable paddleboards. Anyone can use it for almost anything.
In this Atoll paddle board review, we go into detail about what the inflatable SUP is all about. Is it the right paddleboard for you?
Keep reading to find out.
But first…
Atoll Paddle Board Pros and Cons
SUP Board Specs
Length: 11'
Width: 32"
Thickness: 6"
Weight: 21 lbs
Weight capacity: 400 lbs (single rider), water tested with multiple riders at over 700 lbs
Who Should Buy the Atoll Inflatable SUP?
As mentioned, the Atoll 11 can do it all. Most people will love it, including heavier paddlers, yoga enthusiasts, families, and anyone looking for a high-quality board.
Bigger standup paddlers will want a board with a high weight limit. And the Atoll iSUP stands out in this area. It allows single riders up to 400 pounds. It has also been successfully water tested at 700 pounds with multiple riders. Regardless of your size, you can bring your gear, dog, child, or partner.
For yoga enthusiasts and beginners, stability is key. You will be comfortable on a SUP that doesn't wobble and one with a large enough surface for your poses.
Thanks to the weight limit, paddlers can now bring their kids or partners for company. This is a nice way to make memories while doing a fun exercise. I have paddled this board with my daughter. Together we weigh close to 300 pounds. I didn't have issues like sagging or riding low in the water at all.
In terms of where to paddle, The Atoll 11 SUP will be great in most water conditions. You can use it in the ocean, slow-moving rivers, and calm lakes.
Features of the Atoll 11 Paddle Board
Let's take a closer look at the features to see what makes the Atoll SUP awesome.
1. Performance
a. Stability
Having used the Atoll many times (and with a child on board) I can confidently vouch for it when it comes to stability.
You can only know exactly how stable a paddle board is when you use it. But some features can give you a pretty good idea of what to expect. They include the construction, width, and thickness.
The Atoll 11 inflatable SUP is made using dual-layer PVC. (More on the construction later). The use of two layers instead of a single layer ensures reliable rigidity. Most single-layer PVC boards flex or bend, especially in the middle.
This mainly happens with bigger paddlers.
The Atoll 11's two layers of the highest quality PVC give the board outstanding rigidity. It is as stiff as a solid SUP when inflated, hence the high weight limit.
When it comes to the width, wider paddle boards are more stable. They are easier to gain and maintain balance on, something that can be tricky for beginners.
The Atoll iSUP is 32 inches wide, which is just right for paddlers of all skill levels and sizes. It ensures stability without hindering speed.
So, how does a paddle board's thickness affect stability?
The relationship between thickness and stability is tricky. This is because it depends on a few other factors, such as the materials used and the rider.
But generally, thicker inflatable boards have more volume and are more rigid. This allows them to handle more weight, like the Atoll boards. They are also less likely to flex. As you can imagine, a SUP board that bends can't be stable.
b. Maneuverability
The Atoll 11 SUP may be slightly long but it is surprisingly easy to maneuver. Its responsiveness is commendable, regardless of your size.
Usually, longer paddle boards can be difficult to handle.
I found the Atoll board a joy to paddle. It will not frustrate you when you have to make quick sharp turns. So if you paddle a river with a lot of obstacles, you will love it.
Can you imagine how frustrating your SUP experience would be if you can't control the paddleboard? The best SUP is one that is responsive—it turns when and goes where you want it to. And that depends on its length and width in relation to your height as well as its fin setup.
The Atoll paddle board is not too wide that a short person will strain to make a proper stroke. And even though shorter boards are more maneuverable, it is not too short to the point of poor tracking. This is the balance I'm talking about.
The inflatable paddle board also has a tri-fin system. The side fins enhance maneuverability, especially when paddling rivers.
Once you get comfortable on the Atoll 11 SUP, you won't have a problem doing all kinds of cool techniques and tricks.
c. Tracking
Tracking is a very important aspect of a paddle board's paddling performance. It refers to the ability of a stand up paddle board to travel in a straight line.
A paddleboard that tracks poorly snakes all over. You will be forced to change paddling sides more often than you should. It is both tiring and frustrating.
Your paddling technique plays a huge role in this, and so does your paddle board.
The Atoll inflatable paddle board has three fins: a center fin and two small side fins. The 8-inch composite center fin does a great job in making the SUP go straight. The side fins support that function, more so when a bigger paddler is riding.
d. Speed
The discussion about the Atoll's paddling performance wouldn't be complete without talking about speed.
The Atoll board won't have you winning any serious races, especially if your competitors will be paddling actual racing SUPs. But with regular paddleboarding, you will love the speed.
The Atoll 11 inflatable paddle board has managed to strike an impressive balance between speed and stability. It has a pointed nose, narrow tail, great length, and medium width.
In an attempt to enhance stability, most manufacturers go for a 34- to 36-inch width, a rounded nose, and a wide tail. This makes the boards ultra-stable but they end up being sluggish.
By being moderate with these features, the Atoll Board Company made a paddleboard that is decently fast without sacrificing stability. So you get a versatile paddle board that is both quite stable and fast.
I should also mention that this paddleboard glides very smoothly. It's something I noticed and appreciated.
2. Build Quality
The Atoll inflatable SUP is built using machine-laminated dual-layer PVC. It is the strongest and lightest material available for making inflatable paddleboards. The board also features Korean Dropstitch technology.
Almost every blowup board you come across will be made using PVC. You may be led to think that their quality is not very different. But there's a reason why some are cheap and some cost more—or why some last while others don't.
The construction technology and the number of PVC layers matter. The Atoll features advanced dual-layer PVC construction.
This military-grade construction results in a high-quality paddle board that can take a beating. The manufacturer also offers a 2-year warranty, which shows confidence on their part.
Want to know exactly how durable the Atoll iSUP is? Check out the video below of someone driving over it with a car! You won't see so much as a scratch.
The incredible construction of the Atoll board enhances rigidity, making it easy to hold 700 pounds.
What is even more interesting is the weight of this inflatable SUP. Despite being that rugged, it only weighs 21 pounds! It is one of the lightest inflatable paddle boards you will come across. Carrying it is so easy. Even my kids have no problem carrying the board between them.
3. Design
One thing I like about the Atoll 11 inflatable is its clean and sleek design. It is gorgeous. No bold prints and the colors are muted.
The SUP is available in the following colors: army green, light blue, desert sand, and aquamarine. Many people love the army green (myself included). The light blue one looks nice as well— they all do.
These muted colors are perfect for outdoorsy paddlers who will love the way the colors blend with nature.
4. Atoll Board Features
Other than performance, there are other features that make a stand up paddle board worth considering. They provide convenience and comfort.
a. Fins
The Atoll 11 inflatable stand up paddle board has a 2 + 1 fin system: one large center fin and two smaller side fins. The center fin is removable but the side fins are not. Some people love the option of customizing their fin setup. So hopefully, the Atoll board will have all removable fins in the future.
However, the Atoll SUP folds compact even with the small fins still there.
The board features a universal fin box. The fin box allows you to use different aftermarket fins, depending on where you will be paddling.
Fins help with maneuverability, tracking, and general performance in different water conditions.
b. Deck Pad
A large part of the Atoll 11 SUP board is covered by a soft deck pad. The diamond traction pad is made of EVA foam.
It provides a grippy surface to ensure you stay on the board. Wet paddle boards can be slippery and you don't want to keep sliding.
The EVA foam traction pad is also as soft as a yoga mat. So it offers a comfortable surface for your feet and also a child or dog (if you decide to bring company).
You can use the traction pad as a yoga mat too. The Atoll 11 inflatable paddle board is stable enough for fitness and yoga. So, why not?
c. Handles
Can you imagine trying to carry an 11-foot inflated SUP, weighing 21 lbs, without a grab handle? It would be a pain.
Luckily, you won't have to do that with the Atoll 11 SUP. It has two carry handles, one at the center and another one at the tail.
The center grab handle features a neoprene cover for comfort— quite a thoughtful feature. The tail carry handle doesn't have a neoprene cover though.
It would be nice if Atoll Board Company added a grab handle at the nose. It would make it easy for two people to carry the SUP board.
d. D-rings
One of the best things about inflatable paddle boards is how customizable they are.
The Atoll 11 SUP board has a total of 15 D-rings. Six of those have a bungee cord attached and one is at the rear for your leash. The bungee cord storage allows you to bring the stuff you need for your trip.
You can attach whatever you want to the rest of the D-rings. For a long touring trip, a kayak seat would be great. You will be able to alternate between standing and sitting so you don't get too tired. Or maybe you can attach a paddle board cooler. Use it for your drinks and a seat as well.
e. Package
The Atoll 11 SUP package includes a paddle, leash, backpack, pump, and a repair kit.
There were complaints before about the Atoll travel bag. The Atoll Board Company listened and made a few changes. The new backpack is heavy-duty and doesn't come apart easily. It has heavy-duty zippers and the straps are padded for added comfort.
Previously, the Atoll board used to come with an aluminum paddle. But now you get a carbon fiberglass paddle with a nylon blade. The 3-piece is adjustable and breaks down for storage.
This goes to show that the manufacturer actually listens to paddlers.
The dual-action high-pressure hand pump is easy to use. At least you won't be out of breath before you even hit the water.
The 10-foot coil leash is so comfortable. You will forget you have it on.
f. Optional Accessories
The Atoll Board Company also has some cool stuff for convenience, comfort, and a stylish paddling look.
You can buy a river fin, electric pump, a PFD for SUP, etc. I highly recommend the electric pump, especially if you paddle a lot. You will significantly reduce the time you use to inflate and deflate your Atoll SUP.
They also have branded apparel like tees, tank tops, sweatshirts, towels, and stickers. These are for the paddlers who want to be comfortable and look stylish.
What Users Are Saying
Most of what is discussed above is based on my experiences and what the manufacturer says. So I scoured the internet to see if other paddlers agree.
One Redditor was torn between the iRocker All Around 11 and the Atoll 11—both amazing options. So they went on Reddit to get the opinions of other paddlers.
Flowbacknomad says they have the Atoll, Isle SUP and a Bote Aero Flood SUP boards. According to him, the Atoll 11 SUP board is the best of them all. He has paddled fresh water, saltwater and rivers without an issue. He even brings fishing gear and refreshments on his Atoll 11 inflatable stand up paddle board.
Another user, StealYourPhace, agrees with him. He brings fly fishing gear and a small yeti on his Atoll 11. He also uses it as a workout paddle board.
Further down, another Redditor, Frumunda_Mabalzz says that they own two Atoll 11 SUP boards. He has used them heavily for four years, and sometimes he doesn't even rinse off the saltwater (not recommended, by the way). The Atoll boards still perform well. He says that if he ever has to buy a blowup SUP again, he will go for an Atoll inflatable SUP.
Moving on.
With quarantine and everything, Lincoln and his wife started researching stand up paddle boarding. They hadn't decided to get an inflatable yet. Then he came across the Atoll inflatable SUP online.
Being a Marine veteran, the design captured his attention. And when he saw the SUV torture test, he didn't need any more convincing. He says the Atoll 11 board maneuvers well and he is always showing it off.
Jay loved his Atoll 11 inflatable SUP so much, he bought two more— one for his daughter and another one for his son. The paddleboard is stable and a joy to paddle. He also can't praise the customer service enough. Shipping the boards to his kids, who live in different cities, was a smooth experience.
Atoll 11 Inflatable SUP Alternatives
There are other inflatable SUPs that are often compared to the Atoll inflatable paddle board. Let's take a look.
1. Atoll vs iRocker Cruiser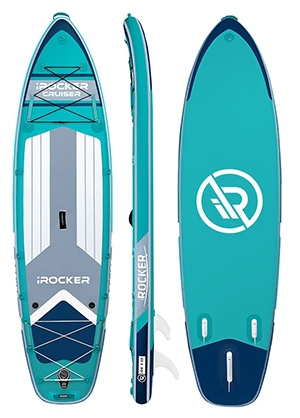 The iRocker Cruiser inflatable paddle board measures 10'6 x 33" x 6". It is shorter and wider than the Atoll 11 inflatable SUP. This makes it more stable but slower. It would be ideal for someone who is looking for extra stability and is not concerned about speed. This could be a total beginner or yoga enthusiast.
The Cruiser inflatable SUP package includes a wheel-compatible backpack, twin-chamber hand pump, 3-piece SUP paddle, and a leash. The triple-action pump has an integrated pressure gauge. It makes inflation 50% easier.
The iRocker Cruiser board is slightly more customizable than the Atoll 11 SUP board. In addition to 20 D-rings, it has 4 action mounts for gear. So it is more suited for anglers, while the Atoll 11 leans more towards touring. The Cruiser has one more grab handle than the Atoll 11 board too.
Unlike the Atoll inflatable SUP board, the Cruiser comes in some really bright colors. So if you prefer bold designs to sleek ones, you might like the Cruiser.
2. Atoll vs iRocker All-Around 11
The iRocker All-Around inflatable board is similar to the Atoll iSUP board in many ways.
First, they are both 11' x 32" x 6". So the difference in their performance is negligible. But the Atoll 11 board is lighter by 5 pounds.
The iRocker All Around 11 also has a tri-fin system. But all its fins are removable, unlike with the Atoll 11 board.
Both inflatable paddleboards are versatile and ideal for almost any paddler. They also come with a 2-year warranty.
The main difference between these two is in the design. The Atoll 11 board has a clean, sleek design and muted colors. The iRocker All Around has bolder colors like orange.
The All Around 11 board features an all-inclusive package, just like the Atoll 11 board. It includes a 3-piece paddle, backpack, triple-action hand pump, repair kit, and a leash.
The hand pump has a pressure gauge and makes inflation 50% easier. (The Atoll paddle board comes with a dual-action pump). Its carbon blend paddle has a nylon blade as well.
You may also notice the large traction pad that extends to the back. So the iRocker would make a good yoga paddle board. It has more D-rings and attachment points compared to the Atoll 11 board too.
The iRocker All Around board would be ideal for the paddler who doesn't mind, or even loves, bright colors. You will have six of them to choose from.
You might also like this board if you want to have more attachment points for your gear. This is nice, especially for anglers.
The Atoll 11 board is more suited for the paddler who likes a polished design. It has enough features but the deck doesn't look too busy. That minimalist appearance is unique and easy on the eyes.
You will also love the Atoll if you want an inflatable paddle board with a higher weight capacity.
Conclusion
The Atoll 11 board has gained a lot of popularity, and it's not just because of its classic design.
The perfect balance between stability and speed is one of its strongest points. It is a versatile board that you can use anywhere— the river, lake, or ocean. And anyone in the family can enjoy it.
The incredible weight limit of the Atoll 11 inflatable SUP is also commendable. Regardless of your weight, you can ride it with no problem. And if you like, you can bring your partner or your furry friend. It can handle all of you.
Lastly, the Atoll 11 board comes with everything you will need to start paddling. And all the SUP accessories are quality.
So why not check it out? You'll love it!
Happy paddling!