With all the inflatable paddle boards on the market, having to pick just one can quickly become frustrating. There are just so many models with different designs, all priced differently. How do you know which paddle board is right for you?
I understand this all too well, which is why I'm happy to help by telling you all about my top 10 inflatable boards. I made sure to include something for everybody–beginners, yogis, those on a budget, touring enthusiasts, and more.
There's also a buying guide further below to help you pick the best paddle board for your needs. I tested lots of inflatable paddle boards and most of them were impressive. But my favorite one so far is the Atoll paddle board. Read on to see why I love it and for more inflatable board reviews.
Best Inflatable Paddle Boards Compared
Best All-Around Inflatable Paddle Board Reviews
If your on a low buget, you could consider these cheap inflatable paddle boards. However, keep in mind that you generally get what you pay for. The boards below will be more durable, come with higher end accessories and will usually give you a better paddle boarding experience.
Read on for my reviews of the best inflatable paddle boards.
1. Atoll – Best All-Around Inflatable Paddle Board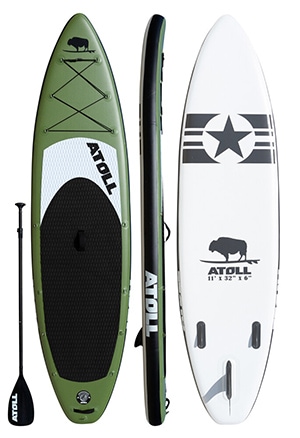 As mentioned, the Atoll iSUP perfectly balances speed and stability. It measures 11' x 32" x 6". It is just wide enough to make it decently stable, but not too wide. So the resistance is not much.
This means that you can comfortably use it for cruising leisurely with your kid or dog. I have personally ridden it with my daughter on board. It holds well and you will have a blast.
For the intermediate paddlers who like speed or touring enthusiasts, you will love how fast the Atoll glides. It is easy to maneuver and makes for a very smooth ride. Besides, it has sufficient attachment points. You can attach a kayak seat and anything you need for your trip.
Another thing that stands out about the Atoll 11 is the construction. It is built using machine-laminated dual-layer PVC and Korean Dropstitch technology. Military-grade PVC is the toughest inflatable SUP material. The paddleboard is virtually indestructible. It can take almost anything– perfect for adventurous SUPers.
For a single-rider paddleboard, the Atoll paddle board has an exceptional weight capacity. It is recommended for riders up to 315 pounds. It has been successfully water tested at over 550 pounds with multiple riders.
This, plus the incredible construction, results in a paddleboard that can be used by paddlers of all sizes.
Lastly, the Atoll inflatable SUP package is amazing. You get a leash, manual pump, heavy-duty backpack, and a carbon fiberglass paddle with a nylon blade. The paddle is lightweight and fun to use– you won't even need to upgrade. The only thing you have to buy is a PFD and you can begin your adventures.
I'd recommend the Atoll for anyone, really. Beginners, intermediate paddlers, and families. Also read my review of the Atoll paddle board.
2. iRocker Cruiser – Most Popular Inflatable SUP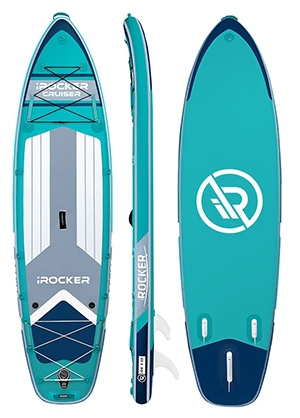 There is a reason why the iRocker Cruiser is the most popular inflatable SUP board on this list. It delivers.
iRocker uses a triple-layer PVC construction to make the Cruiser. This military-grade construction is just as tough as the quad-layer construction. But it's 20% lighter. When fully inflated to 15 psi, it can hold up to 400 pounds. And iRocker SUPs have a reputation of being remarkably durable.
With a two-year warranty on the inflatable paddle board, you know you are getting value for your money
Something else that paddlers love about this paddle board: its attachment features. The Cruiser has two bungee cargo areas, four multi-use action mounts, and 20 D-rings.
Do you usually bring a lot of gear on your trips or like the idea of customizing your inflatable SUP?
If you answered yes, the iRocker Cruiser paddle board may be right for you. You can attach a kayak seat, rod holders, camera, iRocker speakers and so much more.
In a few minutes, the Cruiser 10'6 can go from being a recreational SUP to a fully-rigged fishing SUP. Talk about versatility.
The iRocker Cruiser measures 10'6 x 33". Speed is not its strongest area. But the dimensions make it a fantastic entry-level inflatable SUP. If you are a beginner, you will love learning on this board. It is rigid and stable– great for SUP yoga too.
While the Atoll seeks to balance speed and stability, the Cruiser is built more for stability.
The Cruiser has three grab handles for easy carrying and three removable fins. You will be able to customize your fin setup to suit different water conditions. The board also has an extra-comfy deck pad that doubles as a yoga mat.
The iRocker Cruiser package includes everything you need to start paddling right away. It comes with a carbon-blend paddle, coil leash, twin-chamber hand pump, and a wheel-compatible backpack. Also read my in-depth review of the iRocker Cruiser.
Check Price of the iRocker Cruiser
3. Blackfin X – Best Yoga Paddle Board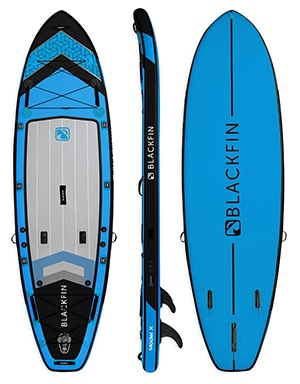 The Blackfin X is the most stable inflatable SUP board on this list.
Measuring 10'6 x 35", it has a nice wide platform that doesn't feel tippy. It is a good board for someone learning how to SUP.
The size of the Blackfin also makes it an awesome yoga paddleboard. As you can imagine, doing poses on the water is challenging. It helps to have a wide SUP so you don't fall in every time you are transitioning from one pose to another.
Besides, it has a large comfortable deck pad that doubles as a yoga mat for comfort.
Wider paddle boards, as pointed out above, are slower. So this is not the best inflatable paddle board for speed.
The Blackfin Model X has even more gear attachment points than the iRocker Cruiser. It features 20 D-rings, two bungee cargo areas, and eight multi-use action mounts. You can attach a fishing rack, sand spear, camera, speaker, kayak seat, and whatever else you want.
If you are an outdoor enthusiast who likes trying out new SUP activities like fishing and camping, you might love the Model X. The attachment points, weight capacity, and space allow you to bring what you need. Or who you need. There is room for a friend.
iRocker doesn't play when it comes to the construction of their paddleboards. The Blackfin X is built using triple-layer composite PVC construction. This and the carbon rail result in one of the most rugged inflatable SUPs you can find.
When fully inflated to 15 psi, the Model X can hold up to 450 pounds. It can accommodate heavier paddlers and endure rough conditions.
One of the best things about the Blackfin Model X SUP is probably its package. The board comes with a backpack, paddle, dual-chamber manual pump, and a leash. The backpack is heavy-duty, looks good, and has wheels. Transporting your paddleboard has never been easier.
The paddle has a full carbon shaft. It is light and durable. Unlike with an aluminum paddle, you don't need to upgrade. Carbon paddles are the best in terms of weight and efficiency.
All the fins on this SUP board are removable. You are free to customize the setup for maximum paddling performance.
The Blackfin X is one of the most customizable inflatable SUPs out there. It would also be my top pick for a family board. It has a large platform, a high weight limit, and is rigid and stable.
4. Bluefin Sprint Carbon – Best Inflatable Touring SUP
The Bluefin Sprint Carbon is designed to be a performance paddle board–and it delivers.
The paddle board is long and narrow, measuring 14' x 30", with a pointed nose. It glides smoothly, with remarkable speed, thanks to this streamlined shape which minimizes resistance.
While the shape is great for speed and tracking, it doesn't really help with stability. A narrower board doesn't make for a stable board, so I wouldn't recommend the sprint carbon for beginners, as they might find it a little too tippy.
In terms of quality, however, I found the quality of this paddle board to be impressive. It features the densest drop stitch pattern on the market and exo surface laminate PVC construction – making it stiff and durable. On top of that, it has a carbon fiber rail layer that works to eliminate flex. The result is one of the most rigid inflatable SUPs available to buy!
The Bluefin Sprint Carbon also features two inflation chambers: the main air chamber and a central inflation loop. Even if the main chamber is punctured, the SUP can still float on the inflation loop which is a cool and amazing safety feature.
The Sprint Carbon is long and this can make it hard to maneuver. But it has a kick pad feature that makes it easy for you to turn quickly when necessary.
I love the iSUP package which includes a carbon fiber paddle, travel bag, waterproof phone case, dual-chamber pump, and a coiled ankle leash. The paddle is lightweight and efficient–it's perfect for long-distance paddling.
Lastly, the Bluefin Sprint Carbon paddle board comes with a five-year warranty. This should eliminate any final doubts you might have about purchasing! If you're a competent paddler and you want a fast board that performs well – this one is for you
Check Price of the Bluefin Sprint Carbon
5. Bluefin 10'8 – Best Budget/Cheap Inflatable SUP
Some of the inflatable paddle boards on this list are not cheap. But that doesn't mean that you can't get a quality SUP if you are a beginner. Or if your budget is tight.
The Bluefin 10'8 is the best inflatable SUP for anyone on a budget. For what it offers, honestly, it's a steal.
First, let's talk about the package.
This paddle board comes with a backpack, paddle, leash, and a pump. While many stop there, Bluefin throws a kayak conversion kit in there too. The backpack has wide straps and extra padding for comfort. The lightweight paddle is made of fiberglass which is amazing, for the price.
With the Bluefin 10'8 package, you have a SUP and kayak all in one. And at an affordable price.
The price point may have you wondering about the quality.
But the paddleboard is made using exosurface laminate technology. According to the manufacturer, their dropstitch pattern is the densest on the market. On top of that, it features heat-welded double-sided rails. And the company offers a five-year warranty.
It really is a solid and reliable paddleboard.
The Bluefin measures 10'8 long. The speed is decent, especially because it also has a pointed nose. The board is 32 inches wide and 6 inches thick. The width is great for both stability and performance.
This would be a great paddleboard for short cruises and recreational paddling.
Check Price of the Bluefin Cruise
6. iRocker All-Around 11
Here is another inflatable paddleboard that can do it all.
The iRocker is a true all-around inflatable SUP. Anyone can use it, in any water condition for any SUP activity.
At 11' x 32", it balances speed, maneuverability, and stability. You can use the iRocker All Around for yoga, touring, fishing, paddling with family, and much more.
The iRocker All Around has 20 D-rings, four multi-use action mounts, two bungee storage areas, and four safety handles. If you have a child on board, they can hold on to the safety handles. The attachment points make it so easy to customize the all-around paddle board. And to add to that, all the fins are removable.
This inflatable SUP is constructed using triple-layer composite PVC construction. When fully inflated to 15 psi, it can hold up to 435 pounds. It is one of the best inflatable paddle boards for heavier paddlers. Despite being so rugged, it only weighs 26 pounds. You will find it easy to transport it anywhere.
Like all iRocker stand up paddle boards, the iRocker All Around board comes with a backpack, paddle, pump, and leash. The carbon blend paddle is lightweight, durable, and fun to use. It won't strain your arms.
The SUP is easy to inflate, thanks to the triple-action hand pump. It works better than a dual-action pump. You might also love the backpack. It has a beautiful design and is made to be comfortable.
The iRocker All Around is best for the paddler who likes to try different SUP activities. Also read our review of the iRocker All Around 11.
Check Price of the iRocker All Around
7. Bluefin Cruise Carbon 12
Inflatable SUP boards designed for performance can be costly. If you are looking for a SUP that costs slightly less, I'd suggest the Bluefin Cruise Carbon 12.
Like the other Bluefin SUP board, this one comes with high-quality accessories in the package. They include a leash, paddle, backpack, pump, and a kayak conversion kit.
Converting the inflatable SUP board into a kayak takes less than five minutes. If you are going on a long trip, you can quickly switch between sitting and standing.
The carbon-fiber paddle is lighter and more durable than the aluminum paddles you get with cheap inflatable SUP boards. The manual pump has a high-pressure gauge and ergonomic grip. It makes it easy to inflate the Bluefin Carbon 12.
As far as quality goes, Bluefin SUP Boards have a great reputation. They use exosurface laminate technology on all their inflatable paddle boards. The Bluefin Cruise 12 has a five-year warranty and the manufacturer claims that it will last a lifetime.
The board measures 12' x 32". And it has a pointy nose. You need speed while touring and the Bluefin will not disappoint. It has a tri-fin system to help with maneuverability and tracking as well. The side fins are removable but the center fin is not.
The kick pad feature is unique to Bluefin SUP boards. It facilitates quick sharp turns. Those can be hard to make, especially with longer paddle boards. So this is quite an innovative feature.
Other board features that make this a top SUP for touring include enough D-rings for gear attachment and two bungee storage areas.
RELATED: Read of full review of the Bluefin Cruise Carbon 12′
Check Price of the Bluefin Cruise Carbon
8. Gili Adventure 11'
Do you consider yourself adventurous? Do you like exploring secluded spots on your stand up paddleboard?
Well, the Gili Adventure might just be the best inflatable SUP board for you.
This 11' x 32" paddle board is fast yet stable. The increased rocker and pointed nose promote performance. The 32-inch width ensures reduced resistance without sacrificing stability.
It is good for beginners as well as experienced paddlers. It will work well in most water conditions.
To make it a complete adventure board, the Gili has two six-point bungee storage areas. It also comes with lots of D-rings. You can bring a SUP cooler, which can act as a seat too, and everything else you need to stay safe and have fun.
The brushed EVA deck pad ensures comfort for extended periods.
The Gili Adventure 11 SUP package includes a pump, paddle, backpack, and ankle leash. You can choose between a fiberglass paddle and a carbon fiber paddle. The high-pressure dual-action pump inflates on both the downstroke and upstroke.
The Gili Adventure is high quality and affordable. And every time you buy Gili inflatable paddle boards, a portion of the sale goes into saving the ocean and sea creatures. So you get an awesome inflatable SUP and contribute to saving the environment.
Check Price of the Gili Adventure
9. Nixy Newport All-Around SUP 10'6 Review
If you are looking for a design that stands out, you may want to check the Nixy Newport out. It comes in multiple colors and some of them are quite bold.
The Nixy Newport inflatable stand up paddle board is 10'6 x 33". The size makes it a good beginner and fitness paddleboard. It is suitable for the paddler who likes cruising leisurely on rivers, lakes, and small surf.
The inflatable paddle board features military-grade, dual-layer fusion-laminated dropstitch technology. The manufacturer offers a risk-free 30-day return and a two-year warranty. And don't worry about using it in the sun. The soft non-slip deck pad is UV-protected.
The Nixy Newport stand up paddle board comes with a bag, paddle, pump, and leash. The bag is heavy-duty and has three wheels. You can go with the SUP wherever you wish. Transport won't be a problem.
The high-pressure triple-action hand pump makes it easy to inflate the Nixy Newport. The carbon fiber hybrid paddle is lightweight and adjustable.
With this package, the only thing you have to buy is a PFD and you're good to go.
Check Price of the Nixy Newport
10. Thurso Surf Waterwalker Inflatable Paddleboard
This is one gorgeous stand up paddle board. It has a wood graphic that was scanned from real wood to give it that authentic look. But the Waterwalker's beauty is not all there is to it.
The Thurso Surf inflatable SUP board is an all-around. It is available in three sizes, a 10-foot, 10'6, and an 11-foot paddle board. They can all be used for touring, surfing, yoga, and paddle boarding with your pet.
All three Thurso SUPs are 32" wide. You are free to choose the length that will work for you based on your size and how you prioritize speed.
A longer board is likely to have better speed. So the 11' x 32" Waterwalker is slightly faster than the rest. A shorter one is easier to steer, especially for smaller paddlers and teens.
The board features a GoPro mount at the nose so you can capture all the special moments. It has a lot of D-rings and bungee cargo storage for your gear. When going on a long trip, these will allow you to bring sufficient gear and even a kayak seat. The center fin and side fins are removable.
The ready-to-paddle package includes a backpack, paddle, manual pump, and a leash. The paddle has a carbon shaft, which is nice because you won't have to upgrade. The backpack, like the inflatable SUP, features a gorgeous design. It has wheels too for easy transport.
The Thurso Waterwalker is built using military-grade double-layer construction. Its carbon rails enhance rigidity. The reinforced seams will have you using the inflatable paddleboard for a long time.
This paddleboard is perfect for the paddler who wants a beautiful, yet high-quality SUP.
Check Price of the Thurso Waterwalker
How to Choose an Inflatable Paddle Board
From the above list of the 10 best inflatable boards, how do you pick one?
Well, check out this comprehensive guide.
Make an Informed Decision
Don't choose an inflatable stand up paddle board because it looks good or is cheap. Those are important factors, but they shouldn't be the only determining ones. This is, especially, for people buying their first SUP board.
Manufacturers use very enticing language and you can easily buy the wrong board.
Here is a step-by-step method to help you pick the best inflatable SUP for yourself.
Step 1: Determine Your Budget
Some inflatable SUP boards cost less than $200, while others will see you part with $2000+. One thing is for sure though, you get what you pay for.
If you want a high-quality board you should be ready to spend some money. A cheap SUP won't last. You will be back looking for another one in no time.
Think of this as a one-time purchase. Invest in a good paddleboard that can last a lifetime.
There are good paddleboards in the $500 to $800 price range, like the Bluefin Cruise 10'8. But if you want an exceptional and versatile board, you have to set your budget above $800.
Some intermediate and pro paddlers don't mind splurging on a paddle board. If money is not an issue for you, high-end SUPs are a great option. This is more so for the SUPers who want to venture into a particular SUP activity, such as racing.
High-end models are made for specific purposes and their performance is impressive.
RELATED: Why are paddle boards so expensive?
Step 2: Consider the Types of SUP You Intend to Do
Stand up paddle boarding is a diverse activity. There is SUP fishing, yoga, surfing, whitewater, touring, and relaxed cruising. I have recommended the different paddle boards above for various activities.
This is a nice factor to help you narrow down your options.
But what if you haven't decided or can't decide?
That's what all-around stand up paddle boards are for. The iRocker All Around, for instance, will be perfect for almost all of these activities.
For yoga and fitness, pay attention to the deck pad. You want a large one so you can have enough room to practice your poses.
Step 3: Determine What Size SUP Board You Need
The size of a paddle board determines its performance. So in determining what size paddle board you need, you'll need to take the type of paddle boarding you want to do will into account.
For all-around use, you are better off with a 10- to 11-foot long and 31- to 33-inch wide board. If you want more speed, for racing or touring, pick a longer SUP, 12+ feet long. For surfing, keep the length below 10 feet.
Your size should also guide you in choosing a SUP board size, mainly if you are bigger. Most small paddle boards have low weight capacities. And you should always be way under the given weight limit. The closer you get to it, the poorer the paddling performance will get.
Find a paddle board that is slightly wider, 33+ inches wide, unless you are experienced and performance is important.
Another tip for the heavier guys, keep in mind the thickness and volume of the SUP. Smaller paddlers can get away with riding 5-inch thick paddleboards. You may not.
Thicker SUPs, 6-inch thick, are more rigid and stable. They are less likely to flex with heavy paddlers.
Step 4: Make Your Choice
Now that you know what SUP activity you will be doing, the right size, and your budget, pick a board.
The list above has something for everyone: touring enthusiasts, yogis, people looking to paddle board with their kids/pups, etc.
Inflatable Vs Solid Paddle Board: Which One Is Better?
Anyone looking to get into paddle boarding has to choose between an inflatable and solid SUP.
Solid or traditional boards don't require inflation/deflation. You can't roll or pack them into a backpack for storage either. This means that storage and transport could be a frustrating experience for you.
They may not be as bulky as kayaks. But if you live in a small apartment and far from the water, a solid SUP may not be ideal.
However, these traditional stand up paddleboards perform remarkably. They have less drag and they will impress you with their speed and tracking. Those made using fiberglass and carbon fiber, in particular, are outstanding.
Besides, you never have to worry about inflating and deflating your SUP every time.
What about inflatable SUPs?
Check out their pros and cons.
Advantages of an Inflatable SUP
The popularity of inflatable paddle boards continues to increase. And it is not hard to see why.
Inflatable SUPs are Durable
Most inflatable paddleboards are built using military-grade PVC. Keep in mind that some manufacturers use dual-, triple- and even quad-layer PVC construction. The result is a paddleboard that can take pretty much anything.
Just go on YouTube and search for SUP board durability or torture test. You will be surprised by what the boards can handle.
You cannot do any of these tests with a traditional paddleboard.
And who wouldn't want a stand up paddleboard that can handle anything? Your cute pup can't dig into it and you won't have to worry when you bump into stuff. You are free to be as adventurous as you wish.
ALSO READ: How long do inflatable paddle boards last?
iSUPs are Lightweight and Compact
This is one of the top reasons why people buy inflatable boards. Not everyone has a lot of storage space. And transporting a solid SUP is not the easiest of tasks.
A deflated blow-up paddleboard can fit under your bed or in the closet. You can put it in the backseat of your small car while traveling. Additionally, most of them weigh below 30 pounds.
Paddlers bring their iSUPs on planes all the time.
Imagine how awesome it would be to travel with your paddleboard wherever you want. There are tons of breathtaking SUP spots all over the country. An inflatable allows you to explore them all with your own board. You won't have to rent.
Inflatable Paddle Boards are Affordable
There are many cheap solid paddleboards and there are crazy expensive inflatable boards.
But generally, inflatable SUPs are more affordable compared to solid boards.
As already pointed out, many inflatable paddleboards cost less than $500. Some boards in this price range are actually high quality. You can't say the same for cheap solid stand up paddle boards.
To get quality you will have to spend a significant amount.
Note: be careful while buying a cheap blowup board. Whoever said you get what you pay for didn't lie. There are a few reliable ones but most of them will be disappointing. Check customer reviews to see what other users are saying. Reddit is a great place for honest feedback.
iSUPs are Soft and Safe (When You Fall and Hit the Board)
Falling when paddle boarding is expected. It is part of the fun– unless the water is super cold. Even pro paddlers fall sometimes.
If you take SUP lessons, you will be taught how to fall. This usually involves trying to fall away from the board, not on it.
But even with this skill, falling on a SUP board is not unheard of. When that happens, you will be happy you chose an inflatable paddle board over a traditional one.
Fully inflated paddleboards may be rigid but they are still soft compared to solid boards. It is unlikely that you will get hurt if you fall and hit one.
This also makes them pet- and child-friendly. Hard paddleboards can be uncomfortable for dogs and kids. With the soft surface of an inflatable, they can stay on the board for longer.
Cons of Blow Up Paddle Boards
It would be dishonest to try and paint inflatables as perfect. They are wonderful, but they have a few downsides.
Inflating Takes Time (Deflating, Too)
Inflating a board can be tedious and time-consuming. It is even less enjoyable with a hand pump. Getting a SUP to 15 psi or higher can be a workout.
Some people have to squeeze paddle boarding into their schedule. The process of inflating and deflating can be a waste of precious paddling time. It will be even more frustrating if you paddle frequently.
Luckily, SUP electric pumps are an option. You can buy one with your SUP and get a discount (if buying from the manufacturer). Alternatively, find an affordable one on Amazon.
Inflatable SUPs Are Less Speedy & Agile
Solid paddle boards are slightly faster than blowups. They glide impeccably and are the best option for racing and surfing.
Inflatable SUPs have come a long way. You won't have a problem finding performance inflatables.
But if you are all about serious performance, a traditional board will be more suitable.
Inflatable Boards Can Sometimes Flex
Unfortunately, there have been reports of some inflatable boards flexing. When you are standing on them, they bend in the middle. This mostly happens with heavier paddlers and it creates an unstable and annoying situation.
It is a problem you will not experience with a traditional paddleboard.
Fortunately, quality inflatable stand up paddle boards are extremely rigid. You just have to be careful and make sure you pick a reliable brand. Remember to inflate to the recommended psi too.
Factors to Consider When Buying an Inflatable Board
What should you keep in mind when buying an inflatable SUP?
Here are the top factors.
1. Build Quality
All the best blowup stand up paddle boards have one thing in common: quality construction.
Check the material. The most popular material for making inflatable SUP boards is military-grade PVC. Almost every manufacturer uses it.
But that doesn't mean that every board made with this material is durable. The construction matters too. If the board is made with only one layer of PVC, you can't expect much from it. The rigidity and durability will most likely be underwhelming.
Although more layers translate to a longer-lasting board, they can also make the SUP bulky. So two or three layers are fine. Companies like Atoll and iRocker have found a way to use dual- and triple-layer PVC and still make lighter boards.
Added layers on the rails, like with the Bluefin boards and the Blackfin, allow for remarkable rigidity.
You should also buy a board from a reputable manufacturer, such as the ones suggested above. They have proven themselves and their paddleboards are well-loved in the paddling community. At least you know you are getting something that has been tried and tested.
Lastly, PVC is not UV-resistant. So don't forget to check whether the board has been UV treated.
2. Stability
Generally, almost all inflatable boards are stable. But bigger paddlers, yogis, anglers, beginners, and people who paddle with a kid or pet need more stable boards.
So what makes a board more stable?
The first factor that determines the stability of a SUP board is the width. Wider inflatable SUP boards tend to be more stable. The wider platform makes it less tippy and easier to find balance. Most boards 32+ inches wide will have enough stability.
But width is not the only determinant.
Don't forget to check the thickness. Some people may be fine with a 5-inch thick SUP. But a thickness of 6 inches is safe. Thinner paddleboards tend to flex, especially with larger paddlers. A thicker board has more volume and is more rigid.
Lastly, you will want to look at the shape. If you plan on paddling with a pet or a child, a board with a wider nose is more suited. That is where they will sit and they can be restless. A wider nose will ensure that none of you takes an unplanned swim.
A wider tail will come in handy when maneuvers are involved. Think of the step-back-turn technique, for example.
It is useful in making quick sharp turns. And it works with one leg close to the tail. It helps to have a wide tail, especially if you are not a pro.
3. Performance
The inflatable paddle boards reviewed here perform well. But the performance of a specific board will depend on the rider (their skills and weight).
A longer and narrower board, such as the Bluefin 12, glide faster. They also track well. (Tracking is the ability of a paddle board to travel in a straight line).
A wider board, like the Blackfin X, may be sluggish because of the increased resistance. Luckily, its nose is not totally rounded and this may help a bit.
While longer paddle boards are good for performance, maneuvering them can be hard. This is more so true for smaller, newbie paddlers.
If you prefer a board that glides faster, go for the longer and narrower models. But understand that they may be less stable if you are bigger or a total newbie.
Something else that might help with performance is the paddle. An aluminum paddle is heavy and less efficient. A carbon paddle offers optimum performance while a fiberglass paddle is somewhere in between.
But a paddle is something you can always upgrade.
4. Size
We have talked about what size paddle board you need above. And it all comes down to your body size and what you will use the board for.
People on the bigger side are better off with a larger platform, 10'6+ in length and 33+ inches in width. A wide board like the Blackfin X would be amazing. The same goes for you if you are into yoga, fishing or you like to bring a friend on board.
Another thing, consider the weight capacity. This is very important. Think of all the gear you want to bring and/or an extra passenger. Your combined weight should be under the weight limit. 50 pounds below is safe enough.
5. Design
Then there are other small features that people often forget to check. Think of the fins, deck pad, grab handles, D-rings, and mounts.
They may seem insignificant until you are in the water.
Fins help with performance. A nice, long center fin makes all the difference when it comes to tracking. Every good touring board has to have one. The side fins enhance maneuverability, especially in river paddling.
This is why having all-removable fins matters. You can change the setup depending on where you are paddling.
A deck pad provides comfort and traction. A wet board is slippery and you need that grippy surface to stay on board. For yoga, you should look for a paddle board with a large deck pad. It will give you a wider area for you to practice your poses comfortably.
D-rings and mounts are mainly for customization. Sometimes you will want to attach a kayak seat or cooler. You could get tired of standing. And a cold drink when you have been out under the sun for a while is refreshing.
Besides, these mounts and D-rings make DIY rigging much easier. If you are an angler, they are a must-have.
Grab handles help with carrying the board. Can you imagine how awkward it would be carrying a board without handles?
6. Package
With all the paddle boards here, the only thing you will have to buy separately is a paddle board PFD. Everything else is included, even a repair kit. This is something that most board companies are doing now.
While an all-inclusive package is great, check the quality as well. You wouldn't want to pay for a high-end board and get an aluminum paddle, would you?
For mid-range SUP boards, a carbon-fiber or fiberglass paddle would be alright.
Don't ignore the quality of the bag, pump, and leash too. Buying these things separately can be expensive.
Inflatable Paddle Boards FAQs
Q: What Is the Best Inflatable Paddle Board?
A:
Q: How Much Does a Stand Up Inflatable Board Cost?
A: Inflatable SUPs cost anywhere from $200 to $2000+. The cheap boards, from $200 to $600 are mainly entry-level SUPs.
For a quality inflatable stand up paddle board, expect to spend $800 to about $1200. High-end models cost more than $1200+. They have unique fancy features and are mainly designed for specific uses.
Read more about how much paddle boards cost.
Q: What Can You Do With a Blowup Board?
A: A better question would be, what can't you do with a blowup board?
You can do anything with an inflatable SUP: fishing, yoga, river paddling, ocean paddling, and much more.
Pick an all-around board and try all these activities. Or buy one designed for a specific purpose and enjoy. It will perform better.
Q: Are Inflatable Paddle Boards Worth It?
A: Yes, as long as you buy a well-made inflatable paddleboard.
They are durable, compact, portable, stable, and extremely fun to use.
Q: How Long Will an Inflatable Paddleboard Last?
A: This depends on the quality. A rugged inflatable board can last a lifetime. It will take whatever you throw at it. Read more about how long inflatable paddle boards last.
Q: Are Inflatable Boards Good for Beginners?
A: Yes, they are. Inflatable SUPs are stable and rigid enough for learning how to paddle board. They are also affordable and come with all the paddle boarding accessories you need to hit the water.
Q: How Hard Is It to Inflate a Paddleboard?
A: It is not that hard but it can be a workout with a manual pump.
The good news is that you have the option of buying an electric pump. Many companies may give you a discount when you are buying it with the board.
Q: Are Cheap Paddle Boards Any Good?
A: A cheap SUP like the Bluefin 10'8 is good. But not all cheap SUPs will be great. Regardless of how enticing the price is, always assess the quality first.
Q: How Do I Clean My Inflatable Paddle Board?
A: Rinse it with clean, fresh water. If you notice any stubborn stains, use a soft cloth and detergent. Avoid using harsh cleaning chemicals.
Q: How Do I Find and Repair a Leak In My Inflatable Paddle Board?
A: Wipe/spray the SUP with soapy water then check for bubbles. They appear where there is a leak. You may also hear a hissing sound.
Repairing a leak in your iSUP is not a complicated process. And you will already have a repair kit in the SUP package.
Here is a video detailing the process.
Conclusion
Buying an inflatable paddle board doesn't have to be a daunting task. You can be out in the water, paddling freely in no time. This buyer's guide shows you how you can pick one quality SUP board from hundreds of options.
And to make it even easier, we include 10 of the best blow-up paddle boards in 2021 for you.
The Atoll is the top all-around paddle board, in my opinion, because of its quality and versatility. It balances speed and stability, making it ideal for everyone.
The Blackfin X is a close second because of its stability and versatility as well. It may not be a performance SUP but it can do a lot. The inflatable SUP has a large platform and lots of attachment points. It can be a family, yoga, fishing, recreational, and beginner's board.
For the budget-conscious paddlers, you have the Bluefin 10'8. How often do you come across a cheap board with a five-year warranty? And it has an awesome, all-inclusive package.
So, what are you waiting for? Pick one fantastic paddle board and hit the water!