If you're shopping for your first SUP, it's easy to get confused by the appealing designs and marketing language. There are plenty of paddle boards out there, but this article will help you find the right board for your beginner SUP adventures!
I've written this article, based on my own experience, to help you choose a beginner SUP. It includes six of the best paddle boards for beginners, plus everything you need to know to do your own research.
My #1 beginner SUP board for 2023 is the Atoll 11 iSUP. It's solid and stable, so you can focus on your paddling technique rather than staying dry.
Read on to find out why this is a board for life!
Best Paddle Boards for Beginners Compared
The Best Beginner Stand Up Paddle Boards
Let's take a look at some of the best paddle boards for beginners, and explore what makes them a good option for anyone who wants to take up paddle boarding .
1. Atoll 11' Inflatable – Best All-Around Paddle Board for Beginners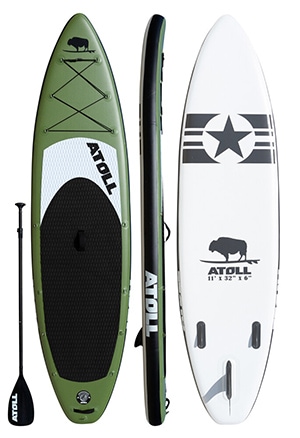 The Atoll inflatable SUP is one of the most highly-rated paddle boards by paddlers. It made it to the top of my list this year because of its outstanding qualities.
I love how stable the Atoll is, even with more than one rider on board. Stability is an important factor for entry-level boards. Learning the basics of SUP on an unstable paddleboard will be frustrating.
The Atoll is 11 feet long and 32 inches wide. Its size and shape offer stability without sacrificing speed too much. That is what makes it a great SUP board for all skill levels.
Any paddler can use the Atoll, regardless of their body size. It is built using Korean drop stitch technology and machine-laminated dual-layer PVC material. The recommended maximum rider weight is 315 pounds but it has been water-tested at over 550 pounds with multiple paddlers! This means it's definitely suitable for larger, heavier folks.
It's impressive how the Atoll is one of the toughest iSUPs around, while also being one of the lightest. It only weighs 21 pounds!
The paddle board has a bungee storage area at the front, so you can bring snacks and other essentials for your day on the water. The traction pad is soft, grippy, and covers a large part of the deck. It will keep you from slipping on the wet board and you'll also have a comfortable surface for your feet.
The Atoll package includes a carbon fiberglass paddle, heavy-duty backpack, ankle leash, and a dual-action hand pump. All these accessories are high-quality.
If you're looking for a good all-around paddle board that you can continue to use for years, check out the Atoll 11.
Read our full review of the Atoll paddle board
2. iRocker Cruiser – Most Versatile All-Around SUP for Beginners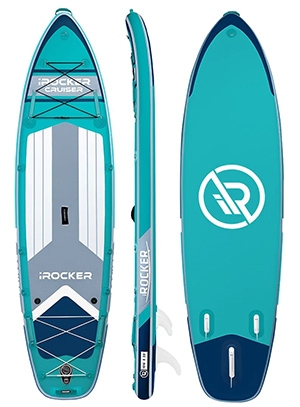 Paddlers love the iRocker Cruiser and it's one of my favorite boards as well. But what makes it one of the best beginner paddle boards?
The Cruiser is 10'6 long and 33 inches wide. The wider platform offers extra stability, which is exactly what beginners, especially those on the bigger side, need.
Its triple-layer military-grade PVC and dropstitch construction ensures stiffness and durability; you can be adventurous without constantly worrying about denting the SUP. It has a weight capacity of 400 pounds when inflated.
Stand up paddle boarding is not just about standing and paddling all day. There are different SUP activities and you can explore most of them using the iRocker Cruiser.
It comes with four multi-use action mounts, 20 D-rings, and two bungee storage areas. This allows you to bring lots of gear for SUP fishing, camping, and short cruises. It also has safety handles for kids to hold on to when they come with you.
All the fins on the Cruiser, the large center fin and two side fins, are removable. You can experiment with different fin setups.
I love the iRocker Cruiser's inflatable stand up paddle board package. It comes with a carbon matte paddle, roller backpack, dual-chamber hand pump, coiled leash, and a repair kit.
These are premium accessories that would cost a lot if you bought them separately.
The iRocker Cruiser SUP board would be great for newcomers who consider themselves adventurous.
Check Price of the iRocker Cruiser
3. Gili Meno Yoga Board – Best Yoga Paddle Board for Beginners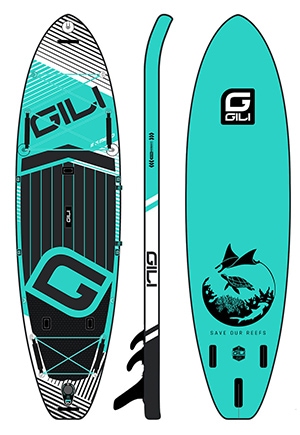 The Gili Meno is designed for those who want to take their yoga experience to the next level.
It is 35 inches wide, which is pretty wide for a single-rider SUP board. But you need the added stability to properly do yoga on a floating surface. It is available in 10'6 and 11'6 models.
Gili Sports have been making quality SUP boards for years. The Meno is built using dual-layer fusion-laminated PVC material and a carbon fiber rail. It is impressive how stiff it is once inflated. It does not flex at all.
The 10'6 Meno has a weight limit of 450 pounds while the 11'6 has a capacity of 485 pounds. Beginners of all sizes can enjoy SUP yoga without worrying about flex (and therefore have more stability when trying different poses).
Contrary to what you may be thinking, this iSUP is not heavy, even though it is one of the strongest (that's the beauty of inflatables). The SUP boards weigh 23 pounds (10'6) and 24 pounds (11'6).
Just because the Meno is a yoga board doesn't mean it is not good for anything else. It comes with five action mounts, D-rings, and bungee storage. You can try a few yoga poses one day and go fishing the next.
I have to mention the soft extra large deck pad. When you're practicing yoga on a paddleboard, the deck pad is your yoga mat. It offers a comfortable surface and prevents you from slipping.
The Gili Meno package includes a carbon fiber paddle, wheeled backpack, dual-chamber hand pump, coiled leash, and a fin kit. The kit consists of a race fin, speed center fin, shallow center fin, and two side fins.
You should check out the Meno if you want a versatile yoga paddle board.
4. Bluefin Cruise Carbon 12′ – Best Touring SUP for Beginners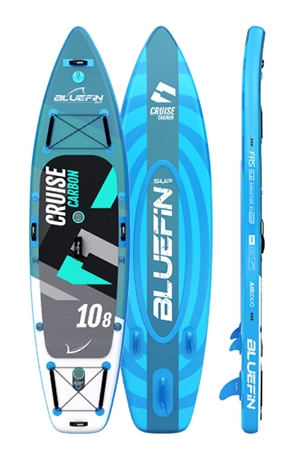 SUP touring is a discipline best suited for those who love adventure.
It involves long-distance paddling. You need a paddle board that can maintain speed and one that tracks well.
The Bluefin Cruise Carbon is 12 feet long and 32 inches wide. The length, plus its pointy nose, helps it track straight with less effort. It cuts through the water with ease and has no problem keeping up speed.
I recommend this for beginners because, although it is longer, it is not too narrow. Touring and racing paddleboards can be really narrow and that means less stability.
The Cruise Carbon 12 is fast enough and stable. This makes it the best paddle board for SUP touring beginners.
Besides, it has a kick pad feature at the tail to help you make quick sharp turns.
This iSUP is made using 1000D exo surface laminate PVC and pro-weave dropstitch construction. It also features a carbon fiber rail and two inflation chambers. It is unbelievably stiff, safe, and reliable. When inflated it can hold up to 385 pounds.
Most inflatable paddle boards only include the basics in the package, and it's amazing. But the Cruise Carbon offers more than that. It comes with a carbon fiber paddle, backpack, leash, and a triple action pump. On top of that, you will get a waterproof phone case and a kayak conversion kit.
You can alternate between sitting and standing when going on longer trips. Converting the SUP board into a kayak is easy and takes minutes.
The Bluefin Cruise Carbon 12 would be great for you if you are interested in SUP touring.
Check Price of the Bluefin Cruise Carbon
5. iRocker Nautical – Best Budget Paddle Board for Beginners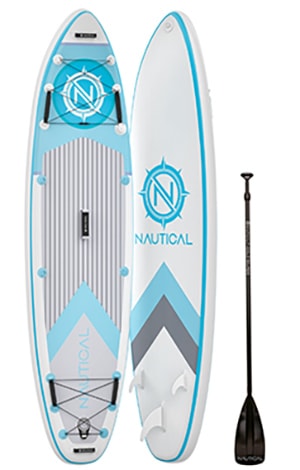 Tight budget? No problem! There's a SUP that's perfect for your needs, and your wallet too!
The iRocker Nautical doesn't cost much but it is a high-quality board made by a reputable company.
It is built using dual-layer military-grade PVC construction. It is tough and has proven to be even better than some more expensive stand up paddle boards.
The Nautical is 32 inches wide and is available in two sizes: 10'6 and 11'6.
The longer model has a weight limit of 265 pounds while the shorter one can hold up to 240 pounds.
The Nautical beginner board has surprisingly good paddleboarding performance. It glides well in different conditions—lakes, slow-moving rivers, and even the ocean. You will find it easy to handle regardless of your skill level.
This entry-level inflatable board has dual bungee storage, an action mount, and extra D-rings for gear.
I love its package. It is typically better than what you get in this price range. The board comes with a fiberglass paddle, dual-action manual pump, leash, repair kit, and a backpack. The bag has a wheel option and you can buy the wheel tray from iRocker.
You should consider the iRocker Nautical if you want a high-quality but affordable beginner paddle board.
Also read our iRocker Nautical 10'6 review.
Check Price of the iRocker Nautical
6. Bluefin Cruise Junior – Best Kids Paddle Board for Beginners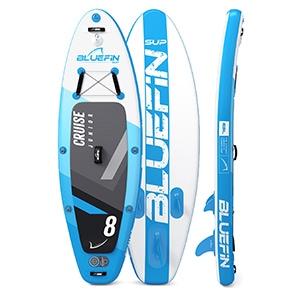 Let's not forget about junior newcomers. Stand up paddle boarding is a water sport for people of all ages.
Young paddlers may have a hard time trying to paddle adult standup paddle boards. Most of them are longer and wider than kids can handle.
The Bluefin Cruise Junior is only 8 feet long and 29 inches wide. The SUP size is perfect for anyone under 5'3. It is stable and maneuverable.
Even though this is a child's board, the manufacturer still used quality materials. It is made using 1000D exo surface laminate PVC and pro-weave drop stitch, just like the Bluefin adult boards. It also has a five-year warranty.
The Bluefin Cruise Junior comes with everything your young paddler will need to hit the water right away. The package includes a fiberglass paddle, backpack, leash, manual pump, and a kayak conversion kit.
Check Price of the Bluefin Cruise Junior
How to Choose a Beginner Stand Up Paddle Board
Even with a list of the best paddle boards for beginners, you still need to narrow it down to just one. Or maybe you have a list of your own.
Here's everything you need to know about buying a paddle board as a beginner.
Solid SUPs Vs Inflatable SUPs
Which is better for paddleboarding newcomers: inflatable or solid paddle boards? That depends because each type has benefits and downsides.
Take a look.
Pros of a Solid SUP
Solid stand up paddle boards have exceptional performance. They are responsive, nimble, and fast. So if you plan on getting into SUP racing or SUP surfing, a traditional board is more suited.
Another benefit is that hard paddle boards don't require inflation or setup of any kind. They are ready to use as soon as you get to the water.
A solid paddle board may be right for you if you don't want to waste time and energy inflating and deflating a board.
Cons of a Solid SUP
The biggest downside is probably storage. You can't roll up your 12-foot epoxy paddle board and throw it under the bed.
You need a large space to store it properly and prevent damage. It is not ideal for people who live in small apartments, for example.
The other downside is durability. Traditional SUPs don't handle impact well and they can get dented easily.
Pros of an Inflatable SUP
One of the main reasons why people love inflatable paddleboards is the ease of storage. Once folded and packed into a bag, an iSUP can fit anywhere.
The second reason is portability. Inflatable iSUPs are lightweight and roll up into smaller packages. You can travel all over the country with your inflatable— even bring it on a plane!
Lastly, inflatable paddle boards are still durable. They will handle whatever you throw at them.
This is why they are the best for whitewater stand up paddleboarding.
Cons of an Inflatable SUP
Inflatables are amazing but they are not perfect.
First, you have to inflate your SUP before every session and deflate it afterward. That can be a workout, especially if you're using a manual pump.
The other downside is performance. Inflatable SUP boards have come a long way but they are still not as 'good' as solid boards (though this can obviously depend on your individual needs).
While iSUPs can be a great option – if you're surfing or participating in serious races, you are better off with a traditional paddle board.
What to Look for When Buying a Paddle Board As a Beginner
Let's take a look at some of the things beginner paddlers should consider before buying a stand up paddle board
1. Paddle Board Size
Stand up paddle boards come in different sizes and you have to pick the size that is right for you. If a SUP board is too long or too wide, you'll find it hard to make a proper paddle stroke and steer it.
a. SUP Length
Short paddle boards are easy to maneuver while longer SUP boards are faster and track better. So it depends on how you want to use the stand up paddle board.
Racing and touring paddle boards are at least 12 feet long. This may make them harder to handle but it enhances speed and tracking.
SUP boards designed for surfing and young paddlers are shorter—no longer than 9 feet (for example, the Bluefin Junior listed above is only 8 feet long). Short paddle boards are maneuverable. But they don't track as well as the longer models.
Then you have all-around boards, which make the best beginner paddle boards. Most of them are 10' to about 11'6 long. They track decently and are easy to handle for paddlers of all sizes and skill levels.
b. SUP Width
Many factors determine the stability of a paddle board, but width is the main one.
Wider SUP boards, 31 to 35 inches, are more stable. They are great for newbies, SUP yoga, fishing, and paddling with kids.
However, the wider a paddle board is, the slower you can expect it to be.
Narrow stand up paddle boards glide on the water with minimum resistance. This is why racing boards are less than 30 inches wide.
c. SUP Thickness
The thickness of a paddle board affects its volume and weight capacity. Thicker SUPs have more volume and can support more weight.
Thick inflatable boards (six inches) are also super rigid and less likely to flex. So, as a beginner – you want to pay close attention to thickness as this will make a difference in how stable it is, and therefore how easy it is for you to balance.
d. SUP Volume and Weight Capacity
You should always check the volume and weight capacity of a board. You want a stand up paddle board that can support your weight and your gear.
A board with a higher volume can hold more weight.
2. SUP Hull Types
There are two main types of paddle board hulls: a planing hull and a displacement hull.
Planing Hull
This is the type of hull you find in paddle boards for beginners. It is wide and flat, great for activities that require stability.
Displacement Hull
Paddle boards with a displacement hull appear to have a pointy bow. They cut nicely through the water, making the SUP board track well and fast.
3. Quality Construction
After spending a significant amount of money on a paddle board, you want it to last. So make sure you pick a well-made one.
Solid paddle boards are built using different materials. There are wood, fiberglass, carbon fiber, and plastic paddle boards.
Plastic is more durable but it is heavy and doesn't perform very well. Carbon fiber paddle boards don't handle impact well but their performance is unmatched. They're also the most expensive.
Fiberglass paddle boards are the most common; they are less expensive than carbon fiber boards and not as heavy as plastic.
Wood paddle boards have exceptional performance but they can be costly (people love them because they're just gorgeous).
Inflatable paddle boards are more durable than traditional boards. They have a drop stitch core and a layer(s) of military-grade PVC. They handle impact well and bounce off obstacles. More PVC layers translate to a tougher paddle board.
Always make sure you buy from a reputable company and get boards with a warranty. Don't ignore what other paddle boarders are saying about the SUP board too.
4. Type of Paddle Board
Standup paddle boards are designed for different paddle boarding activities. You can buy touring, racing, fishing, yoga, surfing, and all-around paddle boards.
If you have already decided on your favorite SUP activity, get a board designed for that. If you want to try everything before you decide, consider getting an all-around SUP.
Most beginner paddle boards are all-around boards.
5. SUP Fins
The fins of a paddle board help with stability, maneuverability, and tracking. Many beginner paddle boards have a tri-fin setup—one large center fin and two smaller side fins.
The fins can either be removable or fixed. Removable fins allow you to change the setup, depending on where you're going to use the SUP. But you can also lose the fins easily.
Fixed fins are less likely to get lost.
6. Affordability
For most beginners, finding a good board at an affordable price point is an important factor.
While there are 'affordable' boards out there, you have to be very careful, especially when buying cheap models (under $500).
The boards in this price range usually feature just one PVC layer. Some of them flex.
Only buy from trustworthy companies that have been around for a while.
7. Included Accessories
Lastly, check what comes with the paddle board. An all-inclusive package is ideal for beginners because it saves you money and time.
The quality of the accessories should match the price too.
For instance, cheap SUPs come with an aluminum paddle, mid-range boards come with a fiberglass paddle while the more expensive iSUPs include a carbon paddle.
Basic Paddle Board Equipment
What do you need to go stand up paddling?
1. SUP Paddle
This is a must-have because you can't paddle without it. Most paddle boards come with a paddle.
2. SUP Leash
A leash keeps you attached to your paddle board when you fall in the water. If things go south it could save your life.
3. SUP Board Bag
This is for storing and carrying your SUP board—even solid paddle boards need a bag. iSUPs already come with a bag so you don't need to buy one.
4. Paddle Board Life Vest/Personal Floatation Device
A personal flotation device (PFD) keeps you afloat when you fall in the water.
SUP boards are classified as vessels by the U.S. Coast Guard so you have to wear a life jacket.
How to Stand Up on a SUP
When you first get on a paddle board, you will realize that it is not as simple as it looks. Learning how to stand is one of the challenges you will face when getting started. But it only takes a few tries to master.
Start by paddling on your knees. A paddle board is more stable when it is in motion. Once you're comfortable, place your hands on the board in front of you. Stand and continue paddling.
Keep your knees slightly bent and focus on the horizon.
Paddling Techniques
Here are some basic techniques to help you get started. While you won't need to know these to pick out the best beginner paddle board, you will need to know what you're going to be doing with the board – so it definitely helps to have some knowledge.
Forward Stroke
This is the stroke you use to go forward, as you can tell from its name.
Hold the paddle vertically, with the blade right next to the board. Reach forward and immerse the blade fully in the water. Crunch a little to use your core muscles. Pull the blade up to your feet and slice it out of the water.
Forward Sweep Stroke
Immerse your paddle blade into the water at the bow. Make a big arc with the blade, away from your SUP. End the stroke slightly past your feet. The SUP will turn in the opposite direction.
Reverse Sweep Stroke
This is just like a forward sweep stroke, but in reverse. The stroke starts at the tail. Bury your blade into the water and make an arc. End the stroke at the nose of your SUP.
Here's a useful video showing how to do the two sweep strokes.
6 Tips for Beginner Paddle Boarders
1. Learn How to Hold the Paddle
One hand should be on the handle and the other one on the shaft. Don't place both hands on the shaft unless you're paddling on your knees.
2. Don't Get Into a Surf Stance
The surf stance is a bad idea for paddle boarding. It makes it difficult to paddle properly and it is a sure way to end up in the water.
3. Use Your Back Muscles
Don't let your arms do all the work because you'll get worn out quickly. Master the proper paddling technique so you can get power from your back muscles and core muscles as well.
4. Learn How to Fall
Expect to fall when learning how to SUP and enjoy it too because it is part of the experience. Always fall away from the board and not on it so you don't get hurt.
5. Pay Attention to the Wind
The wind can make paddling a little difficult. If it gets too strong, sit or kneel on the stand up paddle board. This is much better for balance – and will help you to in the long run (especially as a beginner)
6. Keep Your Distance
Be mindful of other water users and don't get too close. You want to avoid any kind of accident as much as possible. Plus it is simply good etiquette to be mindful of other paddlers.
Paddle Board for Beginners FAQs
Are Inflatable Paddle Boards Good for Beginners?
Yes! Inflatable paddle boards are stable and they come with all the basic accessories. Besides, they have a soft surface that won't hurt a lot if you fall and hit yourself.
What Size Stand Up Paddle Board Is Right for a Beginner?
Beginners should go for SUPs that are 31+ inches wide and 10' to 11'6 long. They are stable and easy to handle.
What Is the Average Cost of a Paddle Board?
The price of paddle boards varies greatly, from $250 to $3000. The average price of a typical all-around board is $700.
How Much Weight Can a Paddle Board Hold?
This depends on the model. Some have a weight capacity of 250 pounds while others can hold up to $700 pounds. The weight limit for each board is usually indicated.
Can More Than One Person Ride a SUP?
Yes, as long as it is big enough and the weight capacity allows.
Can I Paddle While Sitting on the SUP?
Yes, you can. Some even have extra D-rings for attaching a kayak seat!
Wrapping Up – Best Paddle Board For Beginners
I've given you my recommendations and a comprehensive buying guide. Now it's your turn to choose a SUP board.
I love the Atoll because it is stable and well-made. It's a great choice for beginners, comes with everything you need and the accessories are of high quality.
Which one is your favorite?
If you have any questions about beginner paddle boards feel free to ask me below. Happy paddling!