Lakes are one of the best places for learning to paddle board. The flat water and lack of currents also make it easy to try SUP yoga or fishing, or take your family on a paddle boarding expedition!
So which is the best inflatable paddle board for lakes? I've tested loads of paddle boards on my local lake and picked the six that I think are the best for beginners, families, and paddlers wanting to try different activities.
The Atoll 11' gets the top spot for its great all-around performance. Read on to find out why I love it and which other boards I rate!
Quick Summary
If you're in a hurry, here are our top paddle boards for lakes. Or continue scrolling to see our full list with in-depth reviews.
The Best Inflatable Paddle Boards for Lakes in 2023
Let's get into the details! Here's the lowdown on the best inflatable stand up paddle boards for flat water.
1. Atoll 11' – Best Paddle Board for Flat Water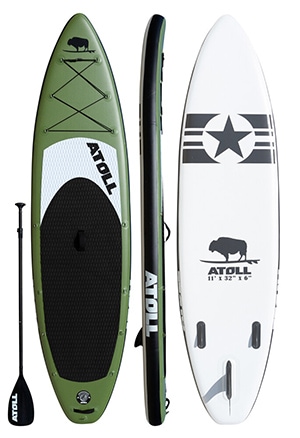 I love pretty much everything about the Atoll 11', but the main reason it's top of my list is because it offers the perfect balance between stability and performance.
At 32 inches wide, it's at the narrow end for an 11-foot board, which gives it an edge when it comes to speed and efficiency. It glides nicely, tracks well, and doesn't feel like you're busting a gut to move it – exactly what you want in a paddle board for lakes.
It's also deceptively stable. While it doesn't feel as rock-solid as the Blackfin X, I think the Atoll is definitely stable enough for beginners. It's also surprisingly easy to maneuver given its length, as it's so lightweight (21 pounds).
I like the minimalist design of the Atoll 11. It gives you plenty of deck space and you don't have to worry about standing on mounting points or tripping over bungee cords. There's a front bungee storage area, plus D rings along the back half of the board, which you can use to secure additional gear.
The Atoll 11' comes with an 8-inch removable fin and 2 side fins. Unfortunately, you can't remove the side fins, which makes it harder to roll up the board or to stack inflated boards.
2. iRocker All Around 11 – Best Value Inflatable Board for Lakes
The iRocker All Around 11 is a stable board that's similar in spec and performance to the Atoll 11'. It tracks nicely, but I found it to be a little slower in the water than the Atoll 11'. This is probably due to the weight – it's 5 pounds heavier than the Atoll 11'.
iRocker also sells a 10-foot version of this board, which it recommends for paddlers under 5'8". Personally, I think the All Around 11 is still easy enough for shorter people to paddle and the 435-pound weight capacity makes it a good option if you want to carry passengers or lots of gear!
The All Around 11 beats the Atoll 11' in terms of features. It comes with seven grab handles and plenty of D rings for storage and towing. You also get four action mounts, which you can use to attach cameras, speakers, rod holders, and other items. If you want to chill out with a coffee in the morning, paddle until lunch, and then do a spot of fishing in the afternoon, the All Around 11 is a great choice.
iRocker's full-carbon paddle weighs just 28.8 ounces and is nice and stiff. I'd prefer it to be a little wider – similar to the Atoll 11's paddle – to let me put more force into each stroke.
Check Price of the iRocker All Around 11
3. iRocker Cruiser – Best Family SUP Board for Lakes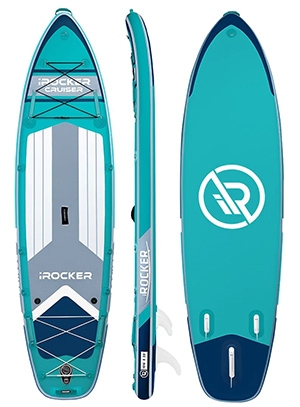 The iRocker Cruiser is shorter and wider than the All Around. I'd recommend it as a general-purpose family or recreational paddle board.
I weigh 192 pounds, and I felt the Cruiser was a bit small for someone of my weight. It didn't sink, but it didn't glide quite as well as the similarly-sized Gili Komodo. My wife, who's smaller and lighter, found the paddle board to be very stable, fast, and maneuverable.
The Cruiser is designed for flat water, so it's a great paddle board for small and medium-sized lakes. If you live near the Great Lakes or other lakes with choppy conditions, you may want a different board.
Its stability and 400-pound weight capacity make the Cruiser a great choice for families. You can paddle with several people on board, or anchor the board and let your kids go for a swim – the Cruiser has plenty of grab handles to help them get back onto the board.
I'd also recommend the Cruiser as a good beginner paddle board. It's very stable and good value for money, perfect if you want to try out paddle boarding without investing in an expensive board.
Check Price of the iRocker Cruiser
4. Blackfin X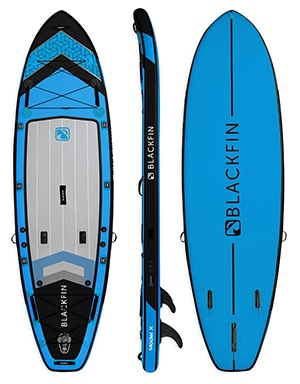 The Blackfin X is the most expensive board in this round-up, but the difference in quality is noticeable. In my opinion, it's one of the best inflatable SUPs on the market.
The Blackfin X isn't the fastest paddle board – if speed is a priority, you'll need a thinner, longer board – but it's faster than you'd think given it's such a wide board. The exception is if you're paddling into the wind. All inflatable stand up paddle boards struggle with a headwind, but the extra width of the Blackfin X gives even more resistance.
Carbon fiber rails add rigidity to the Blackfin X and make it firmer than the lower-priced iRocker range. This improves the glide and makes the Blackfin X an easy and enjoyable board to paddle.
The standout features of the Blackfin X are its stability and weight capacity. At 35 inches wide, it's one of the widest paddle boards you can buy, meaning that it's awesome for yoga, and I think it would also make a good platform for snorkeling.
The top-level construction means it also has one of the highest weight capacities – 450 pounds. It's easy to carry multiple riders or large dogs. Load up the two cargo areas and go on a multi-day expedition around the lake!
I'd also recommend the Blackfin X as a fishing platform. In fact, it has slots to mount a fishing rack that you can use to store a cooler and rods. Eight action mounts give you plenty of options for rod holders or a GPS unit. You can also fit a sand spear to use as an anchor or push pole in shallow waters.
5. Gili Komodo 10'6
The Gili Komodo is marketed as an inflatable SUP for yoga, though I think it's a lot more versatile than that. The 10'6" model is 33 inches wide, like the iRocker Cruiser, but the Komodo glides better and is easier to paddle for someone of my weight (therefore I think it would be probably better for larger or heavier paddlers).
If SUP yoga is your thing, then the Komodo is a good choice. The deck pad runs the full length of the board, so once you've removed the bungee cord, you have plenty of space to stretch out. The textured section at the rear lets you ground your weight into your rear foot and helps you execute sharp turns.
I love that the Komodo has two velcro straps to secure your paddle when you're not using it. While this may be aimed at the yoga crowd, I can think of plenty of times when I've wanted to stash my paddle for a few minutes while out on a lake. You can take a photo, go for a swim, or simply lie back and relax for five minutes without worrying about losing your paddle, so this makes the straps a welcome addition even if you're not putting your paddle down for a spot of SUP yoga.
However, this wouldn't be a fair and balanced review if I didn't point out potential downsides that I've discovered with this board. While the Komodo is still a great SUP, there are a couple of things I might change, though they are small.
For one the bungees are a little fiddly to get out of the D rings. To be honest, if you don't need the bungee cords for storage, I'd just leave them off the board permanently. I also found the position of a couple of the attachment points a little annoying. I'd rather they were further to the side, in line with the D rings.
Also it's worth noting that, while they're perfectly acceptable, the accessories just aren't up to the same quality as the boards above. You get an entry-level fiberglass paddle with the Komodo (although there is the option to upgrade) and a single-chamber two-stage pump.
Check Price of the Gili Komodo
6. iRocker Nautical – Best Budget SUP Board for Lakes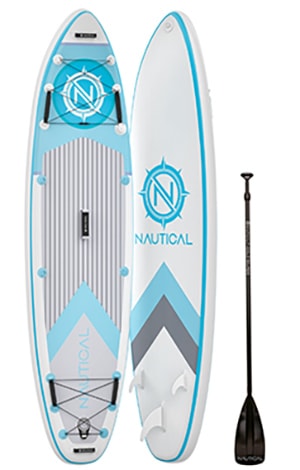 The Nautical is iRocker's entry-level board. It's a nice board that looks good and is stable enough for confident beginners. My wife found it got up to speed quickly and it was easy to maneuver.
Personally, the board was a bit too small for me. The official weight capacity is 240 pounds, but I'm just under 200 and felt that my weight affected the board's performance. In my opinion, larger paddlers would benefit from the 11'6" version of the Nautical, though this is more expensive.
You get a lot of the same features that you get in the more expensive iRocker boards, including the three-fin system which helps the board track straight, one action mount, and two bungee cargo areas. There are also four additional D rings that you can use to attach a kayak seat.
As you'd expect, the accessories aren't of the same high standard as the more expensive boards, but they're still pretty decent given the price. You get a fiberglass paddle, a single-chamber pump, a leash, and a reasonably comfortable travel bag. You also have the option to upgrade and add other iRocker accessories, such as an electric pump or kayak conversion kit.
Overall, the Nautical is a notch above what you might expect for a budget board. It's a great introductory board for smaller paddlers and excellent value for money.
Check Price of the iRocker Nautical
Buying Guide – What to Consider When Buying an Inflatable Paddle Board for Lakes
Lakes are a great place for families and beginners to learn to paddle board. You can use most inflatable stand up paddle boards on lakes, but there are a few things to bear in mind before you buy.
What's Unique About Lake Paddle Boarding?
Lakes are generally easy to access, relatively calm, and don't have strong currents or tides (with the exception of giant bodies of water, such as the Great Lakes). You don't have to worry about tides, surf, or river levels changing suddenly. Compared to oceans and rivers, lakes are pleasingly predictable.
This makes them ideal for families and beginners, as well as more specialist activities such as SUP yoga or fishing. You can get a good workout paddling across or around lakes, but if long-distance trips are your main interest, I'd suggest looking at a touring board.
Bear in mind that very large lakes, such as Lake Superior, have many of the same hazards as oceans, including choppy conditions and large swells. Always check the weather before heading out as being caught out in a storm can be terrifying and dangerous!
What's Your Budget?
Cost will be a factor in most people's buying decisions. While I don't recommend very cheap SUP boards for regular use, you don't have to spend thousands of dollars to get a decent board.
Higher-priced boards tend to have better materials and more advanced construction. This makes them more rigid (which improves performance) and more durable. For example, there is a noticeable difference in quality between the Blackfin X (iRocker's premium board) and the lower-priced iRocker boards.
You also get better quality accessories, such as a lighter, stiffer paddle, and a good quality pump. This can really improve your paddle boarding experience! If you have a tight budget, I recommend looking at end-of-season sales to pick up a bargain.
Key Features of a Paddle Board for Lakes
Most paddle boards marketed as "all around" SUPs are suitable for lake paddle boarding. Here's what to consider when shopping for an inflatable SUP for lakes. In fact, most types of paddle boards will be suited to lake paddling, with the exception of, perhaps, boards for whitewater SUP or surf SUPs.
However, there are still certain features you should pay attention to when choosing a paddle board for lakes.
Length and Width – Stability vs. Speed
The dimensions of your paddle board determine how it performs on the water. Wide boards are very stable. Short boards are maneuverable. Long, narrow paddle boards are fast to paddle but aren't stable enough for beginners.
For having fun on flat water, you want a mid-sized inflatable paddle board. These tend to be either 10'6" or 11' long, and 32 or 33 inches wide. This gives a balance between stability and speed.
If you're tall, like me, you may find the 10'6" boards are too short and don't have sufficient capacity to perform well under your weight. These boards should be plenty stable enough for smaller paddlers and easier to maneuver.
Shorter paddle boards are typically designed for surfing or white water and are too squirrely for general lake use. If you're an advanced paddler or traveling long distances, then you may want to invest in a longer touring board instead.
Sufficient Capacity to Comfortably Take Your Weight
If you're taller or heavier than average, check the weight capacity of the paddle boards you're looking at. You're unlikely to sink a board if you're a few pounds over the recommended capacity, but it will affect the board's performance and your enjoyment!
As a general rule, smaller boards have a lower weight capacity. However, capacity is also determined by the quality of construction and rigidity of the board. That's why more expensive inflatable paddle boards often have a higher capacity.
Comfortable Deck Pad
If you're going to be standing or sitting on your board for hours at a time, a comfortable deck pad is a must. A large deck pad gives you more space for lounging or yoga.
Some deck pads have a grippy section at the rear of the board to give you extra security when executing step-back turns.
Long fins for tracking
All the paddle boards I've recommended have a three-fin setup – one long, central fin and two small side fins. This is ideal for lakes as the central fin helps with tracking in deep water and the two side fins make the board more stable. Most all-around paddle boards come with this setup as it gives a good balance between stability, tracking, speed, and maneuverability.
Some SUPs have a universal fin box, which allows you to fit aftermarket fins. This means you can test different fin designs to improve performance. If you mainly paddle in shallow water or come across patches of weeds, you may want a swept-back fin. If you get into long-distance paddling, then you may want to remove the side fins and add a longer central fin for speed and directional stability.
Grab Handles, Mounting Points, and Storage
You want at least a couple of grab handles to help you move your board around, but other features largely come down to personal preference.
Many people prefer a simple, no-nonsense design – if you're just paddling for a few hours, why do you need storage or attachment points? Others want more versatility.
Mounting points can be used to attach your phone, GoPro, or fishing rods. If you're paddling all day, you may want to take a picnic and some spare clothes. Some boards come equipped with D rings that you can use with a kayak conversion kit to transform your SUP into a sit-on-top kayak.
I can't tell you which features you'll need, but I do suggest you think carefully about how you'll be using your paddle board before buying one.
FAQ
Can You Stand Up Paddle Board on a Lake?
Yes! Lakes are perfect for paddle boarding as the flat water makes for an easy introduction to the sport. You don't have to worry about surf, waves, or currents, though I always recommend checking the weather forecast before you head out.
Are SUPs good for fishing?
SUPs are a great platform to fish from and allow you to access shallow waters. You'll need to be confident on your board, and I recommend using a wider board such as the Blackfin X for maximum stability. The Blackfin X has plenty of storage space and attachment points for everything you might need for a day out fishing on the lake.
Conclusion
Paddling on a lake is my favorite way to spend a lazy afternoon, so I had a lot of fun testing these boards!
I can wholeheartedly recommend any of the boards I've reviewed above for paddling on flat water. The Atoll 11' is top of the list, due to its speed and all-around performance, but if you want to focus on yoga or want a board you can take the kids out on, another board may suit you better.