A SUP PFD (personal flotation device) keeps you safe on the water and is a legal requirement in the US. That said, a bulky or ill-fitting life jacket can quickly suck the fun out of paddling.
Safety is always my top priority when I take my family on paddle boarding adventures. I've researched and tested tons of SUP life vests to find the 9 best PFDs for different paddlers.
My top pick overall is the Onyx M-16. It's a belt PFD, which means it doesn't get in the way of your paddling. It's so lightweight and discreet, you'll barely notice you're wearing it.
Read on to learn about the different types of PFD and find the best PFD for SUP for you, your kids, and even your dog!
RELATED: Discover the best stand up paddle board accessories for even more SUP fun.
Quick Summary
If you're in a hurry, here are our top paddle board PFDs. Or continue scrolling to see our full list with in-depth reviews.
The Best Paddle Board PFD Reviews
1. Onyx M-16 Manual Inflatable Belt Pack PFD – Best Overall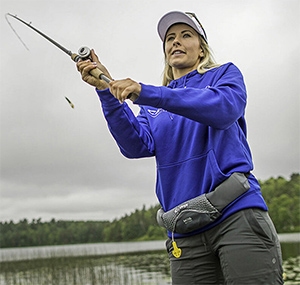 Belt PFDs are a great option for paddlers who want to stay within the law (you're legally required to carry a PFD when paddling in the US) but don't want to wear a cumbersome vest. The Onyx M-16 weighs just 11 ounces and packs tidily into a low-profile fanny pack.
The M-16's strap fits up to a 52-inch waist. You don't need to worry about height, chest size, or having enough room to swing your arms, which makes this an easy PFD to buy off the shelf.
The Onyx M-16 is one of the thinnest belt packs around. It really contours to your body, even if you have a slim build. Honestly, I almost forgot I was wearing it!
There are a couple of things to bear in mind with this style of PFD. Firstly, it's important to note that it isn't suitable for kids. It's only approved for paddlers who are over 16 and weigh more than 80 pounds.
Secondly, you have to manually activate the inflation mechanism using a pull cord. This means you need to be conscious and comfortable enough in the water to keep yourself afloat while the life jacket inflates. That's why I recommend the Onyx M-16 is only used by competent swimmers in low-risk environments.
Finally, in case it isn't obvious, you have to wear the pack on your front. When you yank the pull cord, the CO2 canister inflates the PFD into a large, fluorescent-yellow pillow. There's a strap on the top to put around your neck.
The CO2 charge provides 17 pounds of buoyancy. Buoyancy is basically the force it takes to keep a persons head and chin above water – and in most cases adults need an extra 12 pounds of buoyancy to keep afloat.
The Onyx obviously suprasses this number (as most good quality PFDs do) – so you don't need to focus too much on it, but there's an oral inflation tube that you can use to top it up to 26.5 pounds if you so wish.
You'll need to buy a new cartridge to rearm the PFD once activated, but as you're only likely to use it in an emergency, that's not a big deal. You do need to make sure that you check the mechanism every time you go out. Unlike a life vest, this isn't a set-it-and-forget-it PFD.
I hate feeling restricted when paddling and I love to feel the sun on my back. The Onyx M-16 is perfect for chilled days out when you don't want to be sweating under a vest. It's a great option for SUP yoga or for traveling as it doesn't take up much space in your bag.
2. Stearns 16 Gram Manual Belt Pack
The Stearns 16 Gram belt pack is another affordable PFD. It has a similar design to the Onyx M-16, but with a couple of neat additional features.
I really like that the plastic tab for the pull cord is centrally located, rather than being off to one side. It makes it really easy to inflate the PFD with either hand. It also has a plastic window, so you can easily check that the PFD is armed and ready to go before heading out onto the water.
Like the M-16, it's universally sized to fit paddlers weighing more than 80 pounds with a chest size of 30–52 inches. It deploys in a similar way, which means it's only really suitable for expert swimmers, and I'd only recommend using it in low-risk environments.
The CO2 cartridge provides 22.5 pounds of buoyancy and you can top this up using the manual inflation tube. There's also a spring clip that you can use to attach a whistle or other small accessories.
While I really like the arming status window and centrally located pull cord, the Stearns belt pack is a lot bulkier than the Onyx M-16. It doesn't wrap around your waist quite so neatly, which you may find an issue if you're slim.
The Stearns belt pack is a great budget option if it's on sale, but I personally prefer the low-profile design of the M-16.
Check Price of the Stearns Belt pack
3. ONYX MoveVent Dynamic SUP Life Vest – Best Budget
The MoveVent Dynamic life vest is made using heavy-duty nylon fabric and lightweight flotation foam. The back of the vest has a foam top half and a mesh lower half. This improves breathability and makes it more comfortable to sit in a standard kayak seat.
I often find budget life jackets too restrictive around the arms for paddle boarding. The MoveVent doesn't have that problem. It has huge armholes that allow you to paddle without rubbing your arms against the vest.
The MoveVent life jacket is available in three sizes. They do run big, so if you're on the boundary between sizes, I'd recommend sizing down. The zipper and fabric seem pretty heavy duty, though I don't expect this vest to be the most durable, given its price point.
The life vests come in dark or light gray with different trim colors. While I appreciate that gray is a neutral pleases-everyone shade, it's not that great for safety as it can easily blend in with the water. That said, the most important thing is that you wear it in the first place!
There's a good-sized zippered pocket on the front that contains a full-size whistle on a cord. A whistle is essential for attracting attention if you need help and with this life vest, there's no risk of you forgetting it!
The Onyx MoveVent is really affordable. It's a bit bulkier than more expensive PFDs and it may not last quite as long, but I really rate it for occasional use or as a budget buy. It's great value for money.
Check Price of the Onyx MoveVent Dynamic Life Vest
4. NRS Ninja Life Jacket
The unique design of the NRS Ninja concentrates the flotation foam in the center of the front and back of the vest. It's a design you'll either love or hate!
On the plus side, you get exceptional freedom of movement. The level of shoulder mobility is unmatched by any other jacket-style PFD. You don't have to worry about it getting in the way of your paddle strokes whether you're paddle boarding or kayaking.
However, because the foam is concentrated in such a small area, it's pretty bulky. This isn't really an issue when paddling, but it may get in your way if you have to get onto your board from the water. It also may not be that comfortable for sitting in a chair for long periods, for example, when fishing.
Like the design, the fit of the NRS Ninja will either be perfect… or terrible. It's best suited to paddlers with short torsos. The padding is so thick at the front that it doesn't conform to your body shape, which can be a problem for slim people or women with medium or large breasts.
The NRS Ninja comes with a lot of well thought out features. There's a large double-zippered pocket with a built-in organizer, a knife tab, and a large handwarmer pocket (perfect for cooler days). The interior fabric is really soft and it's one of the few jackets I'd be comfortable wearing directly against my skin.
If durability is high on your priority list, then this may be the best life vest for you. For a start, there's no zipper to break. The vest has a pull-over design and you fasten it using two side clips. The quality of construction is awesome. Everything from the ripstop fabric, to the seams, straps, and clips feels sturdy and unbreakable.
I really love the bright range of colors, too. Choose lime, flare (orange), pink, or red to be most visible on the water.
There's a lot to love about the NRS Ninja life jacket, but it won't suit everyone.
Check Price of the NRS Ninja Life Jacket
5. Astral Layla Women's PFD Vest – Best SUP Life Vest for Women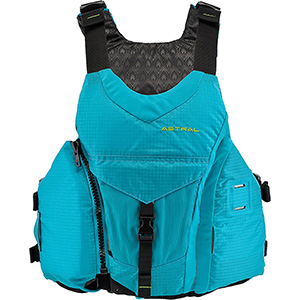 Paddle board life vests can be awkward and uncomfortable for women. You need something that's snug enough that it won't ride up when you're in the water, but not so tight that it binds your breasts.
Enter the Astral Layla. It's comfortable, practical, and—dare I say it—flattering.
The Layla is a full coverage PFD made from flexible, soft foam that contours to your body. The foam is split into articulated panels that nicely fit around your curves. There are three side straps to dial in the fit.
The Layla's buoyancy comes from a mixture of foam and kapok fibers. These come from the kapok tree (no, I hadn't heard of it either, until now!) and are a sustainable, buoyant alternative to traditional foams. Kapok foam is also repairable. If you puncture the foam in most PFDs, you have to replace it, but you can patch the Layla up yourself—or get Astral to do it for you.
It has a pull-over entry with a side zip that leaves plenty of space for a large chest pocket. This is one of the roomiest I've seen on a PFD and is easily big enough for snacks, a chapstick, or a can of beer!
What are the downsides? Well, there aren't many. As it's a full-coverage vest, it can get a bit warm in hot weather, but other than that it's comfortable and comes in a nice choice of colors. As you might expect for a vest of this quality, it is expensive, so may be out of the budget of occasional paddlers.
Check Price of the Astral Layla Vest
6. NRS Women's Siren Paddle Board PFD
Like the Layla, the NRS Siren has multiple soft foam panels to create a contoured fit. It doesn't have the "boob cups" that the Layla does, which means it may not be suited to women with fuller busts. More well-endowed ladies may find their breasts get pushed out to the side in a rather unflattering way.
Aside from that, the Siren is very comfortable. It's a full coverage vest, so the foam is low-profile compared to the NRS Ninja. The soft inner fabric feels nice against your skin and the narrow back gives your shoulders plenty of room to move. It's a really flexible jacket that moves with you, even when wet.
The Siren is a bit lacking in features compared to the NRS Ninja. The front pocket is a little small and tight, though big enough for your keys. There's no knife tab or tab to clip a whistle to.
Like the Ninja, the Siren is incredibly durable, and it comes with a lifetime manufacturer's warranty for extra peace of mind.
I really like the NRS Siren. It's one of the best life jackets for women, but the Layla pips it to the top spot. The Siren is a bit cheaper though, so a good option if you have a limited budget.
7. Stohlquist Fit Youth PFD – Best Youth Personal Floatation Device
Buying life jackets for kids can be tricky. For a start, they grow quickly. If you're an occasional paddle boarder, you don't want to spend a lot of money on a PFD that's only going to last a few years.
That's one reason why I like the Stohlquist Fit Youth PFD. It's at the budget end of the market, but is a surprisingly comfortable life jacket, with a narrow back and sculpted armholes that give you plenty of freedom of movement.
It comes in two sizes to fit children and teens from 50 pounds up to 125 pounds. The larger size is also a good option for small adults who want a no-frills PFD.
The design is basic, with 3 straps that fasten and adjust at the front. Only the lower two straps extend around the side of the vest, which leaves a very large armhole. As there's no crotch strap, the vest can sometimes ride up if you jump into the water. This isn't the case for every kid, but it's worth giving the shoulder straps a good tug to check the fit before you commit to the water.
The Stohlquist Fit Youth comes in a choice of bright colors. There's no pocket or other features, but most kids don't need them. They want a comfortable vest that looks good, and you want something that isn't going to break the bank. This vest wins on all three counts.
Check Price of the Stohlquist Fit Youth
8. Stohlquist Child PFD Vest
When I'm taking my kids out on the water, their safety is my number one concern. I won't take them out without a PFD, but it can save a lot of arguments if they have one they like!
I really like the Stohlquist Child Life Jacket for toddlers and young kids. Despite the name, it's not technically a life jacket. It's a type III PFD, which means it's not guaranteed to flip your child onto their back if they're unconscious. This shouldn't be an issue if you're within arm's reach of your child—which you should be on the water!
The great thing about this PFD is its low-profile design. It's much less bulky than other life jackets, which means it's more likely that your child will be happy wearing it. It also gives them plenty of freedom to move around and swim. It's rated for kids weighing 30–50 pounds.
While it won't turn a toddler onto their back, this PFD does have a double collar to support their neck and head when they're in the water. A zip and buckle secure the PFD at the front and an adjustable crotch strap prevents the vest from riding up.
Two other features I like are the grab handle (useful for hanging the vest up to dry as well as fishing your child out of the water) and the high-visibility color options.
Check Price of the Stohlquist Child PFD
9. Stohlquist Dog PFD Vest – Best PFD for Dogs
It can often be hard to find a PFD that fits very small or very large dogs. The Stohlquist Pup Float jacket comes in 7 sizes to fit dogs weighing less than 10 pounds right up to those weighing more than 90 pounds.
It's a really slim-fitting jacket, with no extra bulk. This means it's not as buoyant as some dog PFDs, but that's not necessarily a bad thing. The bulkier the jacket, the more it restricts your dog's natural movement. The foam wraps under your dog's belly and there's a separate chest panel to help keep their airway above the water.
The grab handle feels very secure and is large enough to quickly haul your dog to safety if you don't want them swimming. The vest comes in three colors: blue, yellow, and pink. Pink is the best color for visibility. Blue may look good on your dog, but it'll be harder to find them if they swim off in dim light.
Overall, this is a great value PFD vest to fit any size or shape of dog.
Check Price of the Stohlquist Dog Vest
Ultimate Buyer's Guide: How to Choose a SUP Personal Flotation Device (PFD)
A personal flotation device is a key safety accessory. So it is important that you choose the best one.
Here is all the information you need to make that decision.
What Is a Stand Up Paddle PFD?
PFD stands for personal floatation device. As you can already guess, it is a device that keeps you above the water in case you fall in.
A PFD can come in different designs including a vest, belt, and suspender harness.
a. PFD Belt
A PFD belt is the most preferred design by paddle boarders. It is a belt, worn around the waist, and some of them come with extra storage. So not only does it keep you safe, but it also offers you somewhere to store small items.
When you fall into the water, you have to pull a cord to activate the CO2 cartridge.
The gas cartridge is replaceable so you can use the PFD again.
b. PFD Suspender Harness
A suspender harness PFD is another great option for paddle boarding. It offers freedom of movement and doesn't get in the way.
This PFD design can either be auto inflatable or manual inflatable.
An automatic vest inflates automatically when submerged. This would be useful if, in case of emergency, the paddler is unconscious and can't pull the cord.
However, understand that not every fall during SUP is an emergency. So the harness can inflate unnecessarily.
Note: most auto inflatable PFDs also have a manual inflation option.
A manual inflatable has a cord that you pull to inflate the harness. You have to be conscious to activate it.
c. PFD Life Vest
PFD life vests are the most common type. They have a foam core and can be bulky, compared to the other two above.
The biggest advantage when using this life jacket is that you don't need to inflate it. All you have to do is wear it.
Most of these life jackets come with pockets and attachment points for storage. They are good for fishing.
Do You Need a Life Jacket for Paddle Boarding?
Yes, you do. Other than the fact that a SUP PFD could save your life, you are required by law to have one.
Every child under 13 must wear a stand up paddle PFD when riding with you.
For other paddlers, there should be a life vest somewhere on the vessel. But know that it only works when you wear it.
PFD laws may vary by state. Here are the specific state requirements.
The 5 Types of Personal Flotation Devices
When shopping around for a paddleboarding PFD, you will notice that they are categorized into types.
What are the various PFD types and what do they mean?
Type I PFD
A type I PFD is also known as an offshore life jacket.
Type I PFDs are mainly found in commercial vessels. They are suitable for use in all water conditions, including rough and remote areas where help may take a while.
The PFDs are bulky with extra foam. They will keep the head above the water.
The minimum buoyancy requirement for a type I PFD is 22 pounds.
Type II PFD
Type II PFDs are suitable for use in calm conditions, close to the shore where you won't have to wait long for help.
These life jackets are not recommended for non-swimmers.
They are typically used for kayaking, paddleboarding, wakeboarding, and boating.
The minimum buoyancy requirement for a type II PFD is 15.5 pounds.
Type III PFD
Type III PFDs are much more comfortable. They come in different styles including a fishing vest, cold weather jacket, and belt PFD.
A type III PFD doesn't offer a high amount of float. So it is only ideal for good swimmers.
The minimum buoyancy requirement is 15.5 pounds.
Type IV PFD
Type IV PFDs are throwables such as cushions, buoys, and rings. They are mainly found on ferries, ships, and public swimming pools.
A type IV PFD is usually thrown to someone when they fall overboard.
Type V PFD
Type V PFDs are special use life jackets–a hybrid of the above types.
They have a low profile and they are only inflated when needed, either manually or automatically.
Automatic models will inflate when submerged while manual models require you to pull a cord.
These life jackets have a buoyancy rating of up to 34 pounds.
What Type of PFD Do I Need?
For stand up paddleboarding, type II and type III PFDs are the best. If you are confident in your swimming skills, you can also wear a U.S Coast Guard-approved type V life jacket.
Features to Look for When Buying a PFD for Paddle Boarding
1. PFD Size and Fit
Choosing a stand up paddle PFD for kids is easy because the sizing depends on their weight. Manufacturers usually indicate the weight.
When it comes to adults, however, you have to consider your weight and your chest size.
While manufacturers indicate sizes, they don't all use the same sizing.
The best way to know whether or not a SUP PFD fits is to put it on. The buckles should connect easily without you having to force anything.
Your stand up paddle boarding life vest should be snug; not too tight and not too loose.
With your life jacket on, ask a friend to try lifting the shoulder part. If it can come up to your ears, the PFD is too big.
2. Comfort
The right PFD should be comfortable.
You can't wear an uncomfortable life jacket for too long. And when you take it off, you could be risking your life.
Look for a PFD that allows you to move freely when stand up paddling. There should be no restrictions when making a paddle stroke.
With a good PFD, you should even forget you are wearing it.
The life jacket should also fit properly and be made of breathable materials.
Speaking of which…
3. Material
When it comes to material, you want something that is long-lasting and feels good against your skin. Also, remember you will be using it in the water so it has to be quick-drying.
The most common SUP PFD materials are nylon and neoprene.
They are the best because they are comfortable, durable, and dry quickly.
4. Buoyancy
The stand up paddle PFD you choose should be able to keep you afloat.
While the required minimum buoyancy for PFD types may seem low, you weigh way less in the water. For the average person, a buoyancy of 17 pounds is more than enough.
Make sure you buy a USCG-approved life jacket and pay attention to the PFD types. Pick a type that is appropriate for the situation in which you will be paddling. All the PFDs in this round-up are USCG-approved (apart from the doggy vest!).
5. Ease of Use
Your life jacket should be easy to use. The last thing you want is an accessory you can't figure out, especially in an emergency.
All the PFDs listed above are straightforward. Anyone can quickly wear, adjust, or take them off when necessary.
Choose simple straps and buckles–something that won't give you a hard time.
6. Style
As you have seen, stand up paddle boarding PFDs come in different styles such as vests, harnesses, and belts.
Any of these would be fine. It depends on where you will be paddling and what you will be doing.
Anglers, for instance, will be better off with a vest because of the extra storage. Paddlers going for SUP races may prefer a belt PFD because it won't be in the way.
7. Design
You should also consider features such as color, attachments, and pockets.
For color, you can pick whatever you like. However, it should have bright/reflective parts for visibility and safety.
Pockets and attachments help you keep a whistle, phone, knife, and other small accessories close to you.
Stand Up Paddle PFD Maintenance
You have to take care of your floatation devices the same way you care for your stand up paddle boards. Traditional life jackets are easier to maintain compared to inflatable ones.
After every paddling session, rinse your PFD with fresh water then hang it out to dry.
Check for any tears so the next time you go to the water you don't bring a faulty life jacket.
If you inflated your inflatable PFD, you have to replace the CO2 cylinder. Manufacturers will usually offer instructions on how to do this.
Other Safety Considerations
In addition to wearing a Coast Guard-approved life jacket, here are other things you should consider to stay safe.
a. Leash
Falling off while stand up paddle boarding is more common than you think.
A leash is meant to keep you attached to your board when that happens.
Imagine being far away from the shore in an emergency and you can't get to your paddle board. There have been many stories like this and, unfortunately, some of them didn't end well.
So always wear a SUP leash.
b. Sun Protection
Protecting yourself from the sun is also a safety precaution. Don't risk getting sunburnt. Apply enough sunscreen and reapply if you jump in for a swim.
c. Weather and Water Conditions
Stand up paddling is fun and safe. But the weather and water conditions can surprise you. Always check the conditions, especially for rivers or the ocean.
It is important that you know what to expect in terms of current, wind, temperature, and waves so you can plan accordingly.
If you are paddling in a new area, consult a local as well.
d. Skill Level
Don't overestimate your skills. After evaluating the conditions, only go paddling if you are sure you can handle it.
If you are a beginner, for instance, stick to flatwater and generally calm conditions.
Best SUP PFD FAQs
What Does SUP PFD Stand for?
SUP PFD stands for stand up paddle personal flotation device.
Do You Need a PFD on a Paddle Board?
Yes, you need to wear a PFD when paddleboarding. A life jacket ensures your safety and is required by law.
Is It Illegal to Paddle Board Without a Life Jacket?
According to USCG regulations, every paddler, 13 or older, should have a Coast Guard-approved life jacket when paddle boarding. But you don't have to wear it. Paddlers under 13 must wear their PFDs. Read more about the paddle board life jacket requirements.
Note: a PFD is only useful when worn. So even though you are not required to wear it, please do.
What Are the Five Different Types of PFDs?
They include type I (the offshore jacket), type II (near-shore buoyancy vest), type III (flotation aid), type IV (throwable PFD), and type V (special-use PFD). All of them are explained in detail above.
What Should I Look for When Buying a Life Jacket?
When buying a life jacket, look at the following factors:
Fitting size

USCG approval

Durable and comfortable material

Sufficient buoyancy or float

Design

Style

Ease of use
Can You Drown with a Life Vest?
It is possible to drown while wearing a PFD, but it is not common. This happens mainly when the paddler is trapped under and unable to come up. Or when they are knocked unconscious and they can't keep their face out of the water.
In many other cases, wearing a life vest saves lives. So always wear one.
Life Vest vs. Inflatable Belt: Which Is Better for SUP Beginners?
A life vest is the best option for SUP beginners. It is effective as long as you wear it and you don't have to worry about inflating it when you fall in the water.
Are Stand Up Paddle PFDs Reusable?
Yes, stand up paddle PFDs are reusable. For the inflatable models, make sure you replace the CO2 cartridge after use.
YOU MAY ALSO LIKE: Discover the best SUP coolers for cold drinks and snacks in 2022.
Conclusion
Choosing a stand up paddle board PFD isn't hard. As long as you know what to look for, you can make an informed decision.
The Onyx M-16 is our top pick. It is high-quality and durable–perfect for avid paddlers. It will not get worn out after a couple of sessions. The PFD belt allows for freedom of movement and doesn't interfere with your paddling.
For paddlers on a budget, the Onyx MoveVent Dynamic is a great value life vest. The life jacket is super comfortable with a high back and mesh panel for breathability.
Don't get caught without your PFD. Pick one of the amazing options above and enjoy a safe paddle boarding experience.