When it comes to paddle boarding, safety should always be your top priority. One way to ensure safety is by wearing a PFD (personal flotation device) when paddling.
However, getting the right life jacket for SUP is not easy. There are so many of them on the market, it's hard to pick just one. You may also not know what to look for.
But this doesn't have to be the case. To help you out, I will tell you all about the top PFDs for paddlers in 2021. There's also a buying guide with all the information you need to choose the best stand up paddle PFD.
I tested a number of SUP life vests and found the Onyx M-16 to be the best overall. Being a belt PFD, it does not interfere with paddling. It is also quite comfortable. You will hardly notice it once you start paddling.
This Onyx PFD has a 200 denier nylon oxford cover and is USCG-approved. It is high-quality and reliable. You can count on it to do its job if the need arises.
The Onyx M-16 is fantastic and most paddle boarders would love it. But since people are different, preferences vary. So read on for more paddle board PFD reviews for specific cases.
RELATED: Discover the best stand up paddle board accessories for even more SUP fun.
Best Budget Belt PFD- Stearns 16 Gram Manual Belt Pack
Belt PFDs are awesome for stand up paddle boarding. But they can be too expensive. So if you are on a budget, you should consider the Stearns 16 Belt Pack.
This low-profile personal flotation device has a compact design. It doesn't get in the way when you're paddling. It's great for people who find regular life jackets distracting.
While it is priced lower, the Stearns 16 Gram belt PFD is high-quality. It is a US Coast Guard-approved type III flotation device.
Best Unisex Adult Life Vest – ONYX MoveVent Dynamic SUP Life Vest
Not all life vests are uncomfortable for paddle boarding.
The Onyx MoveVent Dynamic life vest is designed for paddle sports. It is unisex and available in three sizes. It is suitable for paddlers of all sizes and body shapes.
The life jacket has a high back and a mesh panel. So if you decide to attach a kayak seat to your paddle board, you will still be able to paddle comfortably. The mesh panel makes it breathable and comfortable even in hot weather.
The MoveVent has reflective material for visibility and added safety.
SUP PFDs Compared
The Best Paddle Board PFD Reviews
1. Onyx M-16 Manual Inflatable Belt Pack PFD – Best Overall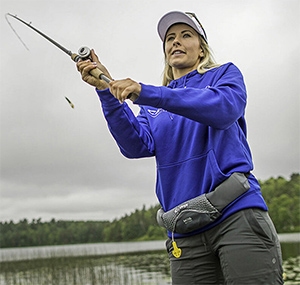 The Onyx M-16 PFD belt is universal and will fit most paddlers over 80 pounds and 16 years and older.
This low-profile floatation device features a 200 denier nylon oxford cover. It is a U.S Coast Guard-approved type III PFD. The CO2 charge will provide 17 pounds of buoyancy. There is an oral inflation tube that can provide additional buoyancy when fully inflated.
The PFD also features a one-inch buckle and body belt as well as a D-ring attachment for smaller paddle board accessories.
The Onyx M-16 would be perfect for the paddler who is looking for safety and comfort, all in one affordable PFD. You will also love it if you practice SUP yoga. It won't get in the way of your poses.
2. Onyx M-24 Stand Up Paddle PFD
This is another good belt PFD for water sport enthusiasts. But unlike the M-16, the M-24 is a US Coast Guard-approved type V PFD.
(We will discuss PFD types in detail in the buyer's guide section below).
This personal floatation device is comfortable, universal size, and lightweight. It has a zipper pocket for you to store your smaller items such as your phone and keys.
In case of emergency, pull the T-cord and the PFD will inflate. It also has an oral inflation tube.
The Onyx M-24 PFD for SUP comes with a D-ring attachment and reflective piping.
The manufacturer does not recommend this life jacket for a non-swimmer or a weak swimmer.
3. MTI Adventurewear Fluid 2.0 Belt Pack
The MTI Adventurewear is a great option for someone who is looking for comfort. It has a body-hugging design with a padded 3D mesh back panel. Everything is soft and quick-drying.
The belt PFD inflates within seconds after tugging on the ripcord tab. It has a built-in window so you can visually confirm the CO2 cylinder connection and readiness.
There is a flap pocket that you can use for gear or an extra CO2 cylinder.
The MTI Adventure is designed to fit waist size 28 inches to 50 inches. It will fit anyone over 80 pounds and at least 16 years old.
This is a USCG-approved type III life jacket and it comes with a signal whistle.
4. Stearns 16 Gram Manual Belt Pack – Best Budget Belt Stand Up Paddle PFD
The Stearns 16 Gram belt pack is affordable, compared to many other belt PFDs.
But it is a well-made safety accessory and you can rely on it while in the water.
All you have to do is pull the activation cord. It will inflate quickly and it has an adjustable neck strap.
This is a universal size PFD for SUP. It fits paddle boarders over 80 pounds with chest size 30 inches to 52 inches.
The Stearns 16 Gram is a USCG-approved type III PFD belt. You might like it if you are looking for a simple and affordable belt flotation device.
5. ONYX MoveVent Dynamic SUP Life Vest – Best Unisex Adult Life Vest
The MoveVent Dynamic life vest is made using heavy-duty nylon fabric and lightweight flotation foam. It is comfortable and effective.
The life jacket is designed for all body shapes. It is available in three sizes to ensure that no one is left out.
This flotation device features a lash tab for you to attach any small accessories you may want to keep close. The heavy-duty zipper at the front prevents the vest from riding up, an issue that paddlers have had with some life vests.
The MoveVent Dynamic has large armholes. It won't interfere with your paddling adventures.
The life vest has a high back for when you are sitting on your SUP kayak seat. The mesh back allows for air circulation.
The MoveVent Dynamic is a U.S Coast Guard-approved type III personal flotation device.
6. NRS Ninja Life Jacket
The NRS Ninja has its flotation material concentrated into a smaller surface.
It will keep you safe and comfortable while paddleboarding.
You don't have to worry about it getting in the way of your paddle strokes.
You should consider this life jacket if you want color options.
It is available in five colors: black, blue, lime, red, and teal.
The Ninja has US Coast Guard certification.
7. NRS Women's Siren Paddle Board PFD – Best SUP Life Vest for Women
Some of the life jackets on the market can be uncomfortable for women. The NRS Women's Siren paddle boarding PFD is designed specifically for women paddle boarders.
The life vest has six different ultra-soft foam panels that conform to your body and allow you to move freely. The inner mesh panels provide ventilation and keep you comfortable the entire time.
To ensure that it fits your body size and shape perfectly, the Siren features six adjustment points.
The shoulder panels are padded.
If you are a woman and the life jackets you have tried just don't fit right, you should try this one.
8. Stohlquist Fit Youth PFD – Best Youth Personal Floatation Device
Young stand up paddle boarders also need to wear personal flotation devices while out on the water. And they have to fit properly.
The Stohlquist life jacket is made for youth paddlers (50 pounds to 90 pounds). It has sculpted foam paneling that allows high mobility. The back panels are thinner so you will be comfortable even when on a SUP kayak seat.
This youth life vest is easy to adjust, ensuring a perfect fit. The outer shell is made using 200D nylon.
The Stohlquist Youth Fit life jacket is USCG-approved.
9. Outward Hound Dog Life Jacket – Best PFD for Dogs
As you are buying a life vest for yourself don't forget your furry friend. Dogs should also wear floatation devices.
The Outward Hound Dog life jacket is available in several sizes. It is designed to fit dogs of all shapes and sizes.
This dog life jacket features bright colors and reflective accents for visibility. It has a front float support to help keep your pup's head above the water. It also comes with dual grab handles in case you need to rescue or restrain the dog.
The Outward Hound dog PFD is good for experienced as well as novice swimmers.
Ultimate Buyer's Guide: How to Choose a SUP Personal Flotation Device (PFD)
A personal flotation device is a key safety accessory. So it is important that you choose the best one.
Here is all the information you need to make that decision.
What Is a Stand Up Paddle PFD?
PFD stands for personal floatation device. As you can already guess, it is a device that keeps you above the water in case you fall in.
A PFD can come in different designs including a vest, belt, and suspender harness.
a. PFD Belt
A PFD belt is the most preferred design by paddle boarders. It is a belt, worn around the waist, and some of them come with extra storage. So not only does it keep you safe, but it also offers you somewhere to store small items.
When you fall into the water, you have to pull a cord to activate the CO2 cartridge.
The gas cartridge is replaceable so you can use the PFD again.
b. PFD Suspender Harness
A suspender harness PFD is another great option for paddleboarding. It offers freedom of movement and doesn't get in the way.
This PFD design can either be auto inflatable or manual inflatable.
An automatic vest inflates automatically when submerged. This would be useful if, in case of emergency, the paddler is unconscious and can't pull the cord.
However, understand that not every fall during SUP is an emergency. So the harness can inflate unnecessarily.
Note: most auto inflatable PFDs also have a manual inflation option.
A manual inflatable has a cord that you pull to inflate the harness. You have to be conscious to activate it.
c. PFD Life Vest
PFD life vests are the most common type. They have a foam core and can be bulky, compared to the other two above.
The biggest advantage when using this life jacket is that you don't need to inflate it. All you have to do is wear it.
Most of these life jackets come with pockets and attachment points for storage. They are good for fishing.
Do You Need a Life Jacket for Paddle Boarding?
Yes, you do. Other than the fact that a SUP PFD could save your life, you are required by law to have one.
Every child under 13 must wear a stand up paddle PFD when riding with you.
For other paddlers, there should be a life vest somewhere on the vessel. But know that it only works when you wear it.
PFD laws may vary by state. Here are the specific state requirements.
The 5 Types of Personal Flotation Devices
When shopping around for a paddleboarding PFD, you will notice that they are categorized into types.
What are the various PFD types and what do they mean?
Type I PFD
A type I PFD is also known as an offshore life jacket.
Type I PFDs are mainly found in commercial vessels. They are suitable for use in all water conditions, including rough and remote areas where help may take a while.
The PFDs are bulky with extra foam. They will keep the head above the water.
The minimum buoyancy requirement for a type I PFD is 22 pounds.
Type II PFD
Type II PFDs are suitable for use in calm conditions, close to the shore where you won't have to wait long for help.
These life jackets are not recommended for non-swimmers.
They are typically used for kayaking, paddleboarding, wakeboarding, and boating.
The minimum buoyancy requirement for a type II PFD is 15.5 pounds.
Type III PFD
Type III PFDs are much more comfortable. They come in different styles including a fishing vest, cold weather jacket, and belt PFD.
A type III PFD doesn't offer a high amount of float. So it is only ideal for good swimmers.
The minimum buoyancy requirement is 15.5 pounds.
Type IV PFD
Type IV PFDs are throwables such as cushions, buoys, and rings. They are mainly found on ferries, ships, and public swimming pools.
A type IV PFD is usually thrown to someone when they fall overboard.
Type V PFD
Type V PFDs are special use life jackets–a hybrid of the above types.
They have a low profile and they are only inflated when needed, either manually or automatically.
Automatic models will inflate when submerged while manual models require you to pull a cord.
These life jackets have a buoyancy rating of up to 34 pounds.
What Type of PFD Do I Need?
For stand up paddleboarding, type II and type III PFDs are the best. If you are confident in your swimming skills, you can also wear a U.S Coast Guard-approved type V life jacket.
Features to Look for When Buying a PFD for Paddle Boarding
1. PFD Size and Fit
Choosing a stand up paddle PFD for kids is easy because the sizing depends on their weight. Manufacturers usually indicate the weight.
When it comes to adults, however, you have to consider your weight and your chest size.
While manufacturers indicate sizes, they don't all use the same sizing.
The best way to know whether or not a SUP PFD fits is to put it on. The buckles should connect easily without you having to force anything.
Your stand up paddle boarding life vest should be snug; not too tight and not too loose.
With your life jacket on, ask a friend to try lifting the shoulder part. If it can come up to your ears, the PFD is too big.
2. Comfort
The right PFD should be comfortable.
You can't wear an uncomfortable life jacket for too long. And when you take it off, you could be risking your life.
Look for a PFD that allows you to move freely when stand up paddling. There should be no restrictions when making a paddle stroke.
With a good PFD, you should even forget you are wearing it.
The life jacket should also fit properly and be made of breathable materials.
Speaking of…
3. Material
When it comes to material, you want something that is long-lasting and feels good against your skin. Also, remember you will be using it in the water so it has to be quick-drying.
The most common SUP PFD materials are nylon and neoprene.
They are the best because they are comfortable, durable, and dry quickly.
4. Buoyancy
The stand up paddle PFD you choose should be able to keep you afloat.
While the required minimum buoyancy for PFD types may seem low, you weigh way less in the water. For the average person, a buoyancy of 17 pounds is more than enough.
Make sure you buy a USCG-approved life jacket and pay attention to the PFD types. Pick a type that is appropriate for the situation in which you will be paddling.
5. Ease of Use
Your life jacket should be easy to use. The last thing you want is an accessory you can't figure out, especially in an emergency.
All the PFDs listed above are straightforward. Anyone can quickly wear, adjust, or take them off when necessary.
Choose simple straps and buckles–something that won't give you a hard time.
6. Style
As you have seen, stand up paddle boarding PFDs come in different styles such as vests, harnesses, and belts.
Any of these would be fine. It depends on where you will be paddling and what you will be doing.
Anglers, for instance, will be better off with a vest because of the extra storage. Paddlers going for SUP races may prefer a belt PFD because it won't be in the way.
7. Design
You should also consider features such as color, attachments, and pockets.
For color, you can pick whatever you like. However, it should have bright/reflective parts for visibility and safety.
Pockets and attachments help you keep a whistle, phone, knife, and other small accessories close to you.
Stand Up Paddle PFD Maintenance
You have to take care of your floatation devices the same way you care for your stand up paddle boards. Traditional life jackets are easier to maintain compared to inflatable ones.
After every paddling session, rinse your PFD with fresh water then hang it out to dry.
Check for any tears so the next time you go to the water you don't bring a faulty life jacket.
If you inflated your inflatable PFD, you have to replace the CO2 cylinder. Manufacturers will usually offer instructions on how to do this.
Other Safety Considerations
In addition to wearing a Coast Guard-approved life jacket, here are other things you should consider to stay safe.
a. Leash
Falling off while stand up paddle boarding is more common than you think.
A leash is meant to keep you attached to your board when that happens.
Imagine being far away from the shore in an emergency and you can't get to your paddle board. There have been many stories like this and, unfortunately, some of them didn't end well.
So always wear a SUP leash.
b. Sun Protection
Protecting yourself from the sun is also a safety precaution. Don't risk getting sunburnt. Apply enough sunscreen and reapply if you jump in for a swim.
c. Weather and Water Conditions
Stand up paddling is fun and safe. But the weather and water conditions can surprise you. Always check the conditions, especially for rivers or the ocean.
It is important that you know what to expect in terms of current, wind, temperature, and waves so you can plan accordingly.
If you are paddling in a new area, consult a local as well.
d. Skill Level
Don't overestimate your skills. After evaluating the conditions, only go paddling if you are sure you can handle it.
If you are a beginner, for instance, stick to flatwater and generally calm conditions.
Best SUP PFD FAQs
Q: What Does SUP PFD Stand for?
A: SUP PFD stands for stand up paddle personal flotation device.
Q: Do You Need a PFD on a Paddle Board?
A: Yes, you need to wear a PFD when paddleboarding. A life jacket ensures your safety and is required by law.
Q: Is It Illegal to Paddle Board Without a Life Jacket?
A: According to USCG regulations, every paddler, 13 or older, should have a Coast Guard-approved life jacket when paddle boarding. But you don't have to wear it. Paddlers under 13 must wear their PFDs.
Note: a PFD is only useful when worn. So even though you are not required to wear it, please do.
Q: What Are the Five Different Types of PFDs?
A: They include type I (the offshore jacket), type II (near-shore buoyancy vest), type III (flotation aid), type IV (throwable PFD), and type V (special-use PFD). All of them are explained in detail above.
Q: What Should I Look for When Buying a Life Jacket?
A: When buying a life jacket, look at the following factors:
Fitting size
USCG approval
Durable and comfortable material
Sufficient buoyancy or float
Design
Style
Ease of use
Q: Can You Drown with a Life Vest?
A: It is possible to drown while wearing a PFD, but it is not common. This happens mainly when the paddler is trapped under and unable to come up. Or when they are knocked unconscious and they can't keep their face out of the water.
In many other cases, wearing a life vest saves lives. So always wear one.
Q: Life Vest vs. Inflatable Belt: Which Is Better for SUP Beginners?
A: A life vest is the best option for SUP beginners. It is effective as long as you wear it and you don't have to worry about inflating it when you fall in the water.
Q: Are Stand Up Paddle PFDs Reusable?
A: Yes, stand up paddle PFDs are reusable. For the inflatable models, make sure you replace the CO2 cartridge after use.
YOU MAY ALSO LIKE: Discover the best SUP coolers for cold drinks and snacks in 2021.
Conclusion
Choosing a stand up paddle board PFD isn't hard. As long as you know what to look for, and a few great options, you can make an informed decision.
The Onyx M-16 is our top pick. It is high-quality and durable–perfect for avid paddlers. It will not get worn out after a couple of sessions. The PFD belt allows for freedom of movement and doesn't interfere with your paddling.
For paddlers on a budget, the Stearns 16 Gram is a good belt pack. It is affordable but well-made and reliable.
If you are looking for a unisex life vest, you might want to consider the Onyx MoveVent Dynamic. It comes in different sizes. The life jacket is super comfortable with a high back and mesh panel for breathability.
Don't get caught without your PFD. Pick one of the amazing options above and enjoy a safe paddleboarding experience.