Paddle boarding can be thirsty work, so you've got to take drinks along to stay hydrated. Also, if you're out for a while, you'll probably get hungry and need to replenish your energy.
Unless I'm planning a particularly short trip, I always load up a paddle board cooler so I can keep my vital supplies chilled and avoid the horror of warm food and drinks.
If you're in the market, I've researched and tested the best paddle board coolers available and my favorite is the iRocker 25L Cooler. It's rugged, water-resistant, well insulated, and easy to attach to your SUP board.
I've also evaluated eleven other excellent options for your consideration. Each one covers different budgets, capacities, and applications.
So, whether you're planning a long solo touring trip, a family fun picnic, an on-water party, or need somewhere to keep your fishing bait and catch cool, read on. Open an ice-cold drink, and I'm going to take you through the best paddle board coolers available.
Quick Summary
If you're in a hurry, here are our top paddle board coolers. Or continue scrolling to see our full list with in-depth reviews.
What Is the Best Stand Up Paddle Board Cooler?
1. iRocker 25L Roto-Molded Cooler – Best SUP Cooler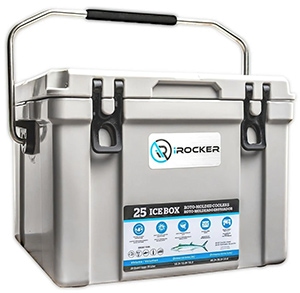 iRocker SUP doesn't just make inflatable paddle boards. They also have fantastic gear that will make your paddling adventures even more fun.
Their iRocker 25L cooler features rugged, no-sweat, stay-dry rotomolded construction. Its heavy-duty stainless steel handle locks upright for easy transport.
The paddle board cooler also has molded tie-down slots, a quick-drain water valve, and non-slip feet to keep it in place.
The iRocker rotomolded cooler comes with a free water bottle holder and is available in two colors.
It measures 18.2" x 13.9" x 13.3" and weighs 18 pounds. It can hold up to 24 cans and ice.
Check Price of the iRocker Roto-Molded cooler
2. iRocker Backpack Cooler
This iRocker paddle board backpack can work as a SUP cooler as well as a dry bag.
It has thick insulation that can keep ice for 12 to 72 hours.
It features padded shoulder straps, back support, and a waist belt. You can comfortably carry the bag and your paddle board at the same time.
The iRocker backpack cooler/dry bag has a 30-liter capacity. It can fit 24 cans plus 25 pounds of ice.
It also has two side mesh pockets for additional storage.
Check Price of the iRocker Backpack cooler
3. Gili Paddle Board Deck Cooler Bag – Best Cooler Deck Bag
The Gili deck cooler bag is a nice option if you want a light and compact bag to keep your drinks cool. You can still enjoy cold drinks, but without having to deal with the bulk (and weight) of a hard cooler.
The Gili board deck cooler bag's capacity is measured in tems of how many cans it can hold, and it's available in two sizes: a 10-can and a 20-can. However, if you want to get specific in terms of the capacity and dimensions; the smaller bag measures 4.25" x 16.5" x 12.5". The bigger one measures 6.75" x 16.5" x 12.5". So, it gives you the option to choose the size that best suits your lifestyle.
This Gili deck bag has a three-layer construction with an inner lining made using premium-grade insulation cloth. It also has water-resistant zippers (meaning less chance of water seeping in), and it does an amazing job of keeping your refreshments cool for longer periods.
I love that the bag comes with both a shoulder strap and top handle. These make it easy to carry, even when it's loaded. It also has S-hooks that make it easy to attach the bag to your SUP.
There are two pockets. One is waterproof and you can use it for your valuables. The other is a mesh pocket that you can use for anything else.
Check Price of the Gili Deck Cooler Bag
4. iRocker Cooler Deck Bag – Best Cheap Deck Bag
The iRocker deck bag, like the Gili bag, is small and compact–but still big enough to fit all your refreshments.
It measures 13″ x 12″ x 6″ and it won't take up much space on the deck. It's great for shorter paddle boarding trips.
The iRocker cooler bag is affordable but still well-made, and is made by a very reputable company. It can handle being exposed to the elements for extended periods and you don't have to worry about it coming apart!
It's not waterproof though, just water-resistant, so this is definitely something to keep in mind. It wil stand up to splashes, but you can't submerge it without the contents getting wet.
There's a bungee system with clips at the bottom of the bag, and if your board has D-rings it will only take seconds to attach. You can also simply store it under your SUP's bungee system, if that is easier.
Check Price of the iRocker Cooler Deck Bag
5. YETI Tundra 35 Paddle Board Cooler
When YETI were designing the Tundra SUP cooler, their focus was on three key elements: weather resistance, durability, and ice retention. And isn't that what every paddleboarder wants?
A good paddle board cooler should be rugged, weather-resistant, and with outstanding ice retention. The YETI Tundra 35 checks all those boxes.
The cooler features rotomolded construction that is almost impossible to destroy. It is made for the outdoors and you will be amazed by how tough it is.
The extra-thick walls allow it to hold up to two inches of commercial-grade polyurethane insulation foam. It can keep ice for days. Some users say their Tundra 35 keeps ice for three or more days!
The paddle board cooler measures 21.38" x 16.13" x 15.75". It can hold up to 20 cans with the recommended ice-to-can ratio of 2:1. It weighs 20 pounds.
Check Price of the YETI Tundra cooler
6. Engel 19QT 32-Can Paddle Board Cooler
The Engel Drybox cooler has a clean sleek design.
The insulation material is high-grade molded polystyrene foam. The cooler also has an airtight EVA gasket seal. This ensures that your stuff stays colder for longer.
The Engel cooler has a shoulder strap and carry handles. You won't struggle if you have to carry it over long distances.
This paddle board cooler is not just for food and drinks. It is also a dry box that will work for valuables such as your phone and cameras. It will keep out dust and moisture.
Regardless of how you use it, you will appreciate that the Engel cooler/dry box has a non-absorbent surface. It is easy to clean and is also odor- and stain-resistant.
The 19-qt paddle board cooler measures 16.5" x 11.25" x 12.75" (external) and 11.75" x 8" x 10" (internal). It weighs 6.75 pounds.
ALSO READ: Discover the best Stand Up Paddle PFDs that keep you safe and are comfortable to wear.
Check Price of the Engel cooler
7. YETI Roadie 24 Cooler
The YETI Roadie is slightly taller at about 18 inches. You can store a two-liter bottle or a standard bottle of wine in an upright position.
While this SUP cooler holds more than the smaller Roadie 20, it is 10% lighter, thanks to its rotomolded construction. Most paddle boards don't have very high weight capacities so this is great.
Despite its light construction, the Roadie 24 cooler has amazing ice retention. It can keep your drinks cold for four or even more days. A few users have recommended pre-chilling the paddle board cooler for the best results.
The YETI Roadie 24 measures 17.1" x 14.3" x 18". With a 2:1 ice-to-can ratio, it holds 18 cans.
Check Price of the YETI Roadie cooler
8. Arctic Zone Titan Deep Freeze Zipperless Hardbody Cooler – Best Budget SUP Cooler
With paddle board coolers going for as much as $300+, it is easy to see why the Titan Deep is highly rated.
It is super affordable but the manufacturer did not compromise on quality or ice retention.
This SUP cooler has an FDA-compliant hard-body liner.
The Deep Freeze's triple-layer Coldblock base plus high-performance insulation with heat radiant barrier provide exceptional cooling. It can make your ice stay ice for three days.
In case you have to carry this paddleboard cooler, you will appreciate its adjustable shoulder strap. It even has an anti-slip shoulder pad.
The exterior is extremely tough and very hard to tear or rip. It is stain- and water-resistant. It wipes clean easily.
The Arctic Zone Titan Deep Freeze's SmartShelf feature lets you keep soft stuff separate from the hard stuff. It is also removable in case you only need one compartment.
In addition to all these features, the paddle board cooler has side pockets for extra storage.
It measures 16.5" x 11" x 12.75" (external) and 12.7" x 7.6" x 10.2" (interior).
Check Price of the Arctic Zone Titan cooler
9. RTIC Soft Cooler for Paddle Boarding
The RTIC soft-sided cooler bag is made using 100% waterproof material. The heavy-duty nylon shell is puncture- and tear-resistant. The zipper is also waterproof, which is awesome.
The closed-cell insulation is two inches thick at the top and one inch thick on the sides. It locks in the cold really well.
This cooler bag has a durable liner that is easy to clean.
One of the main reasons why people prefer soft-sided cooler bags to hard-sided ones is weight and portability.
The RTIC soft-sided bag only weighs 5 pounds.
It measures 15" x 14" x 10" and it can hold 20 cans plus ice.
Check Price of the RTIC Soft cooler
10. Thurso Surf SUP Deck Cooler
If you are looking for something small and simple, you might love the Thurso Surf SUP deck bag cooler.
It features thick insulation foam and a high-grade PVC outer layer. The cooler bag also has a waterproof zipper. You don't have to worry about water getting into the bag.
The Thurso Surf deck cooler bag has an attachment system designed specifically for paddle boards. Its S-hooks attach to your board's D-rings. Alternatively, you can secure it using your SUP's bungee system.
This deck bag cooler has a carry handle and a padded shoulder strap for easy carrying.
While you can't expect much from a cooler bag when it comes to ice retention, the Thurso bag will keep your food and drinks cold for long.
It measures 16" x 12" x 6" and can fit 20 cans.
Check Price of the Thurso Surf cooler
11. Engel SUP Fishing Cooler with Rod Holders – Best Paddle Board Cooler for Fishing
Keeping your live bait in good condition won't be a problem anymore with the Engel Fishing cooler.
This SUP cooler with rod holders is made with rugged material and insulated using high-grade molded polystyrene foam. It also features a self-stopping hinge, shoulder strap, carry handles, and four rod holders.
The live bait cooler has a convenient net so you won't get frustrated trying to access your bait. It also comes with a two-speed aerator pump that runs on a cigarette car lighter connection or 2 D cell batteries.
The SUP fishing cooler measures 18.5" x 12.5" x 14.5" and weighs 8 pounds. It can also be used as a paddle board cooler seat.
Check Price of the Engel Fishing cooler
Buyer's Guide: How to Choose the Best SUP Cooler
Even a list of 11 is still too long when you need just one paddle board cooler. So how do you narrow it down?
Here is everything you should know.
What Is a Paddle Board Cooler?
A paddle board cooler is an insulated box or bag that maintains the temperature of its contents. Simply put, it keeps cold stuff cool and warm stuff warm.
When paddle boarding during winter, you can bring hot drinks in your cooler to keep them warm. On hot days, you can bring chilled drinks and they will remain cool throughout the day.
What to Consider When Choosing a SUP Cooler
1. Hard-Sided Cooler Vs Soft-Sided Cooler
The names explain the difference. A hard-sided cooler is a box, usually made of plastic while a soft-sided cooler is a bag.
The material is the main difference.
Each of them has its pros and cons.
A hard-sided paddle board cooler is likely to keep ice longer. Some will even keep your drinks cool for a week. You can also use it as a seat on your paddleboard.
However, carrying a hard-sided SUP cooler can be quite the task. Others weigh as much as 18 pounds. When carrying it plus your SUP and gear, it can be too heavy.
This type of cooler would be ideal for anyone who paddles long distances–maybe overnight or multiple-day SUP trips.
A soft-sided cooler can be folded and it is lightweight. It is easier to carry. But most soft coolers can't keep ice for multiple days. They are ideal for day trips.
2. Ice Retention of the Paddle Board Cooler
All SUP coolers can keep your food and drinks cold or warm. But some can maintain ice for days while others will only maintain it for a few hours.
This is why you should pay attention to the ice retention rate. If you need to keep your food fresh for a few days, you should look for a SUP cooler with a higher level of ice retention.
The Tundra 35 is a good example. Its walls are extra thick, with about two inches of foam insulation. You can take it on paddle board camping trips.
If your trips only last a day, a cooler bag would be fine. You only need it to keep your drinks cold for several hours.
You should be ready to pay a higher price if you are looking for a cooler with impressive ice retention. Most of them are expensive premium models.
3. Size and Storage Capacity
A big SUP cooler will take up more space, but you can fit more stuff in it.
A smaller one won't take a lot of space and it will be easy to carry. But you can't bring a lot of drinks with you.
It all comes down to the size of your SUP and the duration of your trip. For longer trips, you will require a bigger cooler. You can't also buy a super small cooler if you are an angler.
Note: just because a cooler looks big doesn't mean it can fit a lot of items. Check the internal measurements as well. Some big coolers have very thick walls and, thus, a smaller interior.
4. How the SUP Cooler Attaches to the Paddle Board
This is not something you have to worry about with cooler deck bags. Most of them can go under the bungee cord storage.
For SUP cooler boxes, make sure you pick one with strap holders on the sides. This allows you to attach it to your board's D-rings. You may also want to choose a cooler with an anti-slip bottom.
5. Material: Waterproof/Water-Resistant
Hard paddle board coolers are waterproof since most of them are made of plastic.
Some bags are also waterproof but others are water-resistant. With a water-resistant bag, you might have a problem if it is submerged. So you should get a waterproof pouch for any valuables you intend to put in it. (Some SUP bags may come with a waterproof insert).
Best SUP Cooler FAQs
Why Use a SUP Cooler for Paddle Boarding?
Other than keeping your food fresh and drinks cold, SUP coolers have many other benefits. You can use it to keep your valuables dry or as a seat. Being able to alternate between sitting and standing helps you paddle for longer.
What Is the Difference Between a SUP Cooler and a Regular Cooler?
A SUP cooler is designed for paddleboarding. This means that it will come with some form of attachment system that allows you to secure it to a board. It also has a non-slip bottom to prevent it from sliding.
If it has any metallic parts, they will be rust-resistant and you won't have to worry about paddling in saltwater.
A regular cooler will probably not have these features.
How to Clean a Paddle Board Cooler?
Most SUP coolers are odor- and stain-resistant. So you only need to clean them with water and a mild detergent. If yours has tough stains, you can try using water and baking soda.
Rinse the cooler properly with fresh water then let it dry before storing.
Q: How Do I Attach a SUP Cooler to a SUP?
A: Attaching a SUP cooler to your paddle board is easier than you imagine. As long as your board has D-rings, all you need are strong straps.
YOU MAY ALSO LIKE: Find the best sup electric pumps for inflating your board with ease in 2023.
Conclusion
A paddle board cooler is one of those SUP accessories that every paddler should have. The above 11 are the top SUP coolers of 2023, with the iRocker 25L Rotomolded Cooler being the overall best. It's rugged, water-resistant, well insulated, and easy to attach to your SUP board.
The iRocker Cooler Deck Bag is a great option if you are on a tight budget. It is compact, but still big enough for all your refreshments, and is easy to attach to your paddle board.
The Engel Live Bait Cooler would be a nice choice for anglers who use live bait. It even comes with four rod holders.
Don't hesitate to get yourself one of these. You'll be glad you did.