As an experienced paddler, I believe that owning a good pair of paddle boarding shoes is very important. You need to have at least one pair of water shoes for stand up paddling. The right footwear will keep your feet warm when paddle boarding during winter, and can help prevent you from slipping. SUP shoes also protect your feet from getting injured by rocks and other dangerous objects that may be in or around the water.
To help you find the best shoes for your paddle boarding adventures, I recommend my top 11 water shoes to check out. I also discuss how to choose the right shoes for your needs so you don't end up with something you don't like.
All the SUP water shoes here are fantastic. But if I had to pick my favorite, I'd go with the SUOKENI water shoes (for men and for women). I'll talk about them in detail below, as well as the other amazing paddle board shoes. So read on.
Quick Summary
If you're in a hurry, here are our top water shoes. Or continue scrolling to see our full list with in-depth reviews.
RELATED: What Are The Best Accessories For Paddle Boarding?
The Top 11 Paddle Boarding Shoes
Here are the best paddle boarding shoes of 2023.
1. SUOKENI Men's Water Shoes – Best Paddle Boarding Shoes for Men
The SUOKENI water shoes are a fantastic choice for stand up paddle boarding and, in my opinion, they're the best you can get.
One of the top reasons why I love these shoes is the materials used to make them. The upper is made using soft mesh material which feels great against your skin and won't cause irritation. It's also breathable and quick-drying so your feet won't be all wet and sweaty.
The sole is made from a material that is lightweight and flexible. You can wear the shoes for hours while paddle boarding without any kind of discomfort. I also love that it allows for air circulation and drains water and sweat quickly.
The sole is anti-slip too so you can SUP without worrying about slipping on the wet paddle board or slippery rocks.
The elastic shoelace system to wear and take off. You'll appreciate this when you have to wear or remove them, especially while on your paddle board.
The SUOKENI water shoe for men comes in 20 colors so you can choose a color that best suits your style.
If you're looking for high-quality and comfortable SUP water shoes, check out these SUOKENI quick-drying men's shoes.
Check Price of the SUOKENI's Men Water Shoes
2. SUOKENI Women's Water Shoes – Best SUP Shoes for Women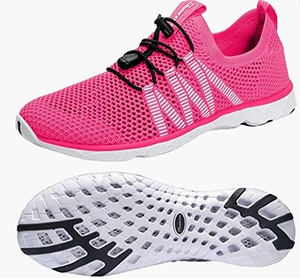 For women, these SUOKENI water SUP shoes are a great option.
Like the men's shoes, they have a mesh upper that allows for proper drainage of water and sweat. It also promotes air circulation, giving your feet a cool and comfortable environment all day long.
The rubber sole is light and flexible, just like the men's shoes, so you can paddle while wearing the shoe for hours. It's also anti-slip and you can be confident that you won't be sliding on slippery surfaces.
The material, though lightweight and elastic, is still tough enough to protect your feet when you have to walk on rocky beaches.
The SUOKENI women's shoes come in 27 colors–bright colors, muted colors, and several classic black options. I like the sheer amount of choice, and I imagine there will definitely be something to suit everyone's tastes. Or, if you don't want to settle for just one, you can opt for multiple different looks.
These shoes offer full coverage for your feet and, seeing how comfortable they are, you can use them for daily walking, not just paddle boarding.
Check Price of the SUOKENI's Womens Water Shoes
3. Cior Boys and Girls SUP Shoes – Best Kids' Shoes for Paddle Boarding
Cior SUP water shoes would be great for the young paddler in your life.
One thing I love about these shoes is how lightweight they are. Both the sole and upper are made using very light materials so kids can comfortably wear them for hours.
The upper material is breathable, to keep little feet cool all day long. The cushion insoles are breathable too and they have holes to drain water and sweat. They're also soft and will prevent fatigue, especially on those long paddle boarding trips.
The sole is made using EVA material with rubber pods. In addition to being unbelievably lightweight, the sole offers added traction so they won't slide on their wet SUP board or any other slippery surface.
Cior water shoes come in many different designs and patterns that kids will love.
They are also available in a wide range of sizes and are ideal for toddlers as well as older kids.
Check Price of the CIOR Kids Water Shoes
4. BARERUN Quick-Drying Shoes – Best Budget Water Shoes for SUP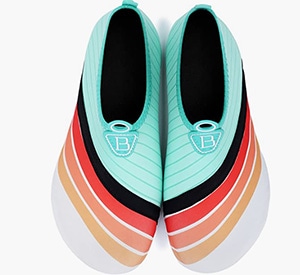 BARERUN shoes don't cost much, compared to other water shoes. But for the price, you get a quality pair of comfortable SUP shoes.
The most outstanding feature, I'd say, is the flexibility of both the upper and the sole. These shoes are like socks and they give you a barefoot feel. They're so comfortable, you can easily forget you're wearing them. The shoes are also foldable so they won't take up a lot of space on your SUP board.
I love that the manufacturer paid attention to the neck of the BARERUN water shoes. It feels soft and doesn't cause chafing.
This shoe may be soft but the rubber outsole is still tough enough to protect your feet if you step on sharp objects. It's also grippy and will prevent you from sliding on wet surfaces.
You get so many color options with the BARERUN paddle board shoes–over 40 colors and patterns for you to choose from.
Check Price of the Barerun Water Shoes
5. NRS Kinetic Water Shoes
Cold water paddling will be much more comfortable and fun with the NRS Kinetic water shoes.
Both the upper and the insole are made using three-millimeter terraprene neoprene material which ensures your feet stay warm.
The outer sole features 1.5 millimeter textured rubber which is lightweight and easy to wear all day, but still tough enough to protect your feet even when walking on rocky ground.
A secure fit is important because you don't want your shoes coming off when you're trying to enjoy your SUP session, more so when it's cold. Thankfully, NRS Kinetic water shoes have elastic rubber bands that you can use to adjust the fit. This makes them super easy to use, wear, and take off.
I love how the shoe has a naturally-shaped toe box which provides a roomy and comfortable space for each toe.
Check Price of the NRS Kinetic Water Shoes
6. L-Run Athletic Water Shoes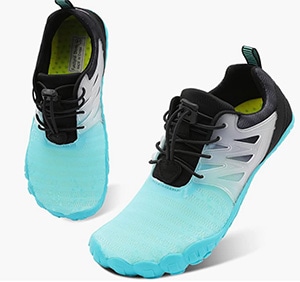 L-Run water shoes are designed for comfort, whether you have narrow or wide feet.
These paddle boarding shoes have a wide-toe design as well as an elastic band to help you adjust the fit. You won't have to paddle around with your toes squeezed together uncomfortably all day long – if they're too tight, simply adjust them. .
The upper fabric is super lightweight and breathable, creating a nice cool environment for your feet–even in blazing-hot conditions. It's also stretchy and flexible, giving you that barefoot feel.
The outsole of the L-Run water shoe is thick, with amazing traction. These textured rubber soles will protect your feet from sharp rocks and other objects in or around the water. It has strong traction to prevent slipping on smooth wet surfaces.
Although the sole is thick, these shoes are still lightweight and perfect for outdoor enthusiasts who want a shoe that won't hinder them.
These unisex water shoes are available in almost 40 colors for you to choose from according to your style.
Check Price of the L-Run Water Shoes
7. Mishansha Quick-Dry Water Shoes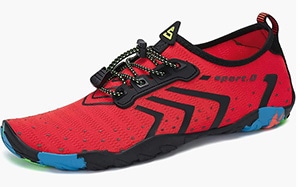 Mishansha water shoes look good and, more importantly, they feel good.
The inner lining is soft and I love how it feels against the skin.
The upper of the shoe is made using Lycra material which is lightweight and stretchy so you don't have to deal with the potential discomfort of a stiff shoe while you're out having fun. It's also breathable to facilitate ventilation and a healthy environment for your feet.
The rubber sole has small drainage holes for sweat and water drainage. They also double as ventilation holes and will keep your feet cool even when it's hot. The shoe's sole is thick enough to protect your feet from rocks but still flexible and lightweight, so it's easy and comfortable to wear.
I love that these shoes come with elastic straps which allow you to quickly adjust the fit, depending on the width of your feet. They also make it easy to put on and take off the shoes.
Lastly, Mishansha water sports shoes look great. They have a stylish appearance and they come in many gorgeous colors and prints for you to choose from.
Check Price of the Mishansha Water Shoes
8. Body Glove Men's Ribcage Water Shoes
Body Glove Ribcage men's water shoe is designed to enhance your performance, whether you're SUP fishing or paddling whitewater.
The rubber soles have an ultra-grip design that offers unmatched stability so you won't slip and lose your balance. You can take on extreme SUP activities with confidence.
These men's shoes also have an elastic shoelace design which I love. It works well and you can use it to quickly adjust the fit even in the middle of a SUP session. It also makes the shoes easy to wear and take off–you don't have to deal with traditional shoelaces.
One notable feature of the Body Glove Ribcage shoes is the reduced sole height. It creates a barefoot natural balance while still protecting your feet from sharp rocks and other objects.
The upper is stretchy and is made with soft, breathable material. It dries quickly and allows for air circulation so your feet will stay cool and comfortable.
Check Price of the Body Glove Men's Ribcage Water Shoes
9. WateLves Water Shoes
WateLves are so lightweight that you even stop noticing you're wearing them after a while. The upper material stretches and it won't restrict you while you're trying to have a good time out in the water. It's also breathable and quick-drying so your feet won't get all hot and sweaty.
The sole is thin, lightweight, and flexible. You can even fold the shoes for storage when you're done using them. However, it's still made of high-quality rubber and is ergonomically molded. This means that the sole will not only provide a level of protection for your feet, it'll also give you comfort.
In addition to having a breathable upper, these slip-on water shoes have small drainage holes on the soles to facilitate air and water flow. They'll keep your feet feeling good all day long.
The shoes look great too and you have almost 50 colors and prints to choose from.
Check Price of the WateLves Water Shoes
10. Body Glove 3t Barefoot Hero Water Shoes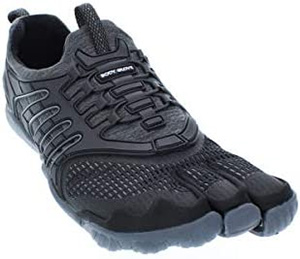 The Body Glove Hero water shoes have a unique design that sets them apart from other water shoes.
The shoe features three individual toe pockets which ensure that your performance isn't affected. The three-toe design also protects the smaller toes from getting hurt and makes it easy to wear the shoes. They're the best paddle board shoes for outdoor enthusiasts who want a shoe that will maximize, not hinder, their performance.
Like the other Body Glove water shoes above, these ones also have an integrated drainage system. It improves airflow and allows water to flow easily from the upper through the sole. This significantly reduces the drying time.
On top of having the three-toe design, the Body Glove Hero shoes have a reduced sole height and zero heel lift. This gives you an even more natural feel so it's almost like you aren't wearing shoes. But you'll still have the protection of the tough ultra-grip soles.
Check Price of the Body Glove 3t Barefoot Hero Water Shoes
11. SIMARI Quick-Dry Water Shoes
Lastly, we have SIMARI water shoes–popular and top-rated.
These unisex water shoes have an upper made of mesh material that's breathable and quick-drying. It's stretchy and the water shoe also has a shoelace system–features that ensure a snug and comfortable fit.
The sole is pretty solid and has great traction. It will protect you from getting injured by any sharp objects or rocks on the beach. It has eight drainage holes to let out water and promote ventilation, creating a cool and healthy environment for your feet.
SIMARI paddle boarding shoes are versatile and you can use them for other activities like kayaking, swimming, and other water activities.
And with over 40 color options, you can get several pairs that suit your style for different sports.
Check Price of the SIMARI Quick-Dry Water Shoes
Factors to Consider When Choosing Water Shoes for Your SUP Adventures
The last thing you want is an uncomfortable pair of paddle boarding shoes. Good SUP shoes should fit well and ensure comfort throughout your paddling trip. So how do you choose SUP shoes that will make your paddle boarding trips better?
Here are the things you should consider.
Breathability and Comfort of the Material
A good SUP water shoe should be made of material that is breathable to allow for air circulation. This will keep your feet cool and comfortable by letting heat out and cold fresh air in.
It also ensures a healthy environment so you don't have to worry about stinking feet or infections.
Breathable materials also dry quickly which is important because your water shoes will most likely get wet.
Neoprene, lycra, and polyester are some of the materials commonly used to make water shoes–as you can see from the reviews above. They are breathable and comfortable.
The Design of the Inner and Outer Sole
The insole should be breathable, just like the rest of the shoe, and comfortable. I also prefer a removable insole so I can easily replace it if need be.
When it comes to the outer sole, you want something that is flexible, and not bulky. Such a sole will give you a barefoot feel and won't hinder your performance.
It should also have traction, so you don't slide on your wet paddle board or slippery rocks–this can be dangerous.
The sole should be thick enough to protect your feet from sharp objects too.
Are the Shoes Durable?
You'll be using your water shoes for SUP and other outdoor activities, so it's obviously important to get a pair that can stand up to this type of outdoor activity. Tgis means they need to be durable, and made from durable materials.
Neoprene and lycra are two materials known for their durability and are the best for SUP shoes.
Take care of your water shoes. This will also determine how they will last. Clean them with fresh water after every use and ensure that they dry completely before storing them.
Ease of Wearing and Taking Off
Lastly, it's good to have shoes that you can quickly slip on and off.
I love the above shoes because they are all easy to wear. Those that can be adjusted have a simple shoelace design that you can quickly adjust even in the middle of your SUP session.
To Wear Or Not to Wear: Should You Wear Shoes When Paddle Boarding?
There's no right answer to this question. Most paddlers, however, seem to prefer paddling barefoot because you're more connected to the board and this may give you better control.
Others prefer to wear shoes to protect their feet when walking on rocky ground. SUP shoes, like the NRS Kinetic shoes, will also keep your feet warm when cold water paddling.
It comes down to what you personally prefer and what your paddling lifestyle is like.
What Shoes Are Best for SUP?
The best shoes for paddle boarding are breathable with good drainage. This will ensure that your feet are cool and comfortable all day long.
The material should be soft and smooth so it doesn't irritate your skin and cause chafing.
It's also nice to have a water shoe that's flexible. You'll find it more comfortable and it won't hinder you from performing different SUP tricks and techniques.
How Do You Keep Your Feet Dry When Paddle Boarding?
Keeping your feet dry when paddle boarding is tricky. There's a likelihood of falling into the water, and even if you won't, water will splash onto the deck and your feet will get wet.
Most people don't mind, though, because it's all part of paddle boarding. It only becomes an issue when the water temperature is low. So if you're paddling during winter, you might want to get a good pair of neoprene shoes. They won't keep your feet from getting wet but they will keep them warm.
Conclusion
When it comes to buying water shoes for paddle boarding, you can't afford to get it wrong. You want comfortable shoes that you can wear for hours. The ones I've discussed above are some of the best you can find.
SUOKENI shoes, both the men's and women's versions, are well-made and provide full coverage for your feet. I love that the material is soft and feels nice against the skin. They're breathable and quick-drying too.
For young paddlers, I highly recommend Cior water shoes for boys and girls. They are super lightweight and comfortable, perfect for little feet. They also come in fun colors that your child will love.
If your budget is a little tight, you should check out BARERUN quick-drying shoes. They may be low-priced but their quality is remarkable. They're also quite comfortable.
So be sure to pick the water shoes that best suit you and go have fun!