This is a review of the 2023 Blackfin Model XL stand up paddle board.
The holy grail of inflatable stand-up paddle boarding is a SUP that can do everything, everywhere.
While you may need a focused board for some very specialized activities, most of us want a SUP that can essentially "do anything" so we're not limited.
When I tried the iROCKER SUP Blackfin Model XL inflatable, I realized I'd found one of the best all-around inflatable paddle boards available.
The build quality is excellent, with triple-layered PVC and carbon reinforced rails for extra durability and rigidity, and no fewer than20 D-rings for securing cargo and eight action mounts for accessories!
If you want to head out for a full day of touring, then the weight capacity will cope with everything, the vast EVA deck pad means that you can comfortably carry extra passengers or pets or set off for a SUP yoga workout, and to top it all off there's a 60-day satisfaction guarantee and a two-year warranty!
As you read my 2023 Blackfin Model XL review, you'll see that this is amongst the finest "do anything" boards I've ever used. Could this be the all-around SUP that you've been looking for?
Read on to find out.
2023 Blackfin Model XL Review Pros and Cons
2023 Blackfin Model XL Board Specs
Length: 11' 6"
Width: 34"
Thickness: 6"
Weight: 29 lbs
Weight Limit: 485 lbs
Who Should Buy the Blackfin Model XL SUP?
It's easier to start this by talking about who shouldn't buy a new Blackfin Model XL. If you are shorter than about 5' 8", Blackfin Boards recommend choosing the 10' 6" long Model X. For anyone else, the 11' 6" Model XL is perfect.
If you are a beginner, then you will enjoy the excellent stability of the Blackfin Model XL, while more experienced paddlers will love the fact that this SUP does pretty much everything. It is very maneuverable, glides nicely, and it can make great speed.
Someone looking for a versatile SUP board will also do well with the Blackfin Model XL. You can head for a full day touring long distances, take the kids out for fun, and carry your dog. You can enjoy a fishing trip or even do SUP yoga!
If you want to carry a lot of cargo, then the Blackfin Model XL's weight capacity of 485 lbs is more than enough coupled with excellent nose and tail storage, eight action mounts, and 20 D-rings.
The Blackfin Model XL is an excellent all around SUP that will last you a long time, and you can buy with confidence, as Blackfin even gives a 2-year warranty and 60-day satisfaction guarantee.
Blackfin Model XL Stand Up Paddle Board Features
Let's take a closer look at some of the core features that make the Blackfin Model XL a great all around stand up paddle board.
Sturdy Construction
You can be confident that the iROCKER Blackfin Model XL will last you for many years of happy paddling. The XL has a high-density woven drop stitch core that is wrapped with military-grade, triple-layer PVC.
To add to the sturdiness and longevity, the rails of the XL are reinforced with carbon fiber. These also enhance the already excellent overall stiffness.
High Weight Capacity
If, like me, you're a taller paddler who, in all honesty, could also do with losing a few pounds, then weight capacity plays a part in your paddle board choice. You'll appreciate all the space and sturdiness that the 11' 6" length offers, and you won't have to worry about overloading the SUP.
With a weight capacity of 435 lbs, your board can cope with whatever you want to carry. So whether it's extra passengers, your dog, or just all the necessary cargo for a full day out, this paddle board can cope.
Suitable for All Skill Levels
One of the best things about the XL is that it is excellent for both beginners and more experienced SUP fans. Those with less time on a paddle board will find the superb stability confidence-inspiring. Meanwhile, it is also a great performer that can make excellent speed and tracks and glides really nicely with it's tri fin setup.
Large EVA Deck Pad
The Blackfin Model XL has an excellent non-slip EVA traction pad that makes whatever you are doing on your board comfortable and safe. While paddling, it is soft underfoot and helps to reduce fatigue. The full-length cut-out lines allow water to drain quickly.
The high quality traction pad runs nearly two-thirds of the 11' 6" board length, so there is plenty of room. Combined with the board being so stable, the large deck pad makes this an excellent platform for SUP yoga.
Bungee Cargo Areas
There are nose and tail bungee storage areas, so you have plenty of space for carrying whatever you want. The bungee is secured at both ends by 6 D-rings.
Easy to Carry
The XL has a center handle to carry the SUP. There are also handles at the nose and tail, which are very useful when handling the board at the dock. You can also use them to make it easy for two people to carry the Model XL to the water. All handles have a soft neoprene cover for comfort.
One of the XL's most popular uses is to carry extra passengers. It is great to see that iROCKER has included grab handles on both the nose and tail cargo areas. These make a fantastic place for kids to hang on and feel safe.
Plenty of Mounts and D-Rings
There are no fewer than eight action mounts on the Blackfin Model XL. These can be used for securely fixing cameras, smartphone holders, fishing rod holders, Bluetooth speakers, cup holders, and other accessories.
One minor criticism I have of the XL is that iROCKER could have incorporated the rear mounts with the bungee points as they are at the nose. They don't get in the way particularly. I just think it would have been neater.
The Model XL has a total of twenty D-rings. In addition to the 12 at the bungee points, there are six along the sides for securing cargo. Blackfin has even helpfully labeled these to mark them as suitable for use with a carry strap or the kayak conversion kit. Finally, there is one at the nose on the underside that is perfect for towing or use with an anchor, and there is one at the tail to attach your leash to.
A Great Board for SUP Fishing
iROCKER has made one of the best fishing SUPs that you can buy with the Model XL. In addition to the incredibly stable board with loads of room, you can add to the XL to create your perfect fishing base.
Towards the rear of the board, two "Scotty" fishing rack mounts are provided to take iRockers brilliant fishing tackle rack. You can also fit multiple rod holders to the eight attachment points.
There is a lot of space to securely fix your paddle board cooler, bait bucket, and wherever else you need to head off to your favorite fishing area.
Finally, the Blackfin board has fixing points to take the Sand Spear accessory. You can use this as an anchor on sandbar or shoreline areas. It also works as a push pole when you're fishing in shallow waters.
Ready to be Converted to Kayak Seat Use
The Blackfin kayak conversion kit allows you to switch to seated paddling. Thanks to the large deck space on the Model XL, and the provided D-rings, you can fit two of the Blackfin Kayak seats to paddle with a buddy.
The Model XL Comes With a Complete Equipment Package
Many purchasers of the Model XL will be new SUPers. iROCKER has included accessories to get you out on the water. I found that everything is of really high quality, and it all matches the SUP well.
Blackfin Travel Bag
The Model XL comes with an excellent bag for storage and travel. There are plenty of handles to make it easy to carry, but most importantly, this bag comes with wheels which I like when traveling. Bags are color-coded to match your SUP.
The backstraps are adjustable, and there is cushioning on the waist and back to keep you comfortable. The bag is well built, and the materials used are of excellent quality. In addition to the main pocket for your SUP, there are extra pockets for your gear. There's even an outside bungee area that is perfect for stashing a hoodie and a waterproof pouch for a name and address label.
Carbon Shaft Paddle
Included with the SUP is an ultra-light 3-piece carbon shaft paddle. Thankfully this paddle will float if you happen to drop it in the water.
The iROCKER paddle has an incredibly durable nylon blade, and overall it weighs just 29oz. You can adjust the carbon shaft paddle between 72 and 86", so it caters to different people's heights.
Dual Chamber Pump
The 24" triple-action hand pump that comes with the Blackfin XL is one of the best I've ever used. iROCKER reckon that this dual chamber pump will fill the SUP at twice the speed and with half the effort of a regular pump, and I agree.
However, I am a lover of saving my energy for out on the water. So even with a fantastic dual chamber hand pump, I recommend the optional iROCKER electric pump to everyone. As further encouragement, there are discounts on the iROCKER electric pump if you buy it at the same time as your SUP.
3-Piece Fin Set
The Blackfin Model XL comes complete with three removable nylon fins. The tri fin setup with a center fin and two side fins can be adjusted or removed as the water depth, and conditions require.
The center fin box uses iROCKER's flip-lock technology, and several different sizes are available from their store.
10' Coil Ankle Leash
The included SUP safety ankle leash makes sure that your board doesn't float away if you accidentally fall in.
The comfortable ankle strap is padded with neoprene and easily adjustable. The leash stretches to up to five times its coiled length, but once released, will gently spring back to reduce its size. This leash is always the perfect length for your position on the board, so it doesn't trail as you paddle and cause drag or tangles.
There's also a handy key pocket in the ankle strap, so you'll always know that your house key is safe.
Repair Kit
Finally, there's a repair kit that includes several patches and a hand wrench tool to tighten the air valve as needed. You should know that due to shipping rules, glue is not included, so you'll need to pick some up locally.
Ready for a Full Range of Blackfin Model XL Accessories
The iROCKER store has everything that you could want for your Model XL SUP. Some of my favorite accessories include:
Warranty and Customer Satisfaction Guarantee
iROCKER gives the Blackfin Model XL a two-year warranty against manufacturing defects. There is also a "no questions asked" 60-day satisfaction guarantee that allows you to return the SUP for a full 100% refund.
What Users Are Saying About the Blackfin Model XL
By now, you've seen that I think that the iROCKER Blackfin Model XL is an extremely versatile SUP.
To see what other users thought, I scoured the internet and found many highly positive reviews.
Reddit user "telkinsjr" said they went on their "first SUP ride tonight on the Blackfin XL I got this week. Loved it. I don't love the water, but my wife does and it was super stable and fun."
Another Reddit user "EbolaFred" had just purchased their Blackfin XL and commented that "I think the XL was the right choice for a newbie… Tracking was good. I didn't get any sense of "tacoing"….I think I'll be happy with this board for a while."
They went on to say that "In terms of quality, I was very impressed with the construction of the board, pump, backpack, and especially the paddle. I'm a stickler for details and iRocker seemed to get everything perfect… the $1,000 price started to make more and more sense, and at a point it actually started to feel like a bargain."
Finally, "trickeymohnkey" said that they'd upgraded from a smaller board to the Model XL with their dog in mind. They commented that "… with the Blackfin XL, he's definitely a lot calmer. He's able to walk around the board without sliding off or rocking the board too much"
Alternatives to the iROCKER Blackfin XL SUP
At this point in my Blackfin Model XL review, you'll have realized that I think the XL is one of the best "do anything" inflatable paddle boards. However, there are other fantastic boards on the market that you might also want to consider.
The following are two excellent alternatives to look at before deciding if the Blackfin Model XL inflatable is right for you.
1. Blackfin XL vs iROCKER All Around 11' Stand Up Inflatable Paddle Board
The All Around 11' is another great board from iROCKER. It shares many of the features of the Blackfin Model XL SUP with some differences in the final specification.
The All Around measures 11' x 32", which is slightly smaller than the Model XL. You'll need to consider if you need the extra space for your activities. Unsurprisingly, the smaller board has a lower maximum capacity at 435 lbs compared to the Model XL with 485 lbs.
Both boards share iROCKERS triple-layer PVC construction. The only notable build difference is that the All Around doesn't have the carbon-reinforced rails. This might make it feel a bit less stiff and be a little less hard-wearing over time.
The remaining differences in board features are in the mounting points. The All Around has four compared to the Blackfin models eight. The Model XL is probably the better choice for anyone interested in fishing as it also has the fishing tackle rack points.
While it might not have as many features as the Model XL, the All Around is still an excellent, premium quality inflatable SUP. It has a more affordable price than the Blackfin Model XL. If cost is an issue and you don't need all the extra features, I thoroughly recommend the iROCKER All Around 11' to you.
2. iROCKER Blackfin Model XL vs Blackfin Model X Stand Up Inflatable Paddle Board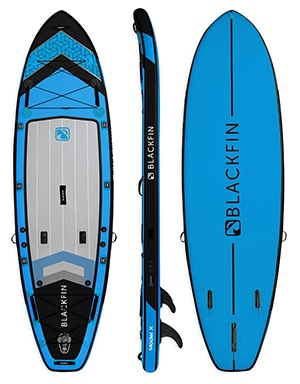 The Model X is an easy comparison to the XL as it shares all the same Blackfin paddle boards features.
The only difference between these two members of the Blackfin line is the dimensions. The Model X measures 10' 6" x 35" compared to the XL at 11' 6" x 34". The X has a capacity of 450 lbs.
The Model X is the ideal SUP for someone under 5' 8" tall as they may find it easier to maneuver than the larger Model XL.
Alternatively, if you don't need the extra space, you might just be looking to save on purchase costs. As part of the Blackfin line, the Model X has all the other positives of the XL SUP, so there isn't much more to say!
Conclusion to This 2021 Blackfin Model XL Review
The iROCKER Blackfin Model XL is a fantastic inflatable SUP. The board is highly stable and is suitable for both beginners and experienced boarders.
There's a vast amount of deck space to use, and the high weight capacity means that you'll be able to carry extra passengers and plenty of cargo. Add on rod holders and a tackle rack for some SUP fishing, or simply benefit from the wide deck pad with a SUP yoga session!
The highly versatile 2023 Blackfin Model XL is a solid choice as a "do anything" inflatable SUP board. I'm a big fan, so make sure that you check it out right away. I wish you happy paddling!