High-quality stand up paddle boards can be expensive. If your budget is tight, getting a good SUP may seem impossible. But you don't need to break the bank to get a quality paddle board. There are tons of low-priced SUPs on the market and you can enjoy paddle boarding even with a limited budget.
However, buying an inexpensive board can be risky. You wouldn't want to get a SUP that will come apart and become unusable after a month or two. To save you the disappointment, I'll tell you all about my 9 best cheap inflatable paddle boards of 2023.
I tried a number of budget SUP boards and most of them were amazing. But if I had to choose the best one, I'd go with the iRocker Nautical 10'6. Keep reading to know why and to see the other amazing cheap paddle boards.
Top Cheap Paddle Boards Compared
Best Cheap Inflatable Paddle Boards
Here are the best cheap paddle boards. Let's look at some of the features these boards provide that might make one the right SUP for you.
If your budget allows it, also consider our best inflatable paddle boards. These boards are more durable, come with higher end accessories and generally give you a better paddle boarding experience.
1. iRocker Nautical 10'6″ Inflatable Stand Up Paddle Board – Best Overall Cheap Paddle Board
iRocker is a well-known inflatable stand up paddle board company. The Nautical brand is for people new to paddle boarding or looking for an economically priced board that doesn't compromise quality.
The Nautical 10'6 is an excellent inflatable stand up paddle board for lakes, bays, or the marina. It also has good stability, so you can comfortably take it out on the ocean.
The 10'6 length means that the Nautical has excellent maneuverability. Thanks to the 32" width and 240 lbs maximum weight capacity, you have the space to carry a passenger, including a kid or dog, safely. iRocker recommends the 10'6 length for riders up to 5'8" tall and offers a longer 11'6 version for anyone taller.
The Nautical 10'6 is very well built and uses dual-layer military-grade PVC, so it should last you for a long time. I was impressed with the excellent feature specification for the money. There are front and rear bungee storage areas, so you have loads of room to securely store your essential gear. These also have grab handles for a passenger to hold on to.
I was pleased to see a universal action mount included on this inflatable board. This is perfect for fitting an action camera to film your adventures.
The accessory package with the Nautical 10'6 has pretty much everything you need. The 3-piece fiberglass paddle has a tough nylon blade and floats if you drop it.
For its price, the Nautical 10'6 has really excellent performance. This is a great stand up paddle board to learn on, but you don't need to worry about outgrowing it quickly. The Nautical 10'6 is still a tremendous, competitively priced paddle board for experienced paddlers too.
Read my review of the iRocker Nautical paddle board
Check Price of the iRocker Nautical
2. Bluefin Cruise 10'8 Inflatable Stand Up Paddle Board – Best if You Also Want to Kayak
The Bluefin Cruise 10'8 is a great board if you want to be able to paddle sitting down. A complete kayak conversion kit comes with the SUP along with a complete package of accessories.
The paddle board itself is an excellent platform that beginners will find fun out on the water. The 10'8 x 32" board has a 330 lb weight capacity, so it can comfortably carry you and a passenger with plenty of gear.
I found the Cruise 10'8 paddle board to be stable and rigid. The board tracks well in a straight line thanks to its three fins. There's an action mount on the nose, so you'll be able to easily attach a GoPro or other camera to film everything you get up to while you paddle.
The build quality of this stand up paddle board is excellent due to Bluefin's special exo surface laminate military-grade PVC. The crocodile skin texture deck pad is particularly good. I found it to be extremely grippy, even when wet.
A standout feature is the 5-year warranty that Bluefin provides. This is the longest warranty of any inflatable board that I've come across.
A slight negative is that it is the heaviest board on my list at 33lbs. However, this is down to the solid construction, so while it may be weighty, you can be confident that the Cruise 10'8 will be durable (if you're above 6' tall, check out the longer Cruise 12').
Overall, the Cruise 10'8 is a versatile board that both beginners and experienced paddlers will be available to enjoy for a long time.
Check Price of the Bluefin Cruise
3. Gili Air 10'6 Inflatable Stand Up Paddle Board – Best for Travel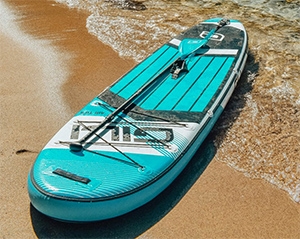 The Air 10'6 from Gili is a great inflatable paddle board with the added benefit of being one of the lightest for when you're traveling.
The Air is stable and feels fast, and I found that it remained comfortable and solid in various water conditions.
Gili uses military strength PVC material for the Air 10'6. While it is a relatively light board, it has a rugged feel and should cope well with usual knocks and bumps.
The Air 10'6 is packed with features, including several not usually found on cheaper paddle boards. There are nose and tail bungee storage areas and an excellent, grooved soft deck pad. The rear bungee is even readily removable via a quick release if you want more deck space say, for SUP yoga.
You can fix a selection of accessories on this board as there are three action mount fittings. This makes it possible to use the Gili Air 10'6 as a basic fishing SUP, as you could fit rod holders easily.
I like that the Air 10'6 comes in six different colors. This is an option not often found on cheaper paddle boards. I particularly liked the camo color scheme.
Another thoughtful feature of this entry level SUP is the inclusion of a side-mounted paddle holder. This simple solution holds your paddle securely when you stop.
The Air 10'6 paddle board comes with a complete package, including a 2-stage high-pressure pump, aluminum adjustable paddle, and coiled leash. The backpack is one of the best that I've seen; it's clear that the designers have thought about how the bag is used rather than just throwing it in a generic sack. There's even a clear visual indication to make it clear if you've forgotten to pack your boards fins.
Gili makes a donation to ocean conservation charities for every board they sell, so you're supporting a good cause if you choose the Air 10'6. The board comes with a competitive 2-year warranty and also a 6-day satisfaction guarantee.
Read my review of the Gili Air paddle board
4. Outdoor Master Solar Spirit 11'6 Inflatable Stand Up Paddle Board
The Solar Spirit is the longest of our inexpensive paddle boards, at 11'6 long. This makes it a good choice for taller boarders over six feet . This inflatable paddle board offers a comfortable ride in various water conditions. I think it's perfect for starting at SUP or everyday adventures.
There's plenty of room for taking along kids or dogs for the ride, and the weight capacity is a solid 320 lbs. The wide body and pointed nose help keep everything stable, even if there are a few waves.
As a budget-friendly board, the manufacturers have filled the Solar Spirit with features often missing at this level. There are a total of 22 D-rings about the board, so it is easy to attach a cooler or kayak seat securely.
The Solar Spirit has nose and tail bungee storage to hold your vitals or use as a paddle holder. For accessories, the manufacturer has included three action mount fittings. Unusually these are supplied in kit form, meaning that you can glue them to the board exactly where you want them.
Another great feature is the use of an upgraded air valve. The valve will automatically release air if you should pressurize the board above 15 PSI when inflating.
The Solar Spirit stand up paddle board comes with a two-year warranty. The provided accessories are of average quality. Outdoor Master has even included a wheeled backpack which is great when traveling with your SUP.
Check Price of the Outdoor Master Solar Spirit
5. Outdoor Master Violet Spirit 10'6 Inflatable Stand Up Paddle Board
The Violet Spirit is essentially identical to the Solar Spirit that I've reviewed above except for being a foot shorter at 10'6 long. This makes it the ideal choice for someone shorter than six feet tall.
The maximum weight on this paddle board is 280 lbs, so it still has lots of capacity for you and your belongings. As it is a shorter board, I found it to be a little easier to maneuver than the Solar Spirit.
The Violet Spirit has a total of 18 D-rings around the board, which should be sufficient for attaching whatever you need. Just like the Solar Spirit, the Violet also comes with three sets of action mounts that you can glue where you need them.
The included dual-action hand pump is easy to use, and the dual-function switch helps you get the last few PSI into the SUP with the least effort possible. The Violet Spirit has a recommended operating pressure of 12 PSI. It also has the excellent over-inflation valve that will release if you get to over 15 PSI.
Both Outdoor Master SUPs have an excellent array of handles that make carrying the boards easy. As well as the standard center handle, there are handles at both the nose and tail. For passengers, there are even grab handles built into the bungees.
Check Price of the Outdoor Master Violet Sprit
6. Roc 10' Inflatable Stand Up Paddle Board
The Roc 10' is a relatively basic inflatable SUP, but it has enough quality to make it worth considering as a beginner's paddle board.
At only 10' long, this is the shortest board that I've reviewed, and accordingly, I would recommend it to paddlers no taller than about 5' 8". The Roc 10' does have a decent rated weight capacity of 330 lbs. However, taller people will probably prefer the more comfortable balance of a longer board.
The Roc 10' is the lightest stand up paddle board that I've tested here at just 17.5 lbs weight. The manufacturer says that they have used military-grade material. However, the weight saving coupled with the budget price may mean that this board won't last as long as some of the others. It's worth noting that the included warranty is only for one year.
The Roc 10' is pretty comfortable on the water, and beginners will find this an enjoyable board to learn on. There are ten different colors to choose from, so everyone will be able to find their favorite.
The Roc 10' has a simple six D-ring bungee at the nose. It doesn't have the action mounts or extra storage of other boards. On the other hand, this means that the deck is nice and clear, and so this would make a decent board for budget SUP yoga on calm water.
The included accessory package has all the standard essentials. There is an aluminum paddle, manual pump, and safety leash. Most of the accessories are of a budget nature which is fair for the board's price. For example, the storage bag is quite basic and lacks features and build quality found in more expensive kits.
7. SereneLife 10'6 Inflatable Stand Up Paddle Board
The SereneLife 10'6 is a budget inflatable paddle board. I think this is a nice choice for beginners or families looking to have fun with stand up paddle boarding at the beach, without spending too much.
The board is 10' 6" long, so it is longer than some of the really budget models I've looked at, which gives it pretty good stability. Given its budget price, this is a suitable SUP if you're a casual paddler.
The drop-stitch reinforced PVC seems to be of decent quality. However, it is not as tough as some of the more well-known (albeit costlier) brand names I've reviewed.
The deck pad is large and feels comfortable underfoot. I have heard users say that the color wears off reasonably quickly but didn't notice that during my tests.There is also a removable center fin and two smaller fixed side fins (like with most cheaper paddle boards). These should help the board track a little straighter than if they weren't there.
As is standard, the SereneLife comes with a complete package that covers the essentials. You'll find a coiled ankle leash, aluminum paddle, and repair kit. There is also a basic SUP storage/transport bag.
There's a decent six D-ring bungee cargo area at the nose and four D-rings mid-board to which you could connect a kayak seat.
All in all, for its price, the SereneLife is worth a look. It is a budget board that sells well and, from my research, appears to have a lot of satisfied users.
8. Drift 10'8 Inflatable Stand Up Paddle Board
The Drift 10'8 is an inexpensive board that I think looks really great. There are two color options, and I particularly like the "classic" with the wood effect at the nose.
The SUP weighs just 19 lbs but has a quality feel to it. The manufacturers use what they call AeroUltra technology. This means the board is 20% lighter while retaining excellent durability.
Indeed, when I tried the 10'8 Drift, it felt solid. It might not have all the features of some of the other, more expensive boards. However, what is there is of good quality.
The Drift 10'8 is 33" wide and is really nice and stable on the water. It is also surprisingly maneuverable for an inexpensive board.
The grooved deck pad on the Drift 10'8 is very comfortable and sheds water exceptionally well. There is a well-constructed six D-ring bungee storage area at the nose. I also liked the further padded area at the back that experienced paddlers can use for tight tail turns.
The included complete package has a nice backpack bag and hand pump. There is a removable tail fin and repair kit also. However, it's worth knowing that the Drift 10'8 doesn't come with a safety leash as standard. Leashes are pretty much essential, especially for beginners. Make sure that you add one to your shopping cart before completing your order.
The Drift 10'8 comes with a one-year warranty, and the manufacturer has a good reputation for after-sales support. Despite its relatively low price, the Drift 10'8 is a decent paddle board for everyday general use. It's one I'd be happy to take out for fun with the family.
9. Funwater 10'6 Inflatable Stand Up Paddle board
My last entry level SUP is the Funwater 10'6. This inflatable SUP is the cheapest board I tested, and while not for advanced stand up paddle boarding, it is an impressively accomplished ride.
The Funwater has a straighter shape than many of the SUPs that I've tested here, and this gives it better than the average speed on the water. Fortunately, this hasn't affected the stability of the Funwater, so beginners will still be able to use the board comfortably.
I like the 'Hawaiian Tiki God' design graphic of the board. It definitely stands out at the beach amongst more generic designs. The EVA deck pad is comfortable to stand on, but would drain better if it had grooves cut into it.
The Funwater has a maximum weight capacity of 330 lbs. I did load it reasonably well with cargo and kids and found that it remained stable.
The construction of the Funwater paddle board appears to be of good quality. The manufacturers have reinforced the side rails with an extra PVC layer that you don't always find on inexpensive boards.
The maximum board pressure is 15 PSI, and the included hand pump managed this with relative ease. You'll also find a decent three-piece aluminum paddle, backpack bag, and leash in the complete package.
The Funwater also has completely removable fins, which is unusual for a budget board. This has the advantage of making the Funwater 10'6 easier to roll up than boards with two fixed side fins. It also gives you the option to leave the side fins off. This can be useful if you want to make a speed run with less drag.
If you're looking for a low-cost entry into the world of paddle boarding, then the Funwater 10'6 is a good board to consider. While it might not have all the costlier boards' features, it will give you a good time for its price and comes with a one-year materials warranty and a 30-day satisfaction guarantee.
How to Choose From the Best Cheap Paddle Boards
If you're looking for a cheap board, there are a lot of areas to consider. While you don't want to spend too much money, you also don't want to buy a board that won't last or that's disappointing on the water.
Read on to discover how to pick the right affordable paddle board for you.
What to Consider When Buying a Cheap Paddle Board
To decide if the board you're looking at is right for you, try to consider the following:
What Do You Want To Use the Board For?
If you are looking for a SUP board to occasionally get out on the water, you'll probably be fine accepting some of the compromises found in cheaper boards. However, if you are a super-serious paddler, you might want to target something more capable.
If you want to make overnight camping trips or touring style runs, you may find that you need a more expensive board with a high weight capacity.
SUP anglers will want to ensure that the board they are considering has sufficient mounting points. Ensure that the board you're considering can accommodate your rod holders, coolers, or tackle racks.
But, if you're looking for an all-around fun paddle board, then a cheaper board might be all you need.
Manufacturer Reputation, Customer Support and Warranty
It's definitely with researching the manufacturer and how well they look after their customers.
Long-established brand names are more likely to provide you with a reliable product and support. There can be exceptions to that rule, so it's worth doing up-to-date research before buying.
The length of warranty on paddle boards can vary dramatically and are a decent indication of how well the board might last. The minimum warranty to accept is one year. However, good manufacturers now offer two as standard.
Try and balance the warranty length with the cost price to decide if a saving is worthwhile.
Board Specifications to Consider
Check these characteristics when choosing to ensure that you are comparing fairly and picking the right SUP.
Size
Generally speaking, the taller or heavier you are, the longer you'll need your paddle board to be.
You should check the specific recommendations of the manufacturer, as different boards vary. As a general rule, if you are taller than six feet or heavier than 190 lbs, it's a good idea to get at least an 11 foot board.
Build Quality
Cheaper boards can vary dramatically in their build quality. You can find some indication from how long a warranty the manufacturer gives.
Check how many layers of PVC the manufacturer has used for the shell. Some boards will be a single layer, while SUPs that are likely to last longer use double or triple-layer military-grade PVC.
Weight Limit
Cheaper paddle boards might have a lower weight limit than more expensive ones.
Consider how much you might need, including equipment and passengers. Remember that going over about 50% of the maximum may affect the board's performance on the water.
Maximum Pressure (PSI)
The maximum pressure that you can inflate a board to can indicate how rigid it will be. Some single skin boards may only be inflated to 10 or 12 PSI, while double or triple layer boards can be to 15 or even 18.
The higher the maximum pressure, the more rigid the board will be in use.
Paddle
If you're considering a cheap paddle board, it's likely that you won't have any equipment already, so take a look at what comes with your board.
The cheapest are aluminum paddles. A fiberglass paddle is lighter and more efficient.
Make sure that the paddle with your board is adjustable and collapsible so you can travel with it.
Pump
You'll need a manual pump for your inflatable SUP unless you've splashed out on an electric one.
The quality of the pump can vary widely with cheap boards. A single chamber pump is OK for smaller boards. However, a dual chamber pump will get you on the water faster and with less effort.
A double action single chamber pump is common nowadays. This kind of manual pump has an adjustable switch that changes how the pump works to make it easier to get the board to its maximum pressure.
The Other Accessories Included
Make sure that the board comes with everything you will need to avoid having to spend extra money.
For example, one of the boards I've reviewed doesn't come with an ankle leash, which is essential.
Also, check the quality of the items, so you don't end up with something significant like the storage bag that won't survive traveling.
Paddle Board Characteristics to Consider
Different inflatable SUP boards will perform differently on the water. Here are the vital characteristics to look for.
Stability
Despite its low price, you'll still want a board that is nice and stable, especially if you are a beginner.
Boards of 32" width or greater and those inflated to higher pressures are generally more stable.
Maneuverability
As a general rule, shorter and thinner boards are more maneuverable.
However, you'll want to balance maneuverability with stability and weight capacity. As a general rule, particularly if you are a beginner, favor stability first.
Tracking
Tracking describes how well the board goes in a straight line. The better the tracking, the less often you'll have to switch sides when paddling. Boards with three fins track better than those with one in general.
Speed
Inexpensive paddle boards generally won't be the fastest on the water.
The board's weight can affect how fast you'll be able to go, as can the boards shape.
If you're looking for speed or to travel long distances, you might need to look for a touring type board which can be more expensive.
The Benefits of the Best Cheap Paddle Boards
A cheap SUP board can provide the perfect platform for beginners, kids, or occasional boarders. Starting with an inexpensive paddle board means that you can try the activity for yourself without spending too much.
A cheaper board can be a good idea when you're learning paddle boarding, as you tend to be rougher on them. You probably won't mind damaging your board so much if it didn't cost you thousands of dollars.
Getting a cheaper paddle board also opens up the possibility that you can try different types. You could pick from the relatively inexpensive all-around paddle boards and try them. With only a slight loss, you could then trade it in if you decided that a touring variety is more your style.
The Downsides of Cheap Paddle Boards
Cheap inflatable paddle boards may be less durable than more expensive boards that use higher quality materials.
To reduce the cost, the manufacturer may have made compromises that affect the functionality of the board. For example, deck pad materials might be thinner and therefore less comfortable to use.
Inexpensive stand up paddle boards may be less stable or solid in the water. The best inflatable paddle boards can feel as hard as a rigid board. However, cheaper inflatables can suffer from bending. This is known as tacoing and can be a problem, particularly with heavier paddlers.
Best Cheap Paddle Board FAQs
Are Cheap Paddle Boards Any Good?
Cheap paddle boards can be good, particularly for beginners. So long as you accept that they have limitations and that they might not last as long as more expensive boards, then you can still enjoy them.
Why Are Some Paddle Boards Cheap?
Manufacturers might make cheaper boards from lower quality or thinner materials than more expensive ones. They also may be missing useful features like action mounts or bungee storage areas.
Included accessories are likely to be of a lower quality than those with more expensive boards. However, if you are a beginner, make sure that you're assessing features that you actually need or will be able to appreciate.
How Much Is the Cheapest Paddle Board?
A cheap board is usually one that's less than about $500. I have reviewed boards here that are even cheaper that would still be great for beginners.
Manufacturers regularly run special offers, particularly at the end of the summer. It can be possible to grab yourself a bargain if your timing is right.
What Is the Best Paddleboard for a Beginner?
Look for all-around boards that are suitable for your height and weight. Take into account the weight of any passengers or gear that you might like to carry.
Stability is the most crucial feature for a beginner as you learn, so prioritize this over anything else.
In my opinion, the best affordable paddle board at the moment is the iRocker Nautical 10'6″. It has excellent stability, a good set of features, and a highly competitive price.
What Size Paddle Board Should I Get for My Height?
Check the manufacturer's specific recommendations, but as a general rule, if you are over 6", try and get a board that's at least 11' long. If you are shorter, then boards around 10'6 are ideal.
Why Choose a Cheap Inflatable Paddle Board Over a Cheap Solid Board?
Inflatable paddle boards are far easier to store and travel with. They are also generally more resilient to minor knocks and are relatively easy to repair if necessary.
Conclusion
In my opinion, the iRocker Nautical 10'6 is the best cheap paddle board on the market right now. It is an excellent all-around board that is perfect for both beginners and more experienced paddlers.
The Nautical 10'6 has an excellent build quality and an array of features usually found on more expensive boards. For example, there are nose and tail storage areas, passenger grab handles, and a useful action mount fitting.
The included accessories give you everything you need and are of good quality. The Nautical 10'6 is a stable board that offers a high level of stability. It also has a good weight capacity if you want to take passengers or even make a SUP camping trip.
The Nautical 10'6 comes in at a highly competitive price for what it offers you, and I strongly suggest that you check it out for yourself.