This is a review of the Glide Lotus inflatable yoga and fitness board.
If you're a lover of SUP yoga, like me, or you're interested in getting into it, then you could be looking for a dedicated yoga board.
You might also be interested in a board for more energetic Crossfit-style exercises on the water, or you could simply be looking for a stand up paddleboard that's suited to yoga as well as paddle boarding. Either way, the Glide Lotus iSUP is a great option.
I found the Glide Lotus to be an extremely stable and comfortable platform for SUP yoga and an absolute pleasure to use.
The first thing I look for in a fitness board is how much space there is for my workouts. The Glide Lotus has a huge full-length deck pad, so you have a massive amount of room, with side mounted d-rings that are placed perfectly so as to keep any attachments out of the way.
Many other thoughtful features make the Glide Lotus perfect for flat water sun salutations or Crossfit style exercises with an excellent rigid feel underfoot, and a non-slip matte finish to the deck pad that's perfect for Yoga. However, there are other facets and characteristics that make this iSUP stand out as a great paddle board option.
Let's take a closer look at all the features that make it one of the very best inflatable yoga paddle boards and Crossfit style exercises available.
Read on for more.
Glide Lotus SUP Yoga and Fitness Board Pros and Cons
Glide Lotus SUP Fitness Board Specs
| | |
| --- | --- |
| Length | 10′ |
| Width | 36″ |
| Thickness | 6″ |
| Weight | 26 lbs |
| Maximum Weight Capacity | 400 lbs |
Who Should Buy the Glide Lotus Yoga Board?
Whatever your level, the Glide Lotus inflatable SUP is a brilliant choice.
Beginners at waterborne workouts will do well choosing a board specifically designed for yoga. It is also great for flatwater Crossfit style exercises.
With its flat bottom design and the possibility to inflate to high pressures, the Lotus is a very stable and comfortable fitness board.
All SUP yogis will enjoy the full-length EVA deck pad that is comfortable and has a perfect amount of grip. The open space on the board gives you significantly more area than a standard yoga mat.
This yoga fitness board will be an excellent investment, and it will last you for a long time. Glide uses 1,300 denier fusion military-grade PVC for the board's shell with a high-density premium drop-stitch core. This design ensures that you'll be working out on this board for many years to come.
If you are new to SUP yoga, then you'll be pleased to know that the Glide Lotus comes with everything you need. You'll find a paddle, pump, backpack, and many other accessories so you can get onto the water right away.
You can use the Glide Lotus as an everyday all-around flat water SUP too. The inclusion of the USA style box means that you can change the fin for different conditions.
Features of the Glide Lotus Yoga Stand Up Paddle Board
Let me take you through the many features that add up to make the Glide Lotus a superb platform for SUP yoga and Crossfit style exercises.
1. Large Platform With Plenty of Space for Workouts
I've been delighted with the amount of space that Glide has given me for my workouts. The Lotus is 10' x 36', which is a brilliant size for yoga.
A standard yoga mat is usually 68″ x 24″, so you can make a seamless transition to the flat water to try your SUP yoga poses confidently. The board also has a rounded shape, so it doesn't narrow too much at the nose or tail.
2. Full-Length EVA Deck Pad
It is common for SUP boards to be of limited use for yoga due to having a small deck pad.
This isn't a problem here, because the Lotus has been designed by a company specializing in SUP yoga. The EVA deck pad runs the complete length of the board, so all the space is usable. It also has a super grippy non-slip brushed surface, so even when it gets wet, you don't need to worry about slipping.
3. Rigid and Stable Board Design
Having a lot of space wouldn't be any use if the board was bending and wobbling all over the place. Thankfully Glide has designed the board to be a stable and comfortable platform.
By using 1,300 denier fusion-bonded military grade PVC with a premium drop-stitch core, the Glide Lotus can inflate to a maximum of 25 PSI. This means that the board is incredibly rigid in the water.
Due to the high drop-stitch density that Glide uses, I found that I could inflate to 12-15 PSI, and the board was completely solid as I did my practice. So you can save energy when you are working the pump.
The board also has a flat bottom design that further enhances stability and improves glide when you're paddling.
4. Yoga Orientated Design
I really like the design of the Glide Lotus SUP. It's great to see a SUP yoga board that actually looks like a SUP yoga board!
The lotus flower graphic will look great for a long time. Glide has used die-cut EVA for the full-size non-slip mat. This means that the colors won't wear off as you get on the screen-printed pads found on lesser boards.
5. Full SUP Package Included
You can choose the Lotus knowing that Glide boards include everything that you need to get out on the water.
a. Wheeled Backpack SUP Bag
There's an excellent backpack-style bag included to transport your Glide Lotus and all its accessories.
The bag even has wheels which is a feature I find makes things much easier when traveling.
b. SUP Pump
Easily inflating your board is a must as you don't want to tire yourself out too much before you seamlessly transition to your downward-facing dog.
The included pump has a PSI gauge, so you'll know when you reach the desired pressure. I found the connection to the board's high-quality inflation valve straightforward.
If you find manually inflating a bit of a chore, Glide boards offer an upgrade to an electric pump, which is highly recommended. They even have a battery for it so you can use it away from your vehicle.
I always suggest that people consider one of the excellent available electric sup pumps. Then you can save your energy for your yoga workout on the water.
c. Fins
The board includes a center fin that is suitable for general flat water conditions.
Glide boards use a USA-style fin box, so you can easily swap for any commonly available longboard fin.
This is an excellent feature as it means that you can customize the setup for whatever conditions you want to use the board in.
d. Paddle
The Glide Lotus SUP comes ready to go with a three-piece paddle that you can easily adjust between 70″ and 86″ in length to suit your height.
The shaft is manufactured from fiberglass. The blade is made from an ultra-tough composite that is highly resilient to damage. The 100 square inch surface with an 11-degree pitch will get you where you need to be in no time at all.
The paddle will float if you manage to drop it while attempting a seamless transition from paddling to workout.
e. Ankle Leash
With the included ankle leash, you will remain in contact with your board if you happen to fall off while exercising or paddling.
The leash with the Glide Lotus SUP is 10' long so that it won't restrict your movements. It is also coiled, meaning you don't have to worry about the long length getting in the way.
The padded Velcro cuff that goes around your ankle has a nice Glide logo and notably includes a swivel connection so the leash won't get twisted.
The leash itself is plastic coated and will last for a long time. It easily connects to the D-ring at the tail of the board.
f. Carry Strap
The Glide Lotus SUP comes with a carry strap that makes moving the board on your own incredibly easy and comfortable.
The strap has a large shoulder pad and connects to the board's side d-rings with easy-to-operate clips. You can then carry the SUP easily over your shoulder.
g. Kayak Seat
Recently Glide has included a kayak seat accessory, so when you get bored of SUP yoga, you can enjoy a seated paddle or even just a rest.
The seat fits easily and securely to the board's side D-rings via the included straps and clips. For extra storage, there is even a practical pocket on the back of the seat that is a great place to keep small items safely.
h. Repair Kit
If you are unlucky enough to damage your board, then Glide has included a repair kit. This will allow you to repair minor damage with a minimum of hassle.
6. Can Carry Your Cargo and Accessories
You'll want to keep your flip-flops, drybag, water bottle, and other essential cargo safe while you're working out. The Glide Lotus has you covered with a bungee storage area at the nose of the board.
Four D-rings secure the bungee, and as it is at the front, any gear you have stashed is well out of the way while you work out. My tip is to collapse the paddle into its three parts when you're ready for yoga, and you can safely secure it at the front.
There are also four D-rings located at the side of the board. These can be used for the kayak seat or other accessories. Glide has cleverly fitted them on the top of the rails, so they are accessible but don't get in the way.
Finally, there's a tail D-ring for your leash to attach to and another one at the nose, which you can tie an anchor to secure you during your workout.
7. Great Weight Capacity
You don't need to be concerned with overloading this board as the weight capacity is a massive 400 lbs.
With the sizable available deck space, you could happily carry along a cooler or even your dog without any worry about the board being able to manage it.
8. Superior Manufacturing
I'm happy to report that the Glide Lotus is really well built. You don't need to worry that all the excellent features I've told you about will be let down by a board that only lasts a few months.
I've already talked about how the board's construction allows it to inflate to a high pressure. The techniques Glide has used also means that this SUP will be very hard-wearing, yet it still manages to be lightweight to carry.
The board's core is made from military-grade fusion-bonded 1,300 denier PVC. This is thicker than many other manufacturers use. An ultra-dense reinforced drop-stitch maintains the board's shape.
The outer shell is fixed by high-pressure heat that creates a completely airtight seal. The side rails are reinforced with additional PVC to finish the job.
Glide Lotus Alternatives
You'll find plenty of choices for inflatable stand up paddle boards suggested for sup yoga and Crossfit style exercises. Here's a quick look at two of the most popular.
1. Glide Lotus vs. Bluefin Aura Fit Stand Up Paddle Board
The Bluefin Aura is quite similar to the Glide Lotus. It has also been designed explicitly for flat water workouts including SUP yoga and Crossfit style exercises. This is another stable and comfortable platform that I really like, and it shares many features with the Lotus.
The Aura measures 10' 8" x 36", so it is a similar size to the Glide. The extra eight inches isn't a huge difference. Because the Auras deck pad doesn't entirely run the entire length, the usable workout areas are very similar.
Like the Glide Lotus, the Aura can be inflated to high pressures, so it's a stable board. However, the Aura weight capacity is rated for a maximum user weight of 350 lbs, whereas the Lotus has a higher 400 lbs, which may be important.
The Aura also comes with a complete accessory package, so you also have everything you need. Bluefin uses smart lock fins that are not universally available at Glides US fin box style if you want to change.
Choosing between these two boards may come down to which yoga graphic designs you like the most.
One nice feature the Bluefin Aura does have over the Glide Lotus is that the carrying handles are mounted on the board's sides. This means that they are out of the way of your workout. However, this means that you need two people to carry the board. Unlike Glide, Bluefin doesn't include a carrying strap or the kayak seat.
Read our review of the Bluefin Aura Fit.
2. Glide Lotus vs. Blackfin Model X Stand Up Paddle Board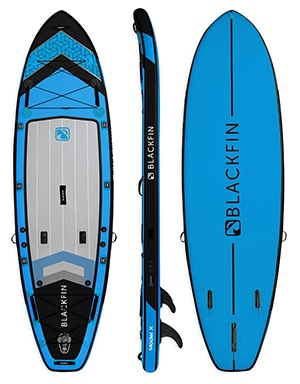 Suppose that you want a board that can cope with your SUP yoga or Crossfit style exercises. You also need something capable and flexible for different activities on the water. In this case, the Blackfin model X could be just what you're looking for.
The Model X is 10'6" long and 35" wide. However, its deck pad only covers approximately half the board, so there is less available workout space than the Lotus or the Aura.
As a SUP for different activities, the Model X comes equipped with a wide variety of storage areas and fittings for accessories.
You'll find a rear bungee area in addition to the one at the nose that the Lotus has. There are also a total of 20 D-rings, eight action mounts, and fishing rack mounts.
The Model X has a high weight capacity of 450lbs, which you might need once you've loaded up all the cargo points and accessory mounts for your trips. It also has reinforced carbon rails that further enhance its already excellent stability and rigidity.
My suggestion is that the very best platform for yoga or Crossfit style exercises is either the Glide Lotus or Bluefin Aura. However, if you're after an excellent, high-quality board that can do some of everything, then the Blackfin Model X would be perfect. Read our review.
If you're looking for a SUP yoga board only, then all the accessories and the center-mounted carry handle on the Model X might be overkill or get in the way. The larger, clear deck pad on the Aura is excellent for yoga, but overall the SUP is less versatile.
Conclusion
YOU MAY ALSO LIKE: Read our review of the Gili Meno Yoga SUP Board.
Are you in the market for an inflatable board for SUP yoga or Crossfit style exercises? If so, I wholeheartedly recommend that you consider the Glide Lotus.
You'll find a vast workout area with an incredibly comfortable non-slip deck pad.
High-quality manufacturing allows the SUP yoga board to be inflated to high pressures. This means that the Glide Lotus is an extremely stable and comfortable workout platform for flat water with a tremendous maximum weight capacity.
Glide has produced an attractive graphic finish to the board that makes it clear that this is for a SUP yoga expert.
The package includes everything you need to use and travel with the board, so you don't need to buy anything extra to start your exercises.
Make sure that you check out the Glide Lotus for yourself. I know you won't be disappointed.