This is a review of the iRocker Cruiser 10'6.
The Cruiser is one of the best inflatable stand up paddle board options in 2023. And it is easy to see why paddlers love it so much. Certain things about it have captured my attention.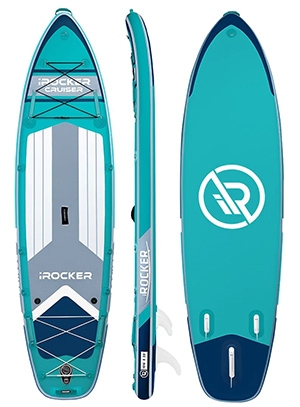 The iRocker Cruiser is a fantastic all-around paddleboard. This means that any paddler can use it in any water condition. It has incredible stability and a high weight limit, ensuring no one is left out. You can even bring your kid or dog along.
Additionally, it comes with lots of D-rings and gear mounts for customization. It is perfect for the beginner as well as the pro paddler who is always trying out new SUP activities. It is a good board for yoga, fishing, family fun, and leisure paddling.
In this in-depth iRocker Cruiser review, we take a closer look at what exactly the board has to offer. This is to help you know whether or not it is the right inflatable paddle board for you.
So keep reading.
iRocker 10'6 Cruiser Pros and Cons
Paddle Board Specs
Length: 10'6
Width: 33"
Thickness: 6"
Weight: 25 lbs
Weight capacity: 400 lbs
Who Should Buy the iRocker Cruiser?
The iRocker Cruiser 10'6 would be great for families, beginners, and heavier paddlers.
Sometimes, stand up paddleboarding is even more fun when you're with loved ones. For people who want to enjoy the experience as a family, the Cruiser may be a good option.
I like that it has a large platform and a high weight capacity to accommodate more than one rider.
With a length of 10'6 and a width of 33 inches, the iRocker inflatable SUP is easy to control for newbies. And the stability is incredible.
Standing up on a paddleboard may seem simple. But it requires a lot of effort and strength. With a wider SUP board, you learn faster and that means less falling.
Many of the paddle boards out there are frustrating for paddlers on the bigger side. They aren't stable enough and the weight capacity is too low.
With a 400-pound capacity, this iRocker Cruiser SUP can hold anyone, plus their gear or even a kid.
This inflatable SUP is versatile, great for the paddler who doesn't limit themselves to a single activity. It is perfect for relaxed paddling, fishing, yoga, and short cruises.
It has a large deck pad that will also work as a yoga mat. There is a cargo area at the front of the board and another one at the back, as well as lots of attachment points. These are awesome features for cruising and fishing.
Features of the iRocker Cruiser 10'6
1. Performance
The popularity of the iRocker Cruiser wouldn't mean anything if it didn't perform well.
So here is what you can expect.
a. Stability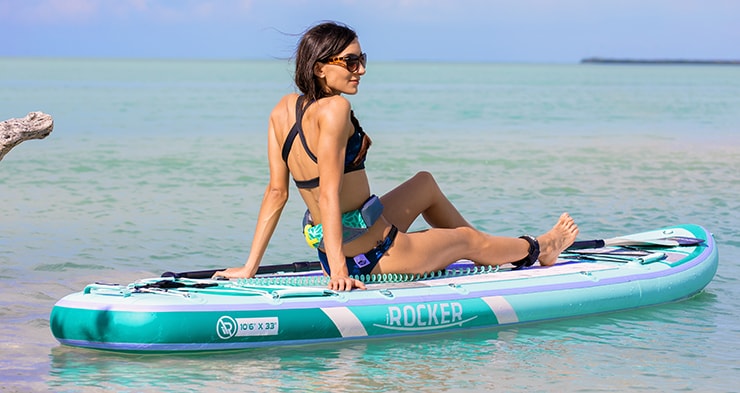 ALSO READ: Why The iRocker Cruiser is one of the best paddle boards for women.
The iRocker Cruiser inflatable SUP board is designed for stability. It is one of the most stable paddle boards on the market.
You can't tell how stable a paddleboard is by looking at photos online. But a few features can give you an idea of what the paddle board will be like.
These include the width, thickness, and construction.
The wider a board is, the more stable it will be. It allows for better weight distribution and makes it easy for you to achieve and maintain balance.
Standing up on a SUP is harder than it looks. A narrow board requires more effort and a higher skill level to stay balanced.
The iRocker Cruiser 10'6 is 33 inches wide. It provides a platform that is stable enough for complete newbies, fitness enthusiasts, and paddlers of all sizes. It's not tippy.
When it comes to construction, iRocker uses a triple-layer composite PVC construction. This military-grade construction makes it extremely rigid. It doesn't flex. Paddle boards that bend are unstable (and frustrating).
Lastly, thicker inflatable SUPs, like the iRocker Cruiser, have more volume and are more buoyant. They are super rigid when inflated and they can handle more weight without flexing.
b. Maneuverability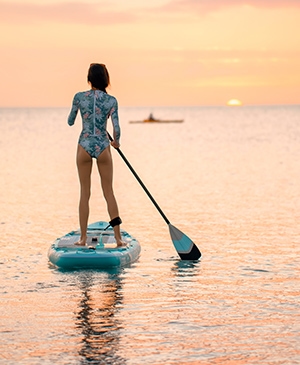 This is another area where the iRocker inflatable SUP excels. It is easy to paddle and maneuver.
Being only 10'6 long, you will find that it is responsive and turns quickly when you want it to. Paddlers of all sizes can paddle efficiently and try different techniques.
This is not something you can say for longer paddleboards. You can imagine how tricky it would be trying to paddle a 12-foot board in a place with many obstacles.
The width of the Cruiser SUP board also makes it easier to handle. If it were too wide, shorter paddlers would have a problem making a proper paddle stroke. But the 33-inch width is just right for everyone.
If you are planning on paddling rivers, you will also love how maneuverable the iRocker is in that situation. It comes with a suitable fin system for that (more on this later).
c. Tracking
The iRocker Cruiser 10'6 tracks well, meaning that it moves in a straight line.
It has three fins, and the large center fin is greatly responsible for tracking.
As you push back during your paddle stroke, you put pressure on the side of the paddleboard. This can make the tail move sideways and take the board off the path.
With the fin system and the shape of the iRocker inflatable paddle board, this is not something you'll have to worry about.
d. Speed
Unfortunately with paddle boards, there is usually a sacrifice to be made when it comes to performance. This mainly happens with speed and stability.
A stand up paddleboard that is wide and stable will most likely be slow. So don't expect much from the iRocker Cruiser iSUP in terms of speed.
It is not very long and it is wide. They may be good features for stability, but not for speed.
This doesn't mean that your iRocker SUP board will be sluggish. It may not be a racing or long-distance touring board but it glides decently.
You will be impressed when touring short distances, cruising leisurely, or going on a SUP fishing trip.
2. Build Quality
The iRocker 10'6 Cruiser is built using triple-layer composite PVC and a drop stitch core. It is just as strong as iRocker's previous quad-layer construction, but 20% lighter.
This military-grade construction results in an inflatable stand up paddleboard that is virtually indestructible. This is why the iRocker Cruiser can hold up to 400 pounds with no trouble.
PVC is the most common material for making inflatable stand up paddle boards. But just because an inflatable SUP mentions PVC doesn't mean it is reliable.
Some only feature a single-layer construction which compromises the strength of the board. Paddleboards like these are prone to flexing. They can't hold a lot of weight and they never last long.
The iRocker Cruiser board is one you can trust. The manufacturer even offers a 60-day guarantee and a 2-year warranty.
Besides, the Cruiser SUP has been around for a while. Paddlers love it for a reason. It can take a lot of abuse without getting punctured.
This is the kind of high-quality board you need if you consider yourself adventurous. You can take it anywhere and not have to worry about damaging it.
Even though the iRocker Cruiser features rugged construction, it is not heavy. It only weighs 25 pounds.
3. Design
With most paddleboards, you don't get color options.
But I like how the iRocker Cruiser has a color for almost every paddler. There are six colors to choose from: white/blue, orange, grey, green, teal, and seafoam green.
Some of the colors are bright and vibrant while others are for paddlers who don't prefer bold colors.
The iRocker 10'6 Cruiser is wide with a 22-inch wide tail— which is a great stability feature.
Its nose is somewhat pointed. This allows it to move smoothly in the water, while still remaining stable. So if you have an excited child or dog sitting at the nose of the board you won't all end up in the water.
4. Board Features
The iRocker Cruiser board performs well and its quality is remarkable. But that's not all there is to it.
Let's see what it has to offer in terms of comfort and convenience.
a. Fins
The iRocker Cruiser SUP has a tri-fin system: large center fin and smaller side fins, with all-removable fins.
Many paddlers love the ability to remove all fins.
It means that they can change the configuration to suit whatever condition they are paddling in. The board also folds compact when deflated for storage and transport.
The fins are crucial to the performance of the stand up paddleboard too.
b. Deck Pad
The large traction pad on the iRocker SUP extends almost up to the inflation valve. It is extra comfortable and will work perfectly as a yoga mat.
If you SUP with a child or dog, you will appreciate the comfy deck pad too. It provides a nice, soft platform for them to sit on the SUP.
The traction pad also prevents you from slipping. It is not easy to keep your foot firmly planted on a wet, slippery inflatable SUP.
There have been concerns about the white deck pad on the grey iRocker Cruiser 10'6. It looks like it could get dirty easily.
c. Handles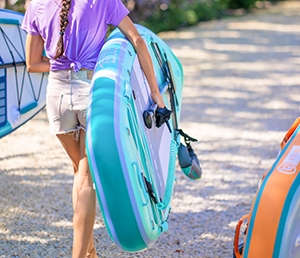 The iRocker Cruiser inflatable board has three grab handles: at the nose, center, and tail of the board.
The center carry handle is useful when carrying the SUP solo. It is wider, with more padding for comfort.
The tail grab handle is mainly for dragging your stand up paddle board into the water. Or when two people are carrying the board. One can hold the nose carry handle and the other the tail grab handle.
d. D-rings and Action Mounts
iRocker did not hold back as far as attachment points are concerned.
The Cruiser has 20 D-rings and 4 multi-use action mounts.
There is a six-point bungee cord storage area at the back of the board and one more at the front.
You can bring a SUP cooler to keep your drinks cold and act as a seat, plus a deck bag with other essentials.
Alternatively, attach a kayak seat to the extra stainless steel D-rings on the deck.
The multi-use action mounts are for rod holders, cup holders, phones, cameras, speakers, or anything you like.
The iRocker Cruiser 10'6 board is so customizable. You can even turn it into a fully-rigged fishing board.
e. iRocker Cruiser Package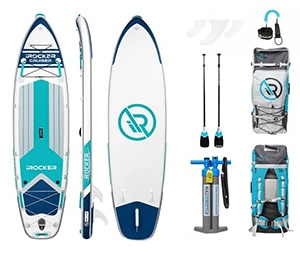 The iRocker Cruiser comes with an all-inclusive package, all high-quality SUP accessories. It includes a paddle, pump, backpack, leash, and a repair kit.
The paddle has a carbon blend shaft and a nylon blade. The board previously came with a fiberglass paddle, so this is a nice upgrade. The paddle is adjustable 72 to 86 inches and it floats!
The dual-chamber, triple-action hand pump features an integrated pressure gauge. It makes manual inflation 50% easier than a dual-action pump.
The SUP carry bag has cushioned back and waist support. It's big enough to fit your inflatable board and gear. And it is wheel-compatible.
The 10-foot coil ankle leash is comfortable and comes with a key pocket.
Optional Accessories
Other than the things in the package, iRocker offers optional accessories. They include:
Speaker
Kayak kit (kayak seat and kayak blade)
Kayak seat cushion
Shoulder carry strap
Cupholder
Camera mount
Cell phone holder
Electric pump
Selfie stick
Cooler deck pad
Fishing rod holder
Warranty
As mentioned, the iRocker Cruiser comes with a 2-year warranty and a 60-day guarantee.
What Users Are Saying
I decided to comb through the internet and see whether other iRocker Cruiser board users agree with me.
A stand up paddle boarding newbie wanted a good budget SUP but they didn't know which one to get. So they went on Reddit to find out what other paddlers had to say.
XBurningFuryX says that he owns an iRocker Cruiser board. He highly recommends it, if the original poster doesn't mind spending a few more hundred dollars.
He says that the iRocker Cruiser 10'6 is not very fast but it is wider and more stable. He loves the safety handles because they come in handy when paddling with his kids. He also mentions the mounts and D-rings as well as the military discount that iRocker offers.
In a different Reddit post, someone seems to be torn between the iRocker Cruiser and the Gili Meno.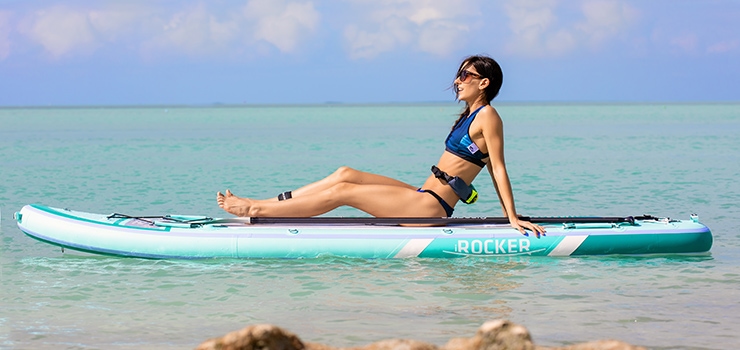 This user says that he and his wife own two iRocker Cruiser paddleboards. The quality is impressive and he says they are good beginner boards. He agrees that it is not a racing SUP but he paddles 3 to 7 miles without any issue.
Another Redditor couldn't decide between the iRocker Cruiser 10'6 and the Body Glove inflatable SUP. So he asked other paddlers on Reddit to weigh in.
Auhansel replies saying he bought the iRocker Cruiser for his girlfriend as a gift. He also owns another inflatable SUP board but says that the iRocker handles two riders better. The accessories in the package are also awesome and he likes the 2-year warranty.
Elsewhere…
Diana can't get enough of her iRocker Cruiser inflatable SUP board. She says that it is remarkably stable even with her dog on it.
The instructions are clear and she had her iRocker Cruiser SUP set up in no time. She recommends buying an electric pump though.
Meghan is an adventurous paddler. She says that the iRocker Cruiser 10'6 is super stable and it allows her to play around.
She uses the stand up paddle board for yoga, exploring the river, and just playing around. The traction pad is comfortable and the SUP has held well so far– no signs of wear and tear.
Company Review
You have heard a lot about the iRocker Cruiser. But who makes this board?
What started as an idea between two friends is now one of the most popular iSUP companies. They were both stand up paddleboarding enthusiasts when the concept of inflatable SUPs started catching on.
They saw this as an opportunity to offer fellow paddlers reliable paddleboards.
The company uses drop stitch material and three layers of PVC. They ditched the quad-layer construction because the boards were bulky.
iRocker SUP has made a name for itself, providing quality products and great customer service.
iRocker Cruiser Alternatives
The iRocker Cruiser is often compared with other awesome inflatable SUPs. Check them out.
1. iRocker Cruiser 10'6 vs Atoll 11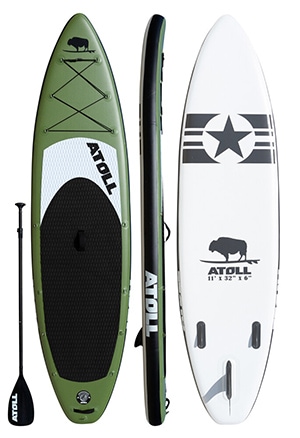 The Atoll 11 is another popular inflatable stand up paddleboard. It measures 11' x 32" x 6". It is slightly longer and narrower than the iRocker Cruiser 10'6.
You can expect it to have better speed and, therefore, more suited for SUP touring. The Cruiser SUP is more stable and, thus, more suited for people who want extra stability.
The Atoll board has a bungee cord storage area at the front. There are more stainless steel D-rings for a kayak seat or an extra cargo area. It doesn't have an action mount. It also has one less grab handle than the Cruiser and its side fins are not removable.
The non-removable fins don't allow for customization of the fin setup. But you also don't have to worry about them getting lost, which is a common problem.
Like the Cruiser board, the Atoll paddle board comes with an all-inclusive package. This includes a carbon fiberglass paddle, dual-action pump, repair kit, carry bag, and an ankle leash.
Whereas the iRocker Cruiser 10'6 colors are bright, the Atoll board has a clean design and muted color options.
If you are looking for speed, a sleek design, and gorgeous muted colors, you might love the Atoll SUP.
However, if stability is more important, you want more attachment points, and don't mind bold colors, the iRocker Cruiser might be for you.
2. iRocker Cruiser Vs iRocker All Around 11
These are two outstanding boards from the same manufacturer.
The iRocker All Around 11 measures 11' x 32" x 6", like the Atoll. Being longer and narrower than the Cruiser, it is more likely to have better speed. The Cruiser 10'6 is slightly more stable, though.
These two paddleboards, the All Around 11 and the Cruiser, are the same in many ways. They have the same number of D-rings and attachment points and their iSUP packages are the same.
However, the All Around's traction pad extends past the inflation valve.
You get six color options with the iRocker All Around board, just like with the iRocker Cruiser 10'6.
I'd say the main difference between these iRocker boards is the size and performance.
The All Around is longer, narrower, and has a higher weight capacity. It can hold up to 435 pounds, while the iRocker Cruiser has a capacity of 400 pounds.
The Cruiser would be ideal for the stand up paddler who cares more about stability than speed. This may be a yoga/fitness enthusiast, a beginner who wants a wide platform, or anyone who is looking for an extra stable SUP.
The iRocker 11 is for the SUPer who wants an all around board that is a little fast. It glides really well and you won't have to sacrifice stability. It is also suited for taller and heavier riders.
3. iRocker Cruiser SUP Vs Blackfin X SUP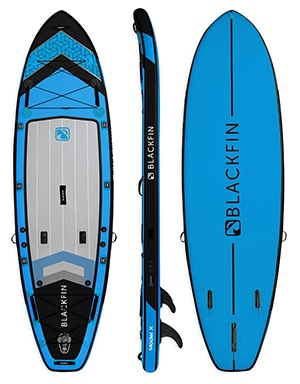 The Blackfin X is yet another popular iRocker board. It is the same length as the iRocker Cruiser 10'6, but wider at 35 inches. It also has a higher weight limit of 450 pounds, compared to the Cruiser's 400 pounds.
The Blackfin Model X board features the same triple-layer construction as the iRocker Cruiser. But it has a carbon rail for extra rigidity and durability.
You can say that the Blackfin X is more of a premium option since it is also pricier.
The warranty, however, is two years, just like the iRocker Cruiser.
The Blackfin Model X board has a bungee cord storage area at the front and another one at the back. It also has 20 D-rings for gear attachment.
But unlike the iRocker Cruiser 10'6, it has 8 action mounts. That's 4 more than what you get with the Cruiser SUP. It is compatible with a sand spear and fishing rack too, a feature that is exclusive to the Blackfin boards.
The Blackfin's traction pad is slightly bigger than the Cruiser's.
Like the iRocker Cruiser 10'6, the Model X comes with an all-inclusive package. But it has a full-carbon shaft paddle and its backpack has wheels.
You have to buy the wheel tray separately for the iRocker Cruiser carry bag.
The Blackfin X is more likely to be sluggish since it is wider and not very long. Its nose is also somewhat round and this doesn't help with speed. It is a little heavier too at 27 pounds.
With the Model X, you only get three color options: white, blue, and teal.
The Model X is suited for fishing, yoga, heavier riders, and multiple paddlers. You will love it if stability and attachment points are your top priority. But when it comes to speed, you shouldn't expect much.
The iRocker Cruiser 10'6 is suitable for you if you want added stability without sacrificing speed too much. It is also a good option if you prefer brighter colors or if the Blackfin X is out of your price range.
Conclusion
The iRocker Cruiser inflatable SUP is a fantastic board, and you can even see that from the user feedback.
It is a paddleboard that anyone can use, regardless of size or skill level. The weight limit is great for heavier paddlers and the stability is amazing for all SUPers.
It would make a good paddleboard for anyone looking for a family SUP. You can take it to a calm lake for yoga/fitness or go SUP fishing with your furry friend. And if your partner or child wants to learn SUP, they can use it too.
Because of its size, the iRocker Cruiser 10'6 won't limit you in terms of where you can SUP. It will handle most water conditions well and can work for most SUP activities.
Lastly, the iRocker Cruiser's construction is reliable. Even with extreme use, the worst that can happen is probably a minor puncture. And with the included repair kit, you can fix it in minutes.
The iRocker Cruiser 10'6 sure sounds like a fantastic board, doesn't it? Check it out; it might just be the perfect board for you!
Happy paddling!