This is a review of the iRocker Nautical.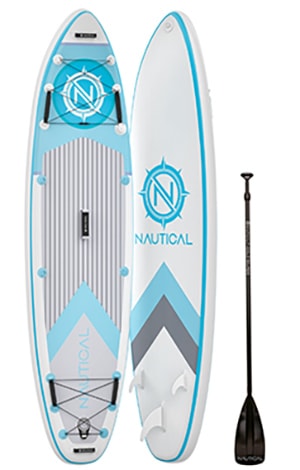 The Nautical inflatable SUP is the first entry-level paddleboard from iRocker. While people don't expect much from budget boards, I was impressed by its features and performance.
It is an amazing all-around paddle board that people of all skill levels can use. The Nautical is neither too long nor too short. It is maneuverable and performs generally well in all water conditions. The 32-inch width makes it a good board for learners too because it is stable.
Despite being affordable, the iRocker Nautical 10'6 is made using military-grade materials. You can be confident that it will handle whatever you throw at it.
It is super tough, with a one-year warranty, but not bulky. The board only weighs 20 pounds. Even younger paddlers can easily carry it.
In this detailed iRocker Nautical review, we will look at all that the inflatable SUP has to offer. This is to help you know whether or not it is for you.
Is the iRocker Nautical the best cheap inflatable paddle board you can buy? You are about to find out.
iRocker Nautical Pros and Cons
Paddle Board Specifications
Length: 10'6
Width: 32"
Thickness: 6"
Weight: 20 lbs
Weight capacity: 240 lbs
Who Should Buy the iRocker Nautical 10'6 Paddle Board?
The iRocker 10'6 Nautical would be great for beginners, youth, smaller paddlers, and anyone on a tight budget.
If you are a beginner just getting into paddle boarding, a budget inflatable makes more sense. Stand up paddle boarding is divided into several categories. There's SUP racing, surfing, touring, yoga, and even whitewater SUP.
A simple all-around inflatable allows you to explore them all. Once you find an activity you like, you can splurge on one of those expensive niche SUPs.
For youth and small paddlers, the Nautical iSUP is easy to handle. It is responsive and such fun to paddle. Besides, at only 20 pounds, you won't need help carrying it around–even when hiking.
Most inflatable paddle boards in this price range can be disappointing. Their one-layer construction is unreliable and they don't last.
The Nautical is made by a reputable company. iRocker has been around for a while and the paddling community loves their products, including the Nautical.
So if your budget is tight but you still want quality, I highly recommend this SUP.
Features of the iRocker Nautical Inflatable SUP
1. Performance
What is the iRocker 10'6 Nautical like in the water?
a. Stability
Since this inflatable SUP is advertised as best for beginners, stability is a key concern.
Learning to maintain balance on a paddle board is not easy. It becomes even harder when the SUP is a little too tippy.
The Nautical inflatable paddle board is 10'6 long and 32 inches wide. The size of a SUP is a major determinant of stability.
Wider paddle boards wobble less and are really helpful when learning to stand. The 32-inch width of the Nautical is just right. It is stable and you will soon be able to paddle without falling in no time.
Another factor that helps with stability is the construction quality and thickness. The Nautical 10'6 is 6 inches thick and is built using military-grade PVC material.
Thicker inflatable paddle boards have more volume and are, thus, more buoyant and rigid. A SUP made using reliable construction is also more rigid.
You can be sure that your Nautical inflatable will not flex, a common problem with cheap boards. SUPs that bend are not stable and they can give you a bad paddling experience.
When fully inflated, this iSUP is as hard as a solid board.
b. Maneuverability
A good entry-level paddleboard has to be maneuverable to give beginners an easy time.
Paddling the Nautical is enjoyable and smooth. It is responsive and glides very well. It is not very long at 10'6 and you won't find it hard to make quick turns.
Its 20-pound weight also makes it easy to handle for paddlers of all sizes.
You will love learning all kinds of SUP tricks using the Nautical.
c. Tracking
Tracking refers to the ability of your paddle board to travel in a straight path. You can imagine how frustrating it would be to have your iSUP zigzag all over the place.
But this is not something you have to worry about with the iRocker Nautical inflatable SUP board.
It comes with three fins–one large center fin and two small side fins. They help stabilize the tail when you make a paddle stroke, preventing it from swinging to the side.
d. Speed
The 10'6 Nautical inflatable is certainly not a racing paddleboard. Like most all-around boards, the speed is not exceptional.
However, for normal paddle boarding, this iRocker iSUP glides decently. You won't have a reason to complain.
It also helps that the paddleboard is not too wide at 32 inches. Super wide paddle boards have more resistance which makes them slow.
So while you won't be winning any serious races with this SUP, you won't be disappointed either.
2. Build Quality
The construction quality of the Nautical SUP is not something you see often in this price range.
It is built using dual-layer military-grade Dropstitch material.
Most cheap iSUPs are made using single-layer PVC construction. Their only benefit is that they are lightweight. But you cannot count on them.
This inflatable SUP board from iRocker is both lightweight and durable. Regardless of what you put it through, you won't see a dent. It will serve you for years and it comes with a one-year manufacturer's warranty.
When fully inflated, the Nautical can hold up to 240 pounds. This is a good weight limit for most paddlers. However, heavier paddleboarders may need to look for a board that can hold more.
This is not a complaint though. For the price, a 240-pound capacity is great. It is also honest.
Many times, SUPs in this price range claim to hold a lot of weight. But when you take them out to the water you will be disappointed. The Nautical 10'6 delivers.
Some paddlers have even brought another adult on board and it rides well. So the Nautical can hold more weight than it is rated for.
Even with the dual-layer military-grade PVC construction, this iSUP only weighs 20 pounds. It would be perfect for paddlers who are always traveling, looking for new SUP spots.
3. Design
You can get the iRocker Nautical in three colors: blue, white, and aqua. It has a simple, plain design.
The 2021 Nautical comes in sky blue, blue, teal, and gray.
Both the old version and the new one have the Nautical logo printed at the bottom, along with the word "Nautical".
On the deck of the old iSUP, the logo is at the tail while the word "Nautical" is at the nose. On the 2021 version, the logo is at the front while the word is at the tail.
4. Nautical Paddle Board Features
a. Fins
The iRocker Nautical 10'6 comes with three flip-lock fins. It has a large center fin and two smaller side fins. They help with stability, maneuverability, and tracking.
All the fins are removable.
This is one of the best things about iRocker boards. The ability to remove fins means that you can change the setup depending on where you are paddling.
The board also folds nicely and compact without the fins.
b. Deck Pad
The Nautical inflatable SUP board has a large EVA traction pad. It is comfortable and prevents you from slipping when the paddleboard is wet.
It is child- and pet-friendly.
Once you are a little more confident, you can start trying a few simple SUP yoga poses. The traction pad makes a good yoga mat.
c. Handles
The Nautical SUP comes with three grab handles: at the nose, tail, and center.
The 2021 Nautical, in addition to the three carry handles, has four safety handles. Two are at the front bungee storage area and two at the rear bungee storage area.
When you have a child on board, they can hold on to the safety handles. Parents who love to bring their kids along will appreciate this feature.
All the other iRocker SUPs have had safety handles for a while now. It is nice that the manufacturer finally decided to make them available on the Nautical.
d. D-Rings and Action Mounts
The Nautical inflatable comes with 13 D-rings for you to attach an ankle leash, carry strap, kayak conversion kit, and more.
There is a six-point bungee storage area at the front for luggage.
Unlike the more expensive iRocker SUPs, the Nautical iSUP doesn't have action mounts. It would be hard to use it for fishing.
The 2021 Nautical has two bungee storage areas, at the front and back.
It also comes with one action mount. This may not be enough for angling but you can use it for attaching your Go-Pro or cup holder.
e. iRocker Nautical Inflatable SUP Package
Another thing that makes the iRocker Nautical SUP a good entry-level board is that it comes with all the SUP accessories you need to get started.
The package includes a hand pump, backpack, ankle leash, paddle, and repair kit.
i. Paddle
The Nautical paddle has a fiberglass shaft and nylon blade. It floats and is adjustable 72 to 86 inches.
A fiberglass paddle in this price range is a good deal, especially since this is mainly a beginner SUP. It is efficient and you may not even need to upgrade.
Most entry-level SUP boards usually come with aluminum paddles–even from reputable companies. The paddles are heavy and wear you out quickly. They are also not efficient when paddling.
So the three-piece fiberglass Nautical paddle is really amazing.
ii. Pump
The single-chamber dual-action hand pump has an integrated pressure gauge. For a manual pump, it works well and fast. Inflation takes 10 minutes or less.
It inflates in two stages to make the process easier and faster.
If manually inflating an inflatable SUP sounds like too much work, get an electric pump. I highly recommend it.
You will love it, more so if you plan on paddling frequently. It saves you time and energy, allowing you to spend more time on your SUP board.
iRocker currently gives you a discount if you buy it together with the board.
iii. Bag
The Nautical backpack is simple but rugged and comfortable.
Its adjustable straps, padded back support, and padded waist support make it easy to carry around.
This inflatable SUP bag is perfect for people who travel/hike with their boards.
The bag is big and will fit all your paddling accessories, together with the paddleboard.
All iRocker SUP board bags come with wheels or are wheel-compatible, except the Nautical.
But that changes with the 2021 Nautical inflatable backpack. The bag can now be converted into a wheeled inflatable bag! What more could you ask for?
iv. Leash
The Nautical paddle board leash is high-quality and comfortable. It fits so well and makes you forget you have it on. It comes with a key pocket.
Optional Accessories
The accessories in the package are the main paddle boarding essentials. But there are other optional iRocker accessories that can make the experience even better.
They include:
Cell phone holder
Electric pump
Selfie stick
Kayak kit (kayak seat and kayak blade)
Kayak seat cushion
Shoulder carry strap
Cupholder
Warranty
All iRocker Nautical paddle boards have a one-year warranty and a 60-day guarantee.
What Users Are Saying
This review is mainly based on my personal experience. So I decided to search through the internet to see what other iRocker Nautical users think.
Customer reviews are usually honest and helpful when it comes to making a purchase decision.
This beginner wanted an affordable paddle board for flatwater paddling. He wanted something that would allow him to bring his dog once in a while.
The Reddit user was torn between the iRocker Nautical and the Body Glove.
Someone else replied saying he was faced with that same decision. After extensive research, he settled on the Nautical. He says that the iRocker Nautical comes with a quality fiberglass paddle, 3 removable fins, a nice backpack, and enough D-rings.
He goes on to give more reasons, including the 1-year warranty and iRocker's track record. They are known to make quality SUPs and their customer service is commendable.
Another user advises him to look at the fins. The Nautical inflatable SUP has removable fins while the Body Glove's fins are permanently fixed. He has an iRocker All-Around 11 and the removable fins allow him to use different sized fins for different activities.
This paddler was looking to get a pair of inflatable boards. He was leaning towards the Nautical inflatable SUP, especially because of its price.
But being a little under 200 pounds, he wasn't sure about the 240-pound weight limit. So he decided to ask for advice on Reddit.
A Redditor replied saying that he owns a Nautical board. He weighs 170 pounds and he paddles with his 50-pound kid. They also bring along gear and it works fine. Like the original poster, he was also worried until he saw a video with two adults riding the Nautical.
Elsewhere…
The Nautical will exceed your expectations! This is according to Claire. She wanted to get her husband a birthday present so she bought two Nautical SUPs. She got the electric pump and the kayak conversion kit as well because it was a great deal.
She says the paddleboard is lightweight and they had fun learning. She highly recommends it.
The Nautical inflatable is Sam's first paddleboard and he can't get enough. He says that the quality is amazing. Sometimes he doesn't have to re-inflate the SUP for about three months and it still maintains pressure.
He paddles about 3 times a week and he says that the Nautical has turned him into an avid paddler.
Betsy is a petite 54-year-old. She got interested in SUP and started using a relative's paddle board. But it was too heavy, she could hardly drag it. She then decided to buy her own inflatable and settled on the Nautical.
The paddler couldn't be happier. She says she can comfortably carry the Nautical, fully inflated, over a long distance. She uses the manual pump when she is in a remote area. But according to her, the electric pump works much better.
Pam loves her new Nautical but she says that manual inflation is harder than she imagined. She recommends getting the electric pump if you can.
Company Review – iRocker
The reputation of iRocker has been mentioned severally. So who are they?
iRocker is a well-known paddle board brand. They have been making quality inflatable boards and SUP accessories for years.
Their products are long-lasting. If you ask most paddlers, they'll tell you that you can't go wrong with an iRocker SUP.
Paddleboarders also love them because of their customer service. They are always ready to assist and answer all your questions.
The company is rider-owned and operated.
iRocker Nautical Alternatives
The Nautical 10'6 is not the only entry-level SUP on the market. So let us see how it compares with another amazing beginner board.
iRocker Nautical Vs Gili Air
The Gili Air inflatable SUP is made by Gili Sports.
The paddleboard is 10'6 long and 31 inches wide. It weighs only 19 pounds and can hold up to 280 pounds. The manufacturer says that experienced riders may exceed the weight limit.
The Gili Air inflatable board is built using military-strength PVC. The manufacturer claims that it can handle anything, including rocks, without getting dented.
To prove their confidence, they offer a two-year warranty on the board.
Like many other inflatable SUPs, this Gili board comes with a paddle, pump, backpack, and leash.
The Gili Air paddle is made of aluminum with a nylon blade. It is adjustable 64 to 86 inches. The bag is simple but big enough and made using quality materials. The waist and shoulder straps are padded.
The dual-action hand pump does a good job inflating the Gili board to the recommended 15 psi.
This SUP board has a total of 9 D-rings and two bungee storage areas, at the front and back. The 2021 version features three action mounts and a side-mounted paddle holder.
It is available in five colors: camo, coral, green, blue, and teal.
The two iSUPs, Nautical 10'6 and Gili Air, are similar in many ways. They have the same length and come with pretty much the same accessories in the package.
They both feature three fins, all removable, and three carry handles. They also weigh roughly the same, 19 and 20 pounds.
But they have their differences.
The Gili is narrower by one inch. This may make it slightly less stable than the Nautical.
Although they all feature an all-inclusive package, the iRocker board comes with a fiberglass paddle. The Gili paddle is made of aluminum which is heavier and less efficient.
The Gili Air gives you more color options, including coral and camo which are gorgeous and unique.
The Nautical 10'6 comes with a one-year warranty while you get two years with the Gili SUP.
The Gili board would be ideal if you are looking for a unique color, like camo. You should also consider it if you'd like to contribute to saving the environment. A percentage of each sale goes to saving the world's oceans.
The Gili may be a good option for paddlers looking to bring gear like an action camera or fishing rod too. The three action mounts make the board a little more versatile.
The Nautical iRocker SUP board would be a better option if you want a good paddle. It is also wider and most beginners would be more comfortable using it to learn.
Additionally, you will get a wheel-compatible backpack if you buy the new 2021 Nautical.
Bottom line: both of these SUPs are awesome entry-level boards. They are well-made and come with everything you need at a good price. So it all comes down to your personal preference.
Do you want more color options? Would you like to have action mounts? Do you prefer a wheel-compatible bag and a lighter fiberglass paddle?
Nautical Review Verdict: Is It a Good Deal?
Is the Nautical iSUP package a good deal? I'd say yes.
Stand up paddleboarding is fun and beneficial to your health. But not everyone can afford an $800 board. That doesn't mean you should settle for less.
The Nautical SUP is perfect for newbies and anyone on a tight budget. You get a quality, reliable board at an affordable price. It even comes with all the accessories you need to get started. All of them are well-made, better than what you can get with most boards in this price range.
So what are you waiting for? Get yourself an iRocker Nautical and start having fun!