Stand up paddle boarding is the perfect family activity. It's a fantastic and fun exercise that's easy to get started. If your kids are small, they can sit on your SUP as you paddle. But as they get older, they'll need their own paddle board so they can also start paddling by themselves.
When picking out a board for your children, you want to get something that they'll love and want to use. To help you out, I'm going to recommend my best SUPs for kids, based on my family's experiences. I'll also discuss what you should consider when buying a board for your little one.
My children were lucky enough to test many boards. After having a lot of fun, we concluded that the iRocker Nautical Kids is the best kids paddle board overall. Keep reading to see why we came to that conclusion and for more awesome children's boards.
Quick Summary
If you're in a hurry, here are our top kids paddle boards. Or continue scrolling to see our full list with in-depth reviews.
Best Kids' SUP: Nautical Kids
"The Nautical is super stable and easy to maneuver. It has a lovely soft deck pad and comes in a range of colors that your kids will love!"
Best Performance: Atoll Kids
"The Atoll 9' SUP is a great choice for teens or more experienced kids. The minimalist design glides well with surprising speed"
Most Versatile: Gili Cuda
"The Cuda is a great all-around SUP that comes with storage, mount points, and paddle holders. The 8-foot version is a good option for young paddlers"
Best Kids Stand Up Paddle Boards
Here are what I believe are the ten best paddle boards for kids.
1. iRocker Nautical Kids Inflatable Paddle Board – Best Overall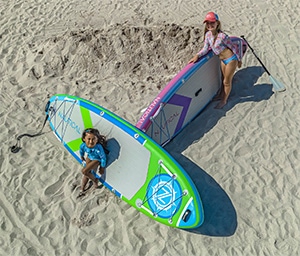 Given the choice, the Nautical is the inflatable paddle board my kids reach for. It's stable and easy to paddle, and they love the bright color scheme!
The Nautical Kids board is 9 feet long and 32 inches wide – that's 2 inches wider than most kids' paddle boards. The extra width makes it more stable and means it's suitable for younger kids as well as teens.
My daughter is 11 years old and really enjoys paddling the Nautical. It glides nicely and is easy to turn. She doesn't have to use too much force to get it moving.
The board comes with an adjustable kid-sized paddle that's 54.5–68 inches long. This is great for young kids, but my daughter is already growing out of it (she's 5 feet tall). She'll be able to keep using the paddle board for a while, but I'll need to get her an adult-sized paddle soon!
The Nautical Kids paddle board comes with many of the same features you get on the adult version. There are two bungee storage areas and a mounting point on the nose that you can use to attach a phone or GoPro – perfect if you have a budding videographer! You also get 4 D-rings for attaching a kayak seat.
My daughter loved the soft deck pad on the Nautical and felt it was more comfortable than the pad on the Atoll and Bluefin boards. She also thought the Nautical was the best-looking board out of my top 4 and really liked the purple and pink model we tested.
The board and accessories are of the same high quality that I've come to expect from iRocker boards. My kids and I love this board and we wouldn't hesitate to recommend it to children and teens!
Check Price of the iRocker Nautical Kids
2. Atoll Kids 9' Paddle Board
The Atoll 9' paddle board is a scaled-down version of their 11-foot board. I'm a big fan of Atoll's regular board, so I was excited to see if the 9-foot model delivered the same performance.
I wasn't disappointed! My daughter tested it out and found it to be fast and smooth in the water. It was the speediest board we tested, making it a good option for more experienced paddlers and kids who want to push themselves.
It's narrower than the Nautical (30 inches wide), so it's not quite as stable, though it was plenty stable enough for my daughter. She also found it a bit tougher to turn than the Nautical.
The Atoll has 2 fixed side fins and a removable center fin with a US fin box. It's more fiddly to fit than snap-in fins, but I like that the universal fin box gives you the flexibility to add aftermarket fins.
I'm not a huge fan of the fixed side fins – they make it harder to roll the board up and removable side fins give you more flexibility to improve tracking.
The Atoll Kids paddle board comes with a complete accessory pack. It's the same one you get with the regular board, so you know you're getting quality products! The only frustration I have with the accessories is that the paddle is a little long for my daughter. Because it's adult-sized, it's also heavier, which can make paddling more tiring.
I love the Atoll's minimalist design. Most kids don't need tons of storage or features, as they're not out on the water for long periods. The large bungee storage area at the nose gives plenty of space for stashing spare clothing and food, and the extra D-rings can be used to attach a kayak seat.
I'd recommend the Atoll 9' for more experienced paddlers and teens or tall kids. It's a great transition board for kids who want to push themselves but aren't quite big enough for an adult board.
3. Gili Cuda SUP for Kids
The Gili Cuda SUP comes in two sizes. There's an 8-foot version which is best for younger children and lighter paddlers. Kids over 5 feet tall and teens will prefer the 9-foot model – it's a bit less stable but faster in the water.
The Gili Cuda's weight capacity is lower than other boards, which is something to bear in mind if you have a heavy youngster. The 8-foot model has a 95-pound capacity and the 9-foot model has a 130-pound capacity. If you want a board that'll take your child through to their teen years, it may be worth going for the larger board.
At 30-inches wide, the Cuda is narrower than the Nautical. It's still very stable, though, and it's easy to maneuver in the water.
Like Gili's adult boards, the Cuda comes packed with features. I particularly love the integrated paddle holders. Your kids will have no excuse to drop their paddles overboard (unless they're playing the send-dad-after-the-paddle game, but let's not go there…). You also get 2 bungee storage areas and 3 action mounts for a camera, cup holder, speaker, etc.
The Gili Cuda comes with a kid-sized fiberglass paddle, leash, 3 removable snap-lock fins, and a carry bag. You don't get a pump, but this isn't a dealbreaker for me, as we always bring an electric pump along when we go paddle boarding.
The board comes with a small duffle bag, rather than a backpack. I'm not convinced this makes it easier for kids to carry, but if you can park up near your launch site, this won't be an issue.
The Gili Cuda is a great all-around board. I'd particularly recommend the 8-foot board for young paddlers and the 9-foot version for adventurous paddlers who want mounting points and storage.
4. Bluefin Cruise Junior 8′ Inflatable Paddle Board – Best Overall
The Cruise Junior is a fantastic kids paddle board. The Junior shares the design of the full-sized Cruise boards. If you already have one in the family, this will match your own paddle board perfectly.
At 8' long and 29" wide, the Cruise Junior boasts excellent stability and maneuverability. The 265 lb weight limit is the highest of any kids board here, so you don't need to worry about your child outgrowing it quickly.
The board weighs 22lbs, however this is related to Bluefin's outstanding build quality. The Junior uses thick exo surface laminate PVC and is incredibly tough. Bluefin offers an industry-leading five-year warranty, the highest of any I've reviewed.
Included with the Bluefin Cruise Jr, is an excellent range of accessories. The 3-piece paddle has a lightweight fiberglass shaft with a hard-wearing polyurethane blade. There is even a complete kayak conversion kit which my children really enjoyed using when they got tired of standing.
Another standout feature is the inclusion of an action mount on the nose for mounting a camera. It's entertaining to record your child's adventures, and this fitting makes it easy and secure.
Check Price of the Bluefin Cruise Junior
5. Thurso Prodigy Kids 7'6 – Best for Smaller Kids
The Prodigy is a stand up paddle board from the well-respected manufacturer Thurso Surf. They have built it to the same qualities as their full-sized boards. The 7'6 length makes this the ideal choice for smaller kids, and my youngest found it to be the most maneuverable of all. Thurso recommends the Prodigy Kids SUP board for young kids ages five and up, and I agree with that.
The Prodigy Kids SUP board has double-layer military-grade PVC, so you can be sure that it will withstand children's use. When fully inflated, the kids board is really rigid. The maximum 30" width helps to make it extra stable and comfortable.
Thurso Surf includes a great bag and a coil safety leash with the SUP. There is also an excellent carbon hybrid paddle especially sized for juniors which is nice and light. However, to save cost, Thurso does not include a pump. Their logic is that most purchasers will be SUP board families who already own one. Keeping the price down is welcome. However, I found it meant that I ended up inflating all our boards while the kids watched.
The Prodigy Kids SUP board has a two-year warranty. There's also a 30-day satisfaction guarantee.
Check Price of the Thurso Surf Prodigy
6. Bote Flow Aero Kids 8' – Best Budget Kids Paddle Board
At the time of my review, the Bote Flow Aero Kids was the cheapest inflatable stand up paddle board in our selection. This surprised me as Bote is another well-respected paddle board company. It was hard to work out where they had made the savings.
Both of my kids enjoyed using the 8' x 30" board and found it easy and stable to use. They both commented that they particularly liked the graphic design of this SUP.
Bote's paddle board is made from military-grade PVC and uses their AeroBOTE technology. This delivers a durable board that is strong yet light. The Flow Aero Kids weights just 17 lbs, which is excellent for its size.
Included with the board, you'll find a manual pump and a three-piece adjustable paddle. There's also a storage bag that shares the board's graphics, rather than just being a generic design, so it matches – which is a nice touch!
There is also a removable center fin. Together with the side fins, this helps the Flow Aero Kids SUP track in a straight line, which is excellent for beginners. The only obvious thing missing is a safety leash, and I recommend that you add one before finishing your purchase. Even with its excellent price, the Flow Aero includes a confidence-inspiring two-year warranty.
Check Price of the Bote Flow Aero
7. Honu Airlie Kids All-Rounder 8'6
The Honu Arlie Kids is a fabulous inflatable stand up paddle board for both flat water and mild ocean use. Honu has designed this board to give kids a proper paddle boarding experience.
Unusually, the Airlie Kids is 4.7" thick rather than the more common 6". Experts say that this gives paddle boards a better feel. My children said they could "feel the sea better," which we decided was a good thing!
The maximum weight rating of the SUP is 135 lbs, while the board itself comes in at just 11.9 lbs. This is the lightest that we tested. When it came to carrying SUPs down the beach, this was almost the most popular choice with my children.
The Airlie Kids proved to be extremely capable. It is highly maneuverable and very stable. The "X-Woven and Fused" drop-stitch PVC board is extremely rigid when fully inflated. Honu gives the board a four-year warranty to back up its claims of durability.
The Airlie Kids All-Rounder includes a bag with wheels, dual-action pump, ankle leash, and repair kit. The board uses a single removable center fin which helps with tracking.
Honu doesn't include a paddle as standard with the kit. Instead, you can choose from various options and get a 20% discount when you buy one with the board. This means that you can pick the right paddle for your child or save money if you have a hand-me-down available.
Check Price of the Honu Airlie
8. Freein Kids 7'8
At 7'8 long, the Freein Kids inflatable SUP is ideal for shorter or younger children. We found that the deck pad on this board is excellent. The diamond-cut pattern sheds water well and is soft and grippy underfoot.
The Freein Kids inflatable stand up paddle board is fast in the water and one of the most maneuverable we tested. This inflatable SUP should stand up to children's use well. It is made with a double layer of PVC all-around, with extra triple and quad coatings on the deck and side rails.
The kit includes a double-action hand pump, and the board is surprisingly quick to fill to its maximum pressure of 15 PSI. Freein also supplies a backpack bag for storage, an adjustable aluminum paddle, and a repair kit. However, there isn't an ankle leash, so you'll need to get that separately.
9. Nixy Huntington Compact G4 9'6
This inflatable stand up paddle board really has had features and quality thrown at it. However, this does make it the most expensive here. If you're looking for one of the best small paddle boards for your kids, you won't find many that have a higher specification.
The Huntington Compact G4 is 9'6 x 32", making it suitable for older kids and teenagers. It is made from dual-layer PVC and features carbon-reinforced side rails to improve durability and stability.
On the water, the board is very stable, and the three removable fins help it track beautifully. There are front and rear bungee storage areas for cargo. There are also four action mounts for paddle board accessories.
The included kit is also impeccable. The hand pump is a dual-chamber triple-action model, making inflating the board as easy as it gets aside from an electric pump. There is also an excellent wheeled backpack and a carbon shaft paddle.
The graphic design of the board was popular, and there are two colors: Maui green or Exuma blue. The warranty is for two years, and there's a 30-day satisfaction guarantee.
Check Price of the Nixy Huntington
10. iRocker Nautical 10'6 – Best for Taller or Older Kids
This paddle board is brilliant not just for older or taller kids, but for adults up to about 5'8 tall. The Nautical 10'6 is really stable. It also tracks in a straight line beautifully.
If you are thinking about getting yourself a board to take children on for a ride, this inflatable SUP is perfect. The weight capacity is 240 lbs, so it can carry the rider and cargo comfortably.
iRockers accessory package has all the essentials. It includes a fiberglass paddle with a nylon blade and an excellent single-chamber dual-action pump. There is also a good-quality backpack bag and ankle leash.
There are nose and tail bungee storage areas. These incorporate grab handles, which are great for passengers to hang on. There is also an action mount to secure your camera.
The Nautical 10'6 has three removable fins that help it track nicely. My oldest child seemed to like that this was a "proper' SUP rather than a kids model. If you have young adults, you don't have to worry about them outgrowing this board.
Read our full review of the iRocker Nautical
Check Price of the iRocker Nautical
How to Choose the Best Kids Paddle Board
When shopping for the best kids paddle board, it's important to keep certain criteria in mind. This is what to consider to make sure that you choose the right board for your children.
The Benefits of Buying a Dedicated Kids Paddle Board
The most significant benefit of a board designed specifically for kids is that they are smaller and more manageable. It's not just about handling the board on dry land. In the water, if a paddle board is too big, a child will struggle to maneuver it and won't have much fun.
Smaller boards also tend to be cheaper, so if you're seeing if young children will take to paddle boarding, it is less of an investment.
Dedicated kid's boards also come in designs that are more attractive to children so they won't be put off by something that isn't deemed cool.
The Downsides of Buying a Dedicated Kids Paddle Board
The biggest downside of buying a smaller board is that your child will outgrow it.
You might also find that older children want to use a grown-up design.
What to Consider When Buying a Kids Paddle Board
Board Size – Is It Right for Their Age and Build?
Children are, of course, smaller and lighter than adults and need smaller paddle boards. If a board is too large, then chances are that kids won't be able to handle it well.
Likewise, it will also be hard to maneuver and less stable if a board is too small.
Board Quality and Durability
You'll want to choose a board that will stand up to the inevitable wear and tear that only children can bring.
Boards with military-grade PVC will be tough. It would be best if you also looked for reinforced side rails.
Does the Manufacturer Have a Good Reputation?
Cheap internet brands might seem like a bargain, but it's usually best to go for a well-known brand. That way, you can have confidence in the quality and know that you'll get support if needed.
Is the Weight Limit Appropriate?
It's important to buy a board with a weight limit that is appropriate for your child. Make sure that they have some room for growth, and can carry any cargo or passengers you might want.
What Accessories Are Included?
All the stand up paddle boards for kids in this list come with an accessory package. However, not all of them include everything you'll need. If you don't already have any SUP equipment, ensure you know what is included with your purchase, and what you'll need to get in addition.
What Important Accessories Might Not Be Included?
Something that suppliers rarely include is a personal floatation device. Although kids shouldn't be using their board unsupervised, a floatation device is vital for safety.
You might also want to look at a kayak conversion kit. These are very popular with kids and give a great extra option for getting the most from the board.
Vital Kids Board Characteristics
These are the two most critical characteristics to evaluate in a kids board.
Stability
Make sure that the board has excellent stability. Children need to feel comfortable if they're to enjoy paddling. A stable board goes a long way to achieving this and makes it easier for them to learn.
Maneuverability
One of the significant benefits of smaller, lighter boards is that they are easier for little ones to maneuver.
Best Paddle Board for Kids FAQs
Do They Make Paddle Boards for Kids?
Yes, manufacturers make boards specifically for children that are suitably sized. They often feature kid-orientated graphic designs.
What Are the Differences Between Kid and Adult Boards?
The difference between kids paddle boards and adult boards comes down to size. Kid's boards will be in the range of 7'6 to 10' long. Most adult boards are 10' or longer.
Can a Kid Use an Adult Sized Board?
Older kids can use an adult paddle board if it is no longer than about 10'6 long. A younger child could have fun on an adult SUP board with a little assistance.
At What Age Can You Start Paddle Boarding?
Children can start paddle boarding as soon as they feel confident enough in the water. In general, kids aged seven and above tend to do well.
What Size Paddle Board Should I Get for My Kids Height?
Kids shorter than 5' should probably stick to boards 8' or shorter. Between 5' and 5'6, a board 8' to 9'6 is good. Taller than this should consider a 10 or 10'6 adult board. Make sure that the weight limit is suitable.
Are More Expensive Paddle Boards Worth It for Kids?
Yes, more expensive kids paddle boards are worth it! It's worth spending on a good quality board for your kids so that you get something that they will enjoy and that will last well.
Are Cheap Kids Paddle Boards Any Good?
Cheap kids paddle boards are generally not as good as more premium options. Cheaper boards can seem like a good idea, but they are usually not very stable or hard-wearing.
Why Choose an Inflatable Paddle Board for Kids Over a Hard Board?
An inflatable board will accept general wear and tear better than hard paddle boards which are easily damaged. For younger kids, an inflatable board will be gentle on them if they fall or knock into it.
Inflatable paddle boards for kids are easier to transport and lighter to carry. As the parent who will likely be looking after them, this is an essential consideration!
Conclusion
The iRocker Nautical Kids' is my top recommended paddle board for kids. It's well-built, very stable, and comes in a range of attractive colors. My kids love the Nautical – it helps them feel safe when they're on the water.
The Nautical comes with a complete accessory pack, so your child will have everything they need to start paddle boarding.
For older kids who want a more performance-orientated board, I recommend the Atoll 9'. This is a shorter version of one of my favorite SUPs and it's fast and efficient to paddle.
I hope this round-up has helped you choose the right inflatable paddle board for your kids. If you have any questions, please post them in the comments below.