Multi-person paddle boards range from 2-person boards up to 10-person party barges. But which is right for you?
That's what I'm going to help you decide.
The truth is, no one paddle board suits everyone. That's why I've rounded up 6 of the best multi-person SUPs. Whether you want a board that can carry your whole family (dog included) or you're planning a summer of paddle board parties, there's a board in my roundup for you!
The Gili Manta Ray is my top pick for a party board. It's perfect for large families and groups of friends.
Read on to find out more, and discover the right multi person SUP for you!
Best Multi Person Paddle Boards Compared
1. Gili Manta Ray – Best Multi Person Paddle Board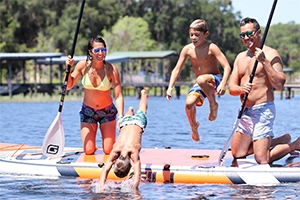 The Gili Manta Ray comes in two sizes. There is the 12-foot model, which is 45 inches wide, and the 15-foot, which is 56 inches in width.
In my opinion, the 12-footer is good for two or three people, while the 15-foot model is better for families and groups of five or more riders. Apart from their dimensions, both boards share the same feature list. These SUPs perform well as paddle boards or floating party platforms.
To make it easy to inflate the board, Gili supplies two excellent dual-chamber manual pumps. With the two high-pressure valves on the SUP, you can share the work and get the Manta Ray inflated quickly.
The Manta Ray performs like a proper paddle board, making it a great choice for overnight trips and longer paddle expeditions. You get forward bungee storage at the nose, and there's a smaller bungee system at the tail, so it's easy to carry camping gear.
There are carry handles around the edges, so getting the SUP in and out of the water won't be a problem.
If you want to fit SUP accessories, then the Manta Ray is ideal. You get four Scotty mounts and five action mounts. I reckon you could kit this board out for a brilliant tandem fishing excursion.
Alternatively, you could use the mounts for a multitude of accessories. Add cup holders for your morning coffee and Bluetooth speakers to create your dream river barge for chilling out.
The board comes with two collapsible paddles, fins, and a wheeled travel bag. Gili provides a two-year warranty and donates money to ocean conservation charities for every SUP sold.
Check Price of the Gili Manta Ray
2. Bluefin Mammoth 18' Inflatable Stand Up Paddle Board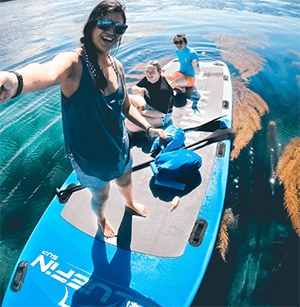 The 18-foot Bluefin Mammoth is a fabulous choice for large groups. The overall weight capacity is an impressive 1,100 pounds, so you can carry up to 10 people at a time.
A multi-person SUP is never going to be fast in the water, but the Mammoth does pretty well for its size. Tracking is decent, thanks to five detachable smart-lock fins.
The extra-wide deck means the board is very stable, even when loaded up. I'd recommend you stick to flat water lakes or slow-moving rivers and avoid windy days!
This stand up paddle board is also a great choice for family fun. There are 13 carry handles located around the SUP. These make it easy for your gang to carry the Mammoth and help you hop back onto the board after you've taken a dip.
The Mammoth is a beast of a board, weighing 60 pounds. This is due partly to its large size, but it's also a testament to Bluefin's outstanding build quality. This multi-person inflatable SUP is made from tough military-grade PVC – so it's a quality product that will last a long time.
Bluefin backs its build quality with a five-year warranty and a 60-day satisfaction guarantee.
The thermo-sealed crocodile print deck pad is large and comfortable. You get an accessory pack with the essentials, including a storage bag and a high-capacity dual-chamber hand pump. For quick and efficient inflation, you might want to add a second pump or, even better, an electric pump.
You have to supply your own paddles, but that's not necessarily a bad thing. Often, paddles bundled with boards are of poor quality. This gives you the freedom to choose paddles that suit your paddlers and your budget.
Check Price of the Bluefin Mammoth
3. Red Paddle Co. Ride XL 17′
The Ride XL is one of the best multi-person boards money can buy. The downside is, you need a lot of money as it's one pricey board. But, if you need a board with a very large capacity, it's worth it.
The English rugby team used these boards for training, which should tell you everything you need to know about the capacity and durability! It's the largest paddle board in this list, and can easily carry 8 large adults, with a weight capacity of over 1,700 pounds. That's the highest of any board I've reviewed!
It's also incredibly durable. I wouldn't recommend trying this at home, but Red Paddle put a smaller version of the board through a series of harsh tests, including being run over by a digger, and the SUP survived intact.
I love the Ride XL's extra-large deck pad. It extends right down to the tail (which is helpful for step-back turns) and out to the rails. The simple design and lack of mounting points and bungee system make it a great board for AcroYoga.
The limited attachment points do limit its use as an expedition or fishing board. Like the Bluefin Mammoth, the Ride XL is designed to be a party SUP, first and foremost.
The Ride XL has four inflation valves and comes with a top-quality pump. That said, I usually take the easy way out and use my electric pump to inflate boards of this size.
The biggest downside of this huge board for most paddlers is its price. It's a lot more expensive than other boards, but you do get a market-leading 5-year warranty.
Check Price of the Red Paddle Co. Ride XL
4. Peak Titan 12′ Inflatable Stand Up Paddle Board
The Peak Titan is one of the smaller boards in this review. It's 12 feet long and 45 inches wide. With a maximum weight capacity of 500 pounds, the Titan is perfect for two or three adults.
This inflatable multiple person paddle board is surprisingly lightweight at just 34 pounds. However, it's still durable. Peak has used military-grade dual-layer PVC and high-density drop stitch material, meaning the Titan can stand up to everyday knocks.
The comfortable EVA traction pad is large and soft. If you want to take your dog on the water, you'll be happy to know that the deck pad looks like it will stand up well to paws and claws.
There are four fixed fins underneath the board and a snap-in center fin. These help the Titan track in a straight line as you and your buddies paddle together.
You get a complete accessory kit with the Peak Titan, including two adjustable alloy shaft paddles with nylon blades. Additionally, there are two high-pressure dual-action pumps to inflate the board, a travel bag, and even a waterproof phone case.
To carry gear, there's an oversized forward bungee storage area secured by six D-rings. Meanwhile, to shift the board itself, there are nine grab handles. The Titan comes with a one-year warranty and a 30-day satisfaction guarantee.
As it's a smaller board, the Titan has a good combination of stability and maneuverability. If you're in the market for a SUP for a few people and a bit of gear, this inflatable paddle board is a great choice.
5. Isle Megalodon Inflatable Stand Up Paddle Board
The Megalodon from Isle is a multi-person inflatable offered in two sizes. You can choose from the 12-foot, 45-inch model with a weight limit of 650 pounds, or the 15-foot, 56-inch version that has a max rider weight of 1,050 pounds.
I think the Megalodon has the nicest visual design of all the multi-person paddle boards I've tested. The blue color looks smart and modern.
The brushed EVA traction pad is exceptionally comfortable. It has grooves cut in it to increase traction and improve water drainage. I found that it was nice and soft to sit and stand on.
The Megalodon has eight reinforced carry handles around the board's rails. In addition, there is a standard center carry handle that's rounded and has neoprene padding for comfort.
You get a pump, fins, and a pair of paddles with the board, but no carry bag or leash, which I found disappointing. The paddles are much higher quality than I expected, though. They're lightweight, with a carbon shaft and nylon blade, and break down into three pieces.
As you might expect from a well-respected manufacturer such as Isle, the Megalodon performs very well on the water. The SUP is extremely stable, even when tackling small waves. Even the larger board manages to be maneuverable with excellent straight-line tracking.
For traveling longer distances, there's a removable nylon touring center fin. If you're in shallower water, the four shorter fixed fins manage to do a great job on their own.
The Isle Megalodon is made from military-grade PVC for durability. The SUP has a two-year warranty and a 60-day satisfaction guarantee so you can test the board out risk-free.
Check Price of the Isle Megalodon
6. Driftsun Orka 12′ Inflatable Stand Up Paddle Board
The 12-foot long Orka is a popular inflatable multi-person SUP that comes in two colors. You can choose from bright green or cool teal.
The Orka has a 550-pound weight limit, and the board itself weighs in at 35 pounds. I recommend using the Orka on flat water, including lakes, rivers, and sheltered ocean bays. It's an excellent multi-person platform for both fun and serious paddling.
The wide deck gives the Orka excellent stability, and when fully inflated to 15 PSI (there are two inflation valves), the board is extremely rigid. The Orka is manufactured from tough military-grade PVC. Despite being one of the cheaper boards on this list, it should stand up well to everyday use.
The Orka comes with two high-volume hand pumps and a practical storage bag. You'll need to buy paddles separately, though.
For securing cargo, the Orka has a bungee storage area at the nose of the SUP. I did think that this was quite small for a board of this size. However, this means you get more deck space to move around on, which might be more important. You can also add extra bungee rigging using the D-ring tie points at the tail if needed.
The deck has an excellent large EVA pad. The textured rear deck pad is especially good and is the perfect surface for practicing impressive tail turns.
Two fixed side fins accompany a removable 9″ long center fin to aid tracking. There are no fewer than twelve handles on the Orka, so everyone will be able to grab one and haul it to the water.
Check Price of the Driftsun Orka
Buying Guide: How to Choose a Multi Person Inflatable Paddle Board
A multi-person paddle board can be tremendous fun with family and friends. They're also great for team-building activities. But you need to make sure that you're making the right choice. Here's what I think you need to consider to pick the right multi-person board for you.
What Do You Want To Use the Board For?
When considering what you want to use the board for, the most critical question is how many people you want to paddle with, and what types of excursions you'll be going on.
I've reviewed multi-person SUPs ideal for two people and some that can carry eight or more. If you're looking forward to days out with the whole family, it's essential to make sure that you choose a multi-person inflatable SUP that has enough space.
Similarly, if you're only planning for two of you, then a huge stand up paddle board might be unwieldy and unnecessarily expensive.
Is the SUP's Weight Capacity Sufficient?
Ensure you check if the weight capacity is suitable for everything you'll want to carry.
Remember that it's not just people that you need to consider. You need to include gear such as drinks coolers that you'll want to take. It's best to allow some weight allowance over what you think you'll need rather than going right to the limit. Otherwise, the board's stability and performance will suffer.
Is the Size and Shape Appropriate?
Inflatable paddle board shapes and sizes differ, and they also dictate what the paddle board is suited to do. The boards that I've reviewed here are all-around style boards ideal for most applications.
However, you'll also find multi-person SUPs that have thinner touring style hulls. These are excellent for more experienced paddlers that want to go long distances together but might not be so good for general fun on the water.
Is the SUP Going To Be Stable When Loaded Up?
When loaded with people and gear, you may find that a paddle board can lose some of its vital stability. This can make the board tricky to paddle or even cause people to end up in the water.
The multi-person inflatable SUP boards on this list are all about eight inches thick. This, along with sensible weight loadings, means that they stay stable even when loaded up.
Be aware that some large paddle boards on the market are thinner and will not perform as well as the ones selected here.
How Does the Board Perform on the Water?
Some multi-person boards are effectively a party SUP that you can only paddle a short way. Others are fully functional paddle boards you can go long distances with.
If you want to use your board for some authentic paddling, make sure that you check out how well it performs in terms of tracking and maneuverability.
Does the Board Have a Comfortable Deck Pad?
When you're chilling out on the lake with your buddies, you'll want to be comfortable. Similarly, you don't want to get fatigued quickly from a slippery surface when you're paddling.
Check that the board has a good quality EVA traction pad and see how much of the board it covers. Some boards will have pads that only cover the center section, while others will include a rear textured pad.
Are There Sufficient Carry Handles?
If you're looking at a larger stand up paddle board, you need to make sure that you'll be able to move it in and out of the water successfully. Due to their large size and weight, these multi-person boards need two or more people to move them, so you'll need multiple carry handles.
You'll also want handles positioned suitable across the board so that passengers can hold on while you're moving. It's also a good idea to have handles around the edge rails so you can easily get in and out of the water.
Are Paddles and Pumps Included?
If you're already a dedicated paddler, you might have some equipment to reuse with your new big board.
Alternatively, you might be starting out and need everything.
Some boards come with paddles and pumps, and some don't. Ensure you know what you're getting and what you'll need to buy separately.
Most boards on this list come with one or two paddles. For larger SUPs, you'll probably need to purchase more.
While many boards have excellent dual-chamber hand pumps, for SUPs this large you should consider buying an electric pump. These make inflating your board easy and lets you save your energy for fun on the water.
Does the Board Have Useful Extra Features To Consider?
Consider what you might need now or in the future to ensure that your board has the right features.
For example, you may want to use your board for fishing. If so, you'll probably want to choose one that has multiple action or Scotty mounts so you can fit rod holders and tackle racks.
What is the Build Quality Like?
Make sure that you check out the board's build quality. Larger paddle boards should have at least double-layer military-grade PVC.
You can also evaluate the density of the drop-stitch fibers, with the higher being better and likely longer-lasting.
What Warranty and After-Sales Support is Provided?
Your paddle board should come with at least a one-year warranty, and many come with longer. Many manufacturers also offer satisfaction guarantees that allow you to return the board for a refund if you change your mind.
You must check the terms and conditions before you buy as some suppliers impose a restocking or transport fee that can make the deal less valuable.
Try and research the manufacturer's reputation for after-sales support. All of the brands reviewed here are pretty popular, and while some are larger than others, none are known for leaving customers' problems unanswered.
Multi-Person Paddle Board FAQs
What Is the Difference Between a Multi-Person SUP and a Multi-Person Dock?
The difference between a multi-person SUP and a multi-person dock is that a SUP is designed for paddling around on the water. A dock is designed to float in one place. Docks can be fun to lounge around on but aren't as versatile as a proper paddle board.
Why Choose a Multi-Person Inflatable Paddle Board Over a Hard Board?
A multi-person inflatable paddle board will be considerably lighter than an equivalent rigid board. Inflatables are also much more practical to store and transport. They are also more resilient to general knocks than rigid boards and are typically easier to repair.
Can two or More People Stand on a Paddle Board at Once?
Yes, two or more people can stand on a multi-person paddle board at once. Indeed, the width of these boards means that you need at least two people to paddle them efficiently. Some of the boards I've reviewed are suitable for eight or more people, and with practice, they can all stand up, and multiple people can paddle at once.
How Much Weight Can a Multi-Person Paddle Board Hold?
The multi-person boards reviewed here have weight limits ranging from 500 to over 1,600 pounds. When you consider that the average male American weighs a bit under 200 pounds, you can see that these boards can have a huge people-carrying capacity.
Conclusion – Best Multi Person Paddle Board
The Gili Manta Ray is my top pick for the best multi-person stand up paddle board. It's a well-built multi-person SUP with excellent stability and a fantastic 1,100-pound weight limit. The Manta Ray also comes with a two-year warranty, so you can be sure it'll deliver high performance for a long time.
If you want an even larger party paddle board, then the Bluefin Mammoth is a great-value board with plenty of space.
Got any questions about multi-person boards? Ask me in the comments below.