It means a lot to introduce your kids to something you love, and paddle boarding is an activity that many parents can't wait to introduce their children to. More importantly, it's a fun way to escape from screens and spend some quality time together as a family.
But paddle boarding with kids can be slightly tricky, especially if they're much younger. There's the obvious issue of safety, how old is old enough, and how to make sure they have fun.
To help you and your family have the best time out on the water, I'll answer all these questions and more.
So keep reading.
How Old Should My Kids Be Before I Take Them SUPing with Me?
Stand up paddle boarding doesn't really have an age limit (although common sense should prevail). As long as your child can sit properly on their own then they're ready for SUP. They won't be able to paddle on their own until they're much older–maybe 8 years or so–but they can sit on your board and enjoy the ride.
What You Need to Go Paddling with Your Little Ones
Here is what you should bring.
Life Jackets for Everybody
The whole family should put on their personal flotation devices (PFDs) before entering the water. This is important for everyone's safety.
A personal flotation device or life jacket keeps you afloat if you fall into the water. There are many comfortable personal flotation devices for SUP, for both adults and kids.
If you make sure your child wears a PFD when they're young they'll carry on the habit when they're older, paddling alone.
Let them put it on around the house so they can get used to it. This also allows you to make any necessary adjustments for maximum comfort.
The Right SUP Board
The other necessity is a good stand up paddle board, ideal for family paddling. It should be wide enough to accommodate you, your child, and everything you'll bring with you.
Keep in mind that kids may move a lot of the SUP so stability is extremely important. I also recommend inflatable paddle boards because they're softer compared to hard boards. Your child is less likely to get hurt if they fall and hit it.
The Blackfin Model X from iRocker is a great example of a family inflatable paddle board. It is 35 inches wide and super stable.
Get a wide and stable paddle board, with a large deck pad. The pads are usually soft and will ensure that everyone onboard has a comfortable surface to stand or sit on. They also offer traction so nobody will slide off when the SUP board is wet.
You should also consider a board with bungee storage for your luggage. Extra D-rings are great too in case you want to attach a SUP cooler or kayak seat.
Dry Bag
Dry bags, as the name suggests, keep your belongings dry. You'll need to bring a change of clothes for the young one in case he or she falls into the water.
A waterproof bag will also keep your valuables dry. You won't have to worry about your phone or camera taking a swim if the bag falls into the water or if water splashes onto the SUP.
You can use your dry bag to store wet clothes so they don't mix with your other stuff too. So make sure you invest in one or two because they will come in handy.
Snacks and Water
Even if you don't plan on being out in the water too long, bring plenty of drinking water and snacks.
The last thing you want is to be out on the water with a hungry or thirsty child. It will be a frustrating experience for both of you.
Pack things that they love and, if you don't have a cooler, make sure you bring something that won't melt when it's hot.
Sunscreen
Sunscreen is a must because there's nothing fun about the sting of a sunburn, and it's even worse for a young child.
In addition to sunscreen, have your child put on a hat and clothes with maximum coverage. (The clothes should be comfortable and made of material that's appropriate for the water).
Keep reapplying sunscreen throughout the day, especially after they jump in for a swim.
SUP Cooler
I can't recommend a SUP cooler enough.
Paddle board coolers are one of the best investments for any paddle boarder. Parents who paddle with their kids will love having one.
A cooler ensures that your drinks stay cool and food fresh. Hard coolers can also double as seats for more stability and comfortable paddling.
Toys for More Fun
Young kids love toys, it's no secret.
Be sure to bring your child's favorite toys as this is a wonderful way to make the experience more interesting for them. For a younger child, sitting still on a SUP board with nothing to do can get boring fast.
The Best Place to Go Paddle Boarding with a Child
When paddle boarding with children it's best to do it in calm waters. Going SUP surfing, river running, or any other extreme SUP activity is a bad idea. Stick to calm sheltered ponds and lakes because those are predictable and safer.
If your kids are older, they can practice standing on the stand up paddleboard and even help you paddle.
You also don't want to scare them.
The Benefits of SUP Boarding with Your Kids
Going paddle boarding with your child comes with a ton of benefits.
The most obvious one is that you get to spend time together and bond. With school, work, and the craziness of daily life, it can be hard to find the time to just sit, relax, and have fun together.
The other benefit is that SUP offers amazing balance and stability practice. As they learn to stand and balance on a paddle board, their core strength improves. They'll have better balance in other areas of life as well. This is especially useful if your child is showing interest in activities like basketball.
Paddle boarding also has a ton of other benefits such as improving cardiovascular health and reducing stress. It's low impact too so anyone, including kids, can do it without worrying about straining their joints or tendons.
Even better, it burns many calories and is a fantastic way to keep the entire family fit.
Tips for Paddling with Your Kids
Here are some tips to help you have fun safely with your child or children while paddle boarding.
Make Them Comfortable In and Around the Water
If your kids don't love the water or they aren't comfortable around it, they may not enjoy SUP boarding.
Teach your kids to love and have fun in the water. Most importantly, make sure they can swim, depending on the child's age. If your child falls into the water you don't want them to panic because they don't know what to do. Children feel comfortable falling into the water if they're confident and can swim well.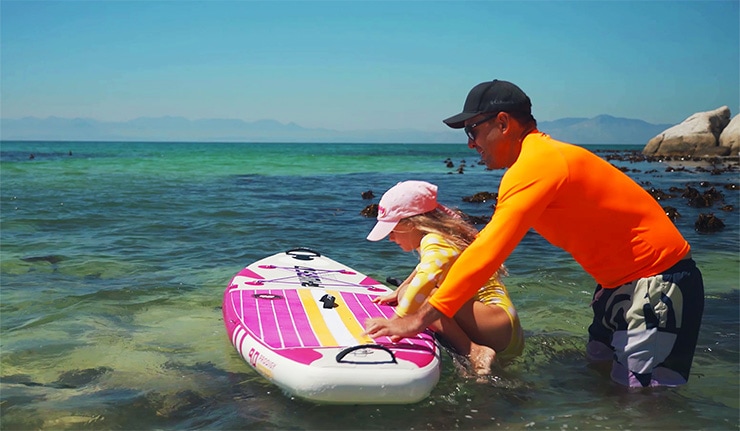 Learn How to SUP Alone First
You don't have to be a paddle board expert but you should at least be a strong swimmer who knows how to stand up paddle board properly.
Make sure you can stand confidently on a board. Master all the basic paddle strokes and learn how to fall and get back on your SUP.
Start on Shallow Water
Find a calm, shallow spot and let the children get used to the board. They can play around it, get on, fall, and just have fun.
Try Tandem Paddling with Older Kids
Have older kids practice paddling with you, if you notice they're interested. If you have an adjustable paddle you can set it to their height so they can help you paddle.
Starting from a kneeling position, instead of standing, may build their confidence if they're afraid of standing.
Tandem paddling allows you to teach them the basics of SUP before they can paddle on their own.
Check the Forecast Before Going Out
This is crucial, and not just when paddling with children.
Always check the water and weather forecast in advance so you know whether you should go and what to expect. Double check the wind speed and direction, current, tide, and every other factor that might affect your SUP session.
Dress Appropriately for the Weather and Water Conditions
Ensure that both you and the kids are dressed appropriately for the weather and water conditions. If it's cold, you may need wetsuits and layers. If it's hot then anything that's comfortable, can get wet, and offers enough sun protection will do.
Lower Your Expectations
Going SUPing with your children is exciting and it can be easy to get carried away and have high expectations. But you never know how your kids will react that day.
They may get bored, get tired quickly, or just start whining.
So if they don't want to be on the paddle board anymore after a few minutes, that's okay. At least they agreed to come and get fresh air. With time, you'll be able to do more.
Frequently Asked Questions
Can You Paddle Board with a Baby?
Yes, you can paddle board with a baby, but once again common sense should prevail. Your baby can come with you as long as he or she can properly sit on their own, but some parents might want to wait until their child is a little older.
How Old Do Kids Have to Be to Learn Paddle Boarding
Children as young as 5 or 6 years old can start learning how to SUP. They can tandem paddle with you or paddle separately on their own stand up paddle board. There's a fairly wide range of kids' paddle boards so you can buy one for your child.
Can Kids Use an Adult Paddle Board?
Older kids can use an adult paddle board if it isn't too big. But just be aware that adult boards can be too long and too wide for children, making paddling harder for them. So it might be better to just get them their own SUP board.
What Are the Best Paddle Boards for Kids?
Based on my family's experience, I'd say these are the best kids' paddle boards:
Bluefin Cruise Junior
Thurso Prodigy Kids
Bote Flow Aero Kids 8′
Conclusion: Just Start!
Paddle boarding with your kids is one of the best outdoor adventures. But there are a few things you should adhere to so the experience can be safe and fun for everyone.
First, get a wide stable paddle board and life jackets for everyone. Pack a lot of snacks, drinking water, and toys to keep the little ones entertained. You might want to get a dry bag and a SUP cooler too.
Before you begin your SUP sessions, ensure that your kids are comfortable in and around the water.
Lastly, don't overthink. As long as you're well prepared, just start. Go out into the water and have a good time!