Paddle boards and boats are perfect together, except when your board takes up all your deck. A rack solves this by neatly storing your SUP.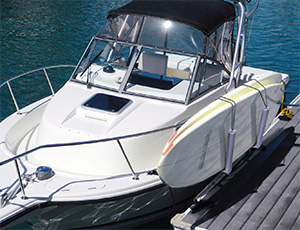 I tested six racks and rated the Magma Products storage rack as the best overall. It is durable stainless steel, and when not in use, it neatly folds flat.
I frequently use my boat to reach further away SUP spots. We also like to take the family and our boards away from the crowds. Without a rack, we'd never have enough room.
The Magma Products SUP racks are easy to adjust, and the holding arms are well padded to protect your precious cargo.
Not every boat is the same. I'm also going to show you six other racks, including one that is ideal for angled stanchions and one that is the perfect choice for pontoon boats.
Keep reading, and I'll show you the best paddle board rack for your boat.
Best for Fitting to Angled Stanchions – SurfStow Transport SUPRax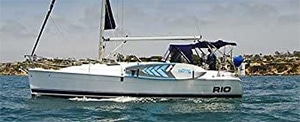 If you have angled stanchions, this is the one to choose.
SurfStow SUP racks have unique rotating clamps that easily fit any angle.
Best for Pontoon Boats – SurfStow SUPRax Square Rail Pontoon Mount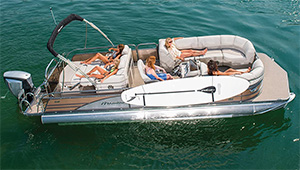 If you've got a pontoon, then look no further.
SurfStow's pontoon mount readily fits ⅞ and 1 ¼-inch square rails.
Paddle Board Racks for Boats Compared
The Best Paddle Board Racks for Boats
Here are the six best paddle board racks for your boat.
1. Magma Products Storage Rack – Best Overall
My choice for the best overall rack for a boat is made from 304-grade marine stainless steel. The arms feel particularly strong, and you can be sure they won't corrode. The four fixing clamps fit vertical or diagonal round tubing between ⅞ and 1 ½-inches in diameter.
You can fit and adjust this rack without needing any tools. You just need to set the clamps to fit and tighten with the quick-release knobs.
The extremely strong adjustable arms will comfortably hold two paddle boards or a full-size kayak. They are padded with UV-resistant EVA foam lining. Stainless steel D-rings make it easy to secure your SUPs with bungee. The cords themselves aren't included, but that means you can get ones that fit precisely.
2. SurfStow Transport SUPRax – Best for Fitting to Angled Stanchions
Our next rack is best if you need to fit it to angled stanchions. The unique rotating clamps are individually adjustable to different angles. They are easy to install onto ⅞, 1 or 1 ¼-inch diameter round tubing.
The rack is made from polished, anodized aluminum alloy, which is light and rustproof. There is heat-pressed, die-cut EVA foam on all the contact surfaces to cushion your board.
To keep a single SUP in place, there is a heavy-duty shock cord loop that I found easy to use. It simply stretches over the board and hooks onto the built-in receiver knob.
3. Suspenz SUP Rack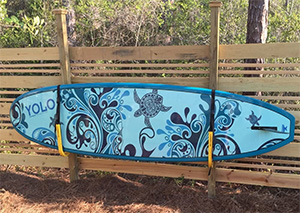 The Suspenz rack system has a unique design where your board won't come into contact with any hard surface. Instead, it is held suspended on heavy-duty webbing, protecting it from damage.
The 10" wide rack arms are powder-coated steel, and the straps are UV-resistant nylon. The system will hold a single paddle board up to 8-inches thick. However, it's straightforward to mount a second set onto the first to make a double SUP rack.
This rack doesn't come with the fittings to mount directly onto boat rails. However, it's easy to get the necessary fittings and convert this to an excellent boat SUP rack. As a bonus, you could take the same rack indoors in the winter and use it as a garage storage system.
4. Brocraft SUP Board Rack
Our next choice is made from sturdy aluminum and is fully coated in protective heat-pressed foam to cushion your SUP.
The mounting clamps rotate to fit vertical or angled rails. Inserts are included to fit almost any rail configuration including both ⅞ to 1 ½-inch diameter round bars or 1 ¼-inch square rails.
The padded rack fingers will hold a single paddle board up to 8-inches thick, making them suitable for almost every inflatable or rigid board. There is a strapping system built into the top of each arm. I found that this was easy to adjust and kept the board in place very securely.
5. SurfStow SUPRax Square Rail Pontoon Mount – Best for Pontoon Boats
If you have a pontoon boat, you should look no further than this rack. The SurfStow pontoon has been designed to perfectly fit both ⅞ and 1 ¼-inch square pontoon top rails.
The rack arms are made from aluminum alloy. They have a polished anodized finish that is both attractive and will withstand salt corrosion. The inner surfaces are coated with heat-pressed, die-cut EVA foam to protect your board.
To hold everything in place, there are heavy-duty shock cords on each arm that are easy to stretch over your board. It's worth knowing that you can also use these to secure your paddle, so you don't need to worry about where to put that while you're sailing.
6. Krypt Towers SUP Rail Mounted Storage Rack
Our next stand up paddle board rack has a storage capacity of between eight and 17-inches in width. You can use it for single or multiple paddle boards or kayaks and canoes. To adjust the carrying capacity, you just need to rotate the arms as needed, so they hold your cargo tightly.
The manufacturer says that the rack is made from aircraft-grade aluminum. This should make them extremely corrosion-resistant. The contact surfaces are padded with EVA foam to protect your SUP. While you are underway, there is an easy-to-fix bungee to hold everything in place.
The included clamps fit either ⅞, 1, or 1 ¼-inch diameter railings. I found that they were easy to adjust vertically, and they rotate fully, so they can fit vertical, horizontal, or angled bars.
Buying Guide: How to Choose the SUP Rack for Your Boat
Follow our buyer's guide to ensure that you pick the stand up paddle board rack that will work for you.
Is the Racks Rail Mount System Suitable for Your Boat?
Consider how you will mount the rack. I've featured racks that will fit different diameters of round rails and some that fit square sections. Look at the configuration available on your boat and check that the rack will suit it.
Some systems can only fit vertical or horizontal rails, while others fit angled stanchions. Clamps can be adjustable, while others are fixed. Carefully look at exactly where you will fit your system and make sure that your choice is suitable. If you are unsure, email the manufacturer details, and they'll be happy to confirm your selection.
Is the Racks Weight Capacity Appropriate for Your SUP?
Everything I've featured is suitable for a single inflatable paddle board. If you have a hefty rigid board or want to use the rack for a kayak, you should ask the manufacturer for the weight loading.
Check if what you will attach the rack to can take the weight. It may be an option to fit extra arms to spread the load.
Can the Rack Hold Multiple Paddle Boards?
Some boat racks are only suitable for a single board, while others can take two or more. If you have multiple stand up paddle boards, make sure you choose a rack that's wide enough.
Can You Use the Rack To Hold Other Types of Watercraft?
You'll need a rack with wide arms to carry different craft. Check that you can adjust or angle the arms to still hold a thinner SUP board securely.
What is the Rack Made From?
The best material is stainless steel. A solid second choice is anodized aluminum. It's a good idea to check that all fixings and fittings are suitable, so you don't end up with ugly corrosion in a salt or freshwater environment.
Is the Rail Mounted Storage Rack Simple To Adjust?
Some racks can be adjusted by hand, while others need tools. Tool systems are often very sturdy. However, you must carry the specific wrench with you to adjust the rack while you're out.
Is Everything You'll Need Included?
It's worth checking if the kit comes with everything you need. Make sure that all fixings, bungees, and tools come with the rack, or if not, check that you have them separately.
Paddle Board Rack FAQs
Can You Pull a Paddle Board Behind a Boat?
No, you shouldn't pull a paddle board behind a boat. The strain on the nose D-ring will be too much, especially on an inflatable board. Your board will likely flip over, which could damage it.
How Do You Strap a Stand Up Paddle Board to Rack?
Most racks come with their bungee cord, and you should use this. You might want to lay soft cloth or other padding underneath the bungee so as not to mark the board.
Conclusion
The Magma Products storage rack is my choice as the best overall rack for your boat. It is made from stainless steel, so it will last a long time. It is easy to adjust without tools and fits a wide variety of angled and straight rails.
I've looked at some excellent racks for your paddle board, including some for pontoon craft with square rails. However, if you're unsure which to choose for round rails, I strongly recommend looking at the Magma Products storage rack.