Stand up paddle boarding and yoga are excellent activities – both for your mind and body. The benefits of SUP yoga are numerous.
But to enjoy these benefits, you need to pick the right board. This can be frustrating because of the hundreds of options out there. They all claim to be the best, making the task even more complicated.
To make your work easier, I discuss the top 7 paddle boards for yoga here. There's also a guide to help you narrow down to the best yoga paddle board for you.
I evaluated several yoga boards and found the Bluefin Aura Fit to be the best SUP for yoga. It is affordable, super stable, and durable.
You don't need to spend a fortune to get a quality SUP board for your fitness routine. The Bluefin Aura Fit is wide and moderately long– perfect for yoga. You can easily transition from one pose to another without worrying about falling in each time.
The Aura Fit is also made using Bluefin's signature construction. It is extremely rigid, yet soft. You can expect it to last a lifetime.
Most yogis will love the Bluefin Aura Fit. But people have different preferences.
So read on for more yoga paddle board reviews for specific uses.
Best Budget Paddle Board for SUP Yoga – iRocker Cruiser
The iRocker Cruiser is a very popular stand up paddle board. Made by a well-known iSUP company, the Cruiser is versatile, high-quality, and most of all, stable.
And you get these qualities, and much more, at an affordable price.
It may be priced lower, but you can be sure that they did not compromise on quality.
Most Stable Stand Up Paddle Board for Yoga – Gili Meno
Stability is one of the most important qualities of a SUP yoga board.
Just standing on a paddleboard takes practice and balancing skills. So as you can imagine, trying out different yoga poses is no walk in the park. That is why you need an ultra-stable SUP board, like the Gili Meno.
This one is especially great for SUP yoga beginners or anyone who is looking for a confidence boost.
Yoga Paddle Board Comparison Table
Best Stand Up Paddle Boards for Yoga
1. Bluefin Aura Fit Yoga SUP – Best Yoga Paddle Board
What makes a good yoga paddle board?
First, it has to be extremely stable– otherwise, you will keep falling in. It will be hard for you to try different yoga poses, and especially the difficult ones.
The Bluefin Aura Fit is quite wide at 36 inches. You will be lucky to find a wider single-person paddle board. This 10'8 long SUP gives you a nice and stable platform for yoga, pilates, and all your fitness routines.
This would be an ideal board for a beginner looking to get into SUP yoga. First, it is affordable. Many newbies usually don't have a huge budget because they are trying to test the waters.
Secondly, it is stable and you will have a great time learning.
Other than remarkable stability, the military-grade construction of the Aura inflatable SUP is worth mentioning.

The Bluefin SUP board is made using 1000D Exo surface laminate PVC and pro-weave drop stitch. It is rugged and can be inflated up to 28 psi. You know you can trust this construction because Bluefin offers a five-year warranty on the SUP.
This inflatable stand up paddle board has a weight limit of 352 pounds.
The large croco-diamond deck pad offers traction to keep you from slipping. It is also comfortable and acts as a great yoga mat.
In addition to all these qualities, the Aura Fit has an all-inclusive package. It comes with a backpack, paddle, leash, and a hand pump. The paddle features an ergonomic fiberglass shaft that weighs 45% less than a regular aluminum paddle.
If you want to try SUP yoga but have concerns about balance, I'd recommend the Bluefin Aura Fit. It is really stable. You can start with simple yoga poses and go from there. Read our review of the Bluefin Aura Fit.
2. Blackfin X – Best Yoga Paddle Board for Multifunctional Use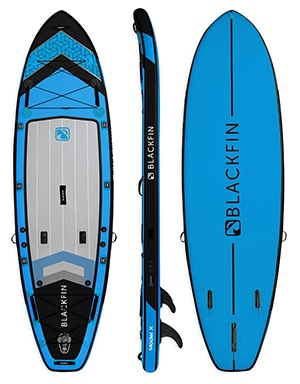 Yoga is awesome. But SUP is diverse and some paddlers like to try different activities. There is no need to buy multiple paddle boards for that.
The Blackfin X makes a fantastic yoga board. But you can use it for so much more.
This SUP measures 10'6 x 35". It is large and stable enough for all kinds of yoga poses. You won't have to worry about it being too tippy.
One thing yogis will love about the Model X paddle board is the EVA deck pad. It has a large traction pad that extends past the inflation valve.
So you will have a wide, comfortable surface to practice on.
This paddle board from iRocker features triple-layer composite PVC construction. It is 20% lighter than quad-layer construction but just as tough.
On top of that, the SUP board has carbon rails. It is remarkably rigid, so it won't flex when you're trying to concentrate and get into a pose.
Other than yoga, the Blackfin Model X makes a good board for fishing, relaxed cruising, and family fun.
The board has a weight capacity of 450 pounds. It can hold multiple people easily, without losing stability. You can use it to hang out with your child, dog, or partner in the water.
The Model X also comes with eight action mounts and 20 D-rings. It will hold all your angling gear. It is compatible with a fishing rack and sand spear attachment.
This inflatable SUP board features an all-inclusive package. You will get a wheeled backpack, twin-chamber hand pump, ankle leash, repair kit, and a carbon-shaft paddle.
All the fins on the Blackfin X, including the center fin, are removable.
This would be a great paddle board for you if you plan on doing more than yoga. You will also love it if you like being able to customize your SUP.
3. Gili Meno Yoga Board – Best Stable Yoga SUP
The Gili Meno makes an awesome yoga board. It has a wide deck, at 35 inches, which ensures outstanding stability. This is the most stable inflatable paddle board from Gili Sports, an amazing company that is also doing a lot for the environment.
The Gili Meno SUP board is made using dual-layer fusion-laminated PVC material. It also has a carbon fiber rail. This construction gives it military-grade durability and rigidity.
Now you can practice paddle board yoga without worrying about the board bending in the middle. The SUP comes with a two-year warranty and a 60-day guarantee.
The Gili Meno has an extra-large brushed EVA deck pad. It offers traction as well as comfort for yoga.
This SUP board has three grab handles: at the center, nose, and tail of the board. They make it easy to carry the board. It has a three-fin setup, all of them removable.
The inflatable paddle board comes with three built-in Scotty mounts and 18 D-rings. So you can also use it as a fishing SUP.
The Gili Meno iSUP package includes a rolling backpack, dual-chamber hand pump, leash, and a carbon fiber paddle. You also get a shallow center fin, speed center fin, race fin, and snap-in side fins. You can customize the setup to suit where you will be paddling.
Every time you buy a paddle board from Gili, they donate a portion of the amount to charities that work to save the oceans. So you will be helping save the environment.
Because of how stable this SUP yoga board is, it would be suitable for advanced yoga. If you are looking to take your yoga practice to the next level, you might love it.
The Gili Meno is also beginner-friendly. Read our review of the Gili Meno yoga board.
4. Thurso Surf Tranquility
The Thurso Surf Tranquility was designed for yoga.
This stand up paddle board measures 10'8 by 34 inches. The width and length of the board ensure you have a large, stable platform for practicing yoga.
The Tranquility yoga SUP has a rounded nose and wide tail, both great features for stability.
It also has an extended traction pad that doubles as a yoga mat.
Another feature that makes the Tranquility perfect for paddle board yoga is the position of the carry handles. It doesn't have a center carry handle like most SUP boards. It features offset grab handles. You can comfortably lie down for the Shavasana yoga pose.
The Thurso Surf Tranquility SUP package includes a carbon-shaft paddle, single-chamber pump, roller backpack, and a coiled leash.
You should consider this blow-up paddleboard if you are looking for a dedicated yoga board. It was made for fitness routines and you will love the features.
But you can still use it for other activities.
ALSO READ: Glide Lotus SUP Review – How good is it really?
5. Nixy Venice 10'6 Yoga SUP Board – Best SUP Yoga Board for Experienced Yogis
The Nixy Venice yoga SUP board is perfect for the paddler who is looking for a challenge.
It is not as large as the other yoga boards discussed above. It measures 10'6 x 34 inches.
The Nixy Venice is still stable enough for all kinds of poses. But it adds a little challenge, especially with the more complex poses. This is a good thing because it means a stronger core and refined skills.
This SUP yoga board has a large non-slip deck pad. It makes a fantastic yoga mat and it is UV-protected. You won't have to worry about it deteriorating when exposed to the sun.
The Nixy Venice is built using dual-layer advanced fusion laminated woven drop stitch technology. This military-grade PVC construction ensures that it is exceptionally rigid when fully inflated.
The board doesn't flex, as is the case with inferior paddle boards. And it also won't get damaged easily.
The Venice yoga SUP comes with a carbon-fiber paddle, repair kit, dual-chamber hand pump, three-wheel traveling backpack, and an ankle leash.
6. iRocker Cruiser – Best Budget Paddle Board for SUP Yoga Classes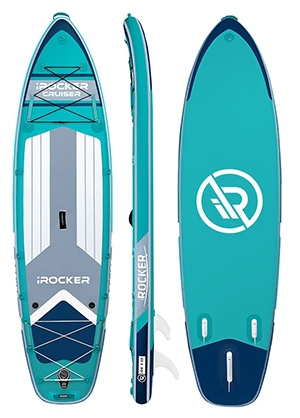 If you have been searching for an inflatable stand up paddle board, you must have come across the Cruiser. The paddling community loves it. People use it for many different activities, including yoga.
The iRocker Cruiser has lots of features that make it an outstanding yoga board. And at its price, this SUP is worth considering.
The paddle board is moderately long and wide, offering a stable platform for SUP yoga.
Its logo-branded EVA deck pad is large and comfortable, ensuring that you don't get all sore after your routines.
The iRocker Cruiser is built using triple-layer PVC construction. It makes the SUP board super rigid, yet soft.
When fully inflated, it has a weight capacity of 400 pounds. That's a lot for a single-rider paddle board. And it only weighs 25 pounds.
The Cruiser features a three-fin system: a center fin and two side fins. All three fins are removable. The fins improve stability and they also help with maneuverability when you're paddling.
Since they are all removable, you can change the fin setup depending on where you will be going for your SUP yoga sessions.
The Cruiser SUP has three carry handles to make it easy to carry the board to the water. It has a center handle and two more at the nose and tail of the board.
Other than yoga, the iRocker Cruiser can have many other uses. It comes with action mounts, D-rings, and bungee cord luggage storage. You can use it for fishing, cruising and it is perfect for heavier paddlers.
The iRocker Cruiser package includes a backpack, carbon blend shaft paddle, dual-chamber pump, and a leash.
This yoga board would be a great choice for SUP yoga instructors. You will have to buy multiple paddle boards. This one is affordable and high-quality. Your students will love it.
7. Gili Komodo Yoga SUP – Best Paddle Board for Daily SUP Yoga Sessions
If you practice paddle board yoga daily, or frequently, then you will want a lightweight yoga board.
It wouldn't be fun struggling to carry a bulky, fully inflated paddleboard. It's even worse if you are smaller.
The Gili Komodo only weighs 21 pounds. You won't have a problem carrying it to the water every other day.
Other than that, it measures 10'6 x 33". These are good dimensions for yoga. It is stable enough, even for beginners.
One thing I love about the Gili Komodo is its full-length deck pad. The six-point bungee cord is removable so you can enjoy a large, comfortable platform for your practice.
The Gili Komodo features triple-layer fusion construction. This military-grade construction makes it quite durable, yet lighter than most yoga boards. Fully inflated, it can hold up to 340 pounds.
The inflatable SUP package includes a backpack, high-pressure hand pump, carbon fiber paddle, and an ankle leash.
The Gili Komodo, because of its weight, would be ideal if you do yoga daily. It is also fairly priced and most newbies will love it.
Buyer's Guide: How to Choose a Paddle Board for SUP Yoga
Having a list of the seven best paddle boards for yoga is great. But how do you narrow it down to the best yoga board for you?
Inflatable Yoga Board or Hard Yoga Board?
All the SUP yoga boards we've discussed above are inflatable.
So how about hard or traditional yoga boards?
Both hard SUPs and inflatables are good paddle boards for yoga. Most people believe that inflatable boards are better. But each type has its benefits and downsides.
Pros and Cons of Using Inflatable Paddle Boards for Yoga
One benefit of an inflatable SUP is the soft surface. Compared to a solid stand up paddle board, an iSUP is softer. It will be easier on your body, making it a wonderful yoga platform.
Another pro is that inflatable paddle boards are lighter and portable. You can easily tour the country with your blow-up SUP and experience different breathtaking SUP yoga locations.
Inflatable paddle boards are also more stable compared to solid SUPs. And you know that stability is important for paddle board yoga. They have a uniform thickness, unlike traditional boards which tend to be tapered. Most iSUPs have a high weight capacity too.
Lastly, inflatable paddle boards are cheaper and more durable. Who wouldn't want something that is affordable and long-lasting? All the SUP yoga boards reviewed here are under $1000. They are all high-quality, and some even come with a five-year warranty.
But blow-up paddle boards are not perfect. Inflating them with a manual pump can be exhausting. You may have to buy an electric pump separately.
Pros and Cons of Using Hard Paddle Boards for Yoga
The main benefit is that you only need to carry your SUP, leash, and paddle when going for SUP yoga. You won't have to carry a pump or any other paddle board accessories.
You also don't need to set up your solid paddle board. Just get to the water and begin your SUP yoga practice. Inflation requires energy and time, which many people may not have.
Solid paddle boards are more rigid because their material is not inflatable. But the blow-up technology has come a long way. You may not even be able to tell the difference when the inflatable is fully inflated.
The main downside with an epoxy SUP is portability and storage. Traveling with it can be frustrating, especially over long distances.
Things to Consider When Buying a Paddle Board for Yoga
Here are the factors you should look at when choosing a yoga board.
1. Build Quality
The construction of an inflatable board determines its durability, weight, and rigidity.
Military-grade PVC is the most common material for making paddle boards. More PVC layers translate to a more rugged SUP, but this is not always the case. The quality of the layers matters too.
Besides, more layers make the board heavier. No wonder iRocker ditched their quad-layer construction for the triple-layer one.
Features like carbon rails enhance rigidity and durability without adding too much weight.
If you are unsure about the quality, check the warranty of the SUP. A long warranty period is a good sign. Read also the customer reviews. These are usually honest.
Try also to buy stand up paddle boards from reputable manufacturers, like the ones above. They have been in the game long enough and there is a lot of feedback about their products. So you will have an idea of what you are getting.
2. Stability
This is very important for SUP yoga.
The best paddle boards for yoga are large. Doing yoga on the water can be challenging, especially since you will be moving around a lot.
Go for wider SUPs. The wide deck gives you enough space to practice and wider boards are typically more stable.
Anything from 33 inches wide is okay. You can go for the wider models if you want extra stability.
Check the thickness too. Thicker SUPs, 6 inches, tend to be more rigid and less prone to flexing.
The fin system matters as well. A three-fin setup offers better stabilization for your board.
3. Versatility and Overall Performance
SUP yoga is not the only thing you will be doing with your board.
You may want to use the SUP for other activities like cruising, fishing, etc. Besides, you will have to paddle to your yoga spot.
For this reason, you need a paddle board that tracks well and one with decent speed. Yoga boards are usually wide, so they may not be very fast. But they still have to glide decently and handle well.
If you want a faster SUP, don't get one that is too wide. But understand that narrower boards may not give you the stability you need for yoga.
All the paddle boards above are stable enough for yoga and they also glide well.
4. Weight and Weight Limit
A heavy SUP may be good for paddling in chop but carrying it won't be easy. It may also not maneuver well.
Luckily, most inflatable boards are lightweight. Transporting them is easy and their maneuverability is great.
Never ignore a paddle board's weight limit. If you exceed the capacity, the SUP will ride low in the water and perform poorly.
Consider your weight and that of any gear you intend to carry. You should always remain under the indicated capacity.
5. Board Dimensions
The length of a board helps with speed. Most people are not usually concerned with speed when buying a SUP yoga board. But if you want decent speed, go for the longer models.
We have talked about width and thickness in terms of how they affect stability. Avoid SUPs under 33 inches wide, more so if you are not confident in your skills.
Wider boards are more stable and perfect for fitness.
6. Appearance
Some people care about how their boards look. Luckily, paddle boards come in many different colors and patterns.
The list here contains boards with a wide range of colors: from grey and teal to purple and bright orange. There is something for everyone.
7. Features
Remember to check out features like the deck pad, fin setup, carry handles, and attachment points.
The deck pad will be your yoga mat in the water. Make sure it is large and comfortable. A three-fin system is great for stability, maneuverability, and tracking.
Grab handles make the SUP board easy to carry while attachment points are great for bringing gear.
These are small but very important features.
Focus on the Features and Ignore the Marketing Hype
You will see so many stand up paddle boards being advertised as the best yoga SUPs. But you have to focus on the features. They will tell you whether or not a paddleboard is right for you.
Sometimes, even an all-around SUP can have all the features you are looking for.
Look at the dimensions, traction pad size, availability of storage (bungee), grab handles location, etc.
These are the things that will help you make an informed decision.
8 SUP Yoga Tips for the Best Paddle Boarding and Yoga Experience
1. Improve Your Paddling Form and Technique
You will still have to paddle to your yoga destination. And after some time, you may want to try out other SUP activities. So learning to paddle efficiently is necessary.
With a proper paddling form and technique, you won't find yourself getting worn out too quickly. You'll also be using more muscles and getting a full-body workout in the process.
Take a class and watch YouTube videos about paddling properly.
2.Master the Step-Back Turn
This is a technique that allows you to turn your SUP quickly. It comes in handy when dodging objects while paddling.
Here is how it is done.
3. Find a Quiet, Secluded Spot
It is hard to focus on your yoga routine when you have other water vessels zooming past you. Or with a lot of people around, some of them watching you.
Luckily, paddle boards can go where boats can't. Paddle to a quiet and calm spot for the perfect yoga session.
4. Give Yourself Time to Get Used to the Water and Board
Yoga on a stand up paddleboard will be different from yoga on the land. Take some time to just get used to being on a SUP on water.
Start with simple stretches and go from there.
5. Utilize the Entire Deck Pad
Spread out on the entire deck as much as you can for stability.
The tree pose, dancer's pose, and other yoga poses that have only one contact point with the board may be tricky (at first).
Try two or more points of contact until you are confident enough for a tough challenge.
6. Be Prepared to Fall In
Falling is part of the fun. The good thing is that you will fall in the water, which is refreshing and enjoyable.
However, learn how to fall when paddling– yes, it is a technique that needs to be learned. You should avoid falling on your board because you could get hurt, especially with a solid board.
7. You Need More Than a Paddle Board for Yoga
You should have a stand up paddle PFD, paddle, leash, proper clothes, sunscreen, and a whistle.
A PFD is a key safety essential and you must never go paddle boarding without it. A leash keeps your yoga board from floating away when you fall in.
Proper clothes would be anything that can get wet and allows you to move freely.
8. Just Do It!
This is the best tip. Stop overthinking and just do it.
SUP yoga is a fun workout that comes with tons of health benefits. So why hesitate?
Yoga Paddle Boards FAQs
Q: What Is SUP Yoga?
A: It is a modern exercise where you practice yoga poses in the water on a SUP board.
Q: Why Should the Board Be Wide When Doing Yoga and Why Does This Help?
A: A wider paddleboard means more stability. SUP yoga requires a lot of moving around. Having a stable SUP makes it easy to maintain your balance.
Q: Why Do Yoga on a Paddle Board?
A: Both SUP and yoga have tremendous health benefits. When you combine them, you get one amazing exercise.
You will develop an improved sense of mindfulness because you have to be really present to avoid losing balance. Even simple yoga poses will give you this benefit.
You will learn how to smoothly and gracefully transition from one pose to another.
Finally, it is a full-body workout that challenges all your muscles in a different way.
Q: What Do You Need to Enjoy Yoga on the Water?
A: You only need a paddleboard, paddle, leash, comfortable PFD, and sunscreen.
Q: Can You Do Yoga on an Inflatable Paddle Board?
A: Yes, you can. Inflatable paddle boards are comfortable and stable. Just make sure you buy a high-quality one. You will love the experience.
Conclusion
SUP yoga is a must-try if you love yoga and/or the water. With the right SUP, you will get addicted.
The Bluefin Aura Fit is affordable and extremely stable, perfect for people of all skill levels. Newbies can use it to get started on SUP yoga while pros can use it for advanced poses.
The iRocker Cruiser is a great option for anyone who is looking for a well-priced and versatile SUP. In addition to being a stable yoga board, it has many features that make it great for fishing, cruising, and other activities.
The Gili Meno is one of the best yoga stand up paddle boards due to its stability. Even though you are a total beginner, you will feel confident on its wide deck
Don't be left out. Get your own paddleboard and try SUP yoga. You will love it!