This is a review of the iRocker Blackfin Model X.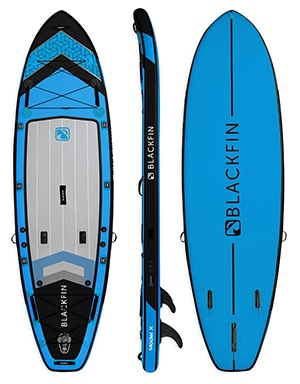 The Blackfin paddleboards are premium models from the famed SUP company, iRocker. The Model X is outstanding in many ways. I particularly love its incredible stability and premium features.
Its stability gives you a wide range of options in terms of what you can do. You can SUP with your loved one as you make memories and enjoy the outdoors. Or try yoga and other fitness routines, surrounded by nature.
The Blackfin X SUP board comes with tons of attachment points for customization. You can turn it into a fully-rigged fishing inflatable paddle board in no time.
The SUP also has carbon rails– something you don't see in many inflatable paddle boards. The feature enhances rigidity and durability.
This iRocker SUP sounds amazing, but is it the right board for you?
Well, you are about to find out in this in-depth Blackfin Model X review.
So keep reading.
RELATED: Discover your best inflatable paddle board options in 2023
Blackfin Model X Pros and Cons
Blackfin X Board Specs
Length: 10'6
Width: 35"
Thickness: 6"
Weight: 27 lbs
Weight capacity: 450 lbs
Who Should Buy the Blackfin Model X Inflatable Board?
The Blackfin Model X would be great for heavier guys, families, and beginners.
This is one of the best inflatable paddle boards for paddlers on the bigger side. First, the weight capacity is impressive at 450 pounds. Even with a lot of gear and a child or dog, you won't have to worry about exceeding the limit.
The paddle board is rigid enough for paddlers of all sizes. It will not flex when you are trying to have a good time. Many cheap SUP boards do that and it can be frustrating.
Some people would love to enjoy paddle boarding with the family, but they can't afford two quality boards. Or maybe the loved one you want to bring can't paddle their own SUP– like a child or dog.
With the large platform and high weight capacity of the Model X, you can bring whoever you want.
Stand up paddleboarding looks easy if you've never tried it. But it takes a lot to be able to stand on a SUP board and paddle without falling. And it is even harder with a narrow paddleboard.
A wide SUP, like the Model X Blackfin board, makes it easier for beginners to find balance. You will be doing it effortlessly in no time!
The Blackfin X can be used for leisure paddling, multiple riders, fishing, and yoga. It will perform well in rivers, flatwater, and ocean paddling.
Features of the Model X Stand Up Paddle Board
What exactly does the Blackfin Model X board have to offer?
1. Paddling Performance
a. Stability
The Model X is known for its stability. It is one of the most stable iSUPs you can find.
Every paddleboard claims to be stable, so it can be hard to determine without testing. But some features can help you get an idea of an inflatable SUP's stability.
The width of the paddle board is a great place to start. A narrow inflatable board can be tippy, especially for beginners. Weight distribution can be a challenge and it requires skill and effort to remain balanced.
A wider paddle board, on the other hand, offers a stable platform for all kinds of paddlers. At 35 inches wide, the Blackfin is a remarkably stable board.
The front is also not narrow. You will appreciate this when you have a little or a furry passenger who won't sit still. You know how excited kids and pets can get.
The construction of your paddle board plays a role in its stability too. Poorly made SUPs are usually not rigid enough. These are mostly the cheap single-layer boards. They bend too much, especially with bigger paddlers, making the ride unstable.
The Blackfin Model X is made using military-grade materials and it has reinforced rails. It won't flex, regardless of your size.
You shouldn't also ignore the thickness. Thicker inflatable paddle boards have more volume and tend to be more rigid. They can handle more weight too. The Model X is 6 inches thick. It is super rigid and can hold up to 450 pounds.
b. Maneuverability
In addition to being extremely stable, the Blackfin X is quite maneuverable, thanks to the length.
Longer paddle boards have their benefits but controlling them can be a struggle. This is more so true when paddling an area with lots of obstacles.
A shorter inflatable SUP goes around them easily. You will even find it fun.
The Model X is not long at 10'6. This moderate length ensures great maneuverability but it is not too short to hinder speed and tracking.
Speaking of…
c. Tracking
A SUP board that tracks well is one that travels in a straight line. It doesn't snake, forcing you to change paddling sides more than you'd like. As you can imagine, this can make your paddling trip frustrating.
The Blackfin Model X SUP board has three fins. They prevent the tail from slipping to one side when you make a paddle stroke.
d. Speed
Here is the thing with stand up paddleboards, to get great stability, you have to sacrifice speed. This is because wider boards mean more stability, but less speed.
With the Blackfin Model X 10'6 being 35 inches, you can't expect it to glide like a racing SUP board. It is also not long, and length helps with speed.
But the Model X is still fast for its size. Its rigid construction helps it glide decently, like a solid board. Besides, The nose is not completely rounded so it cuts through the water quite well.
While it may not be a racing SUP, the Blackfin Model X won't disappoint when doing regular paddling.
ALSO READ: Bluefin Cruise Carbon 12 Review – the perfect cross between an all-around and touring SUP
2. Build Quality
iRocker used to make their inflatable SUPs with quad-layer construction. This made the paddle boards extremely durable. But they were also a little bulky.
The Blackfin Model X is made using triple-layer composite PVC construction. It is super durable and virtually indestructible. This construction also makes it 20% lighter than the quad-layer construction. It only weighs 27 pounds.
So you get an inflatable paddle board that will last a lifetime, but one that is not bulky.
The Model X also has carbon rails. This ensures extra stiffness and durability.
With this military-grade construction, there is no limit to where you can paddle. That's the best thing about quality inflatable paddleboards. In addition to being portable, they don't get damaged easily.
You can paddle confidently, even in a river full of obstacles. The iRocker Blackfin board can take it. And if by any chance the board gets punctured, all you need is the provided repair kit. You can patch it up in minutes.
Reliable construction, like the one used to make the Blackfin Model X also helps with rigidity. As mentioned above, flexing can be a problem with inflatable SUPs.
When fully inflated to 15 psi, this stand up paddle board can hold up to 450 pounds. To assure you of the quality, the manufacturer offers a 2-year warranty and a 60-day guarantee.
3. Design
How a paddle board looks is important too. Who wouldn't want a SUP that is beautiful to look at?
The Model X 10'6 iSUP is available in three colors. You can choose from white, teal, and blue.
What I love most about the colors is that they are not super vibrant, which can be too much for most people. Many paddlers find the Blackfin boards gorgeous.
4. Blackfin Model X 10'6 Board Features
a. Fins
The Blackfin Model X features three fins: one large center fin and two small side fins. These fins help with a paddle board's maneuverability, tracking, and general performance.
All three flip-lock fins are removable and easy to detach/attach. This means that you can always change the configuration depending on where you are paddling. The downside is that the fins can get lost.
The Blackfin Model X used to come with a US fin box, but the option is not available in the newer models. The US fin box fits a lot of aftermarket fins so this can be disappointing to some.
But on the bright side, you don't have to deal with screws. Snap-in fins are super easy to install too.
b. Deck pad
The deck pad on the Model X 10'6 iSUP will make yoga enthusiasts very happy. It extends past the inflation valve, giving you a large area to practice all your poses comfortably. Not many iSUPs have a traction pad that large.
The EVA deck pad is extra comfy, providing your feet and knees with a nice, soft surface.
It also comes in handy when you bring a kid or a dog. They won't have to endure a hard uncomfortable surface which can make them restless.
In addition to being large and comfortable, the Model X traction pad is grippy and durable. It will keep you from slipping on the wet deck and it will last.
c. Handles
It can be easy to forget about things like handles when buying a paddle board.
The Blackfin Model X comes with three grab handles.
The center carry handle helps when you are carrying the fully inflated SUP alone. The other grab handles are for pulling the SUP in or out of the water. You can also use them to carry the paddleboard with a friend.
Other than the carry handles, the Model X features four safety handles, 2 at the front and 2 at the back. If you decide to bring your child, they can hold on to them for safety.
d. D-rings and Action Mounts
The iRocker Blackfin Model X comes with enough attachment options. This is something that many paddlers appreciate. It makes it easy to customize the paddleboard for different activities.
The SUP features 20 D-rings and 8 multi-use action mounts.
It has fishing rack attachment points, and you can buy the fishing rack separately. It is also compatible with a sand spear attachment.
There are two cargo areas, at the front and rear, as well as extra D-rings for a kayak seat and other stuff.
With all these attachment options and the large space, you can bring a lot of gear with you. The Blackfin Model X would make a good fishing and all-purpose paddleboard.
e. Blackfin X Paddle Board Accessories
Another thing that makes inflatable paddleboards awesome is the fact that they come with accessories. And with the Blackfin Model X 10'6, you get one of the best iSUP packages you can find.
It comes with a paddle, leash, pump, repair kit, and backpack.
The Blackfin Model X backpack is designed for easy and comfortable traveling. The straps are adjustable and it has padded back and waist support.
The bag is built to last and it is large enough to fit all your SUP essentials. And on top of all that, it has wheels. Carrying your paddleboard will not only be easy but also fun.
The Blackfin paddle now has a full carbon shaft. It is super lightweight, at only 28 ounces, and it floats.
The carbon shaft paddle breaks down into three pieces for storage and it is adjustable 72 to 86 inches.
The full-throttle, dual-chamber, triple-action hand pump is 100% faster than a standard manual pump. It features an integrated pressure gauge and makes inflation 50% easier than a single-chamber pump.
The 10-foot coil leash is comfortable and high quality. It has a padded neoprene ankle strap and comes with a key pocket.
Optional Accessories
Other than the accessories that come with the inflatable SUP, you can purchase the following separately:
Speaker
Kayak kit (kayak seat and kayak blade)
Kayak seat cushion
Shoulder carry strap
Cupholder
Camera mount
Cell phone holder
Selfie stick
Fishing rod holder
Fishing rack and dual rod holder
Push pole and sand spear attachment
Sand spear mount
What Users Are Saying
This Blackfin Model X review is based on my opinion and experience as well as what the manufacturer says. But do other paddlers agree?
Let's find out.
This Reddit user wanted to buy the Body Glover Performer. However, it was sold out and he decided to settle for the Blackfin Model X.
After a while, the Performer board became available again. He was wondering whether it would be wise to return the Blackfin Model X SUP and get the Performer.
Ommanipadmehome responds saying that he has a Body Glove Performer. While it is good for lakes, it is not great and he wouldn't use it for great lakes or the ocean. He implies that the original poster should keep the Blackfin Model X.
Someone else replies asking him what makes the iRocker Blackfin better.
He says that the Model X inflatable SUP is more stable and features better construction and shape. According to his experience, the Body Glove performs poorly and is more suited for someone who can't afford a better board.
Moving on…
Tim was very impressed with his Blackfin Model X. He says that it is even better than advertised. The included manual pump was easy for him to use, even though he has partial paralysis on one arm.
He and his wife loved the paddleboard so much, they are planning on buying another Model X.
Jon can't decide what he likes about his Blackfin Model X, everything is just so good. He paddles with his kid and says that it is super strong.
The wheeled bag is amazing and so are all the action mounts and the deck pad. He also says that inflating the board is easy. His family can't get enough of this inflatable SUP and he highly recommends it.
Rick has been using his Blackfin Model X all through the pandemic. When he was looking for an iSUP online and in local shops, this Blackfin board kept popping up. He says that it exceeded his expectations.
The construction quality is what impressed him the most. It is well-made and stiff. He says that it rides remarkably.
Company Review
The Blackfin Model X inflatable SUP sure seems like a great board. But who makes it?
The iRocker SUP company is known for a few things. Two of those include good customer service and outstanding paddleboards.
Whenever you contact them, you can be sure that there will be someone to answer all your questions and help you make a decision. And you can never go wrong with their inflatable boards.
The company is based in Jacksonville, Florida, and was founded by two friends.
They are both SUP enthusiasts who love being around the water. When inflatable paddleboards were starting to become a thing, they thought it was a good idea for them to start an iSUP company.
As paddlers themselves, they wanted to make boards that other paddlers would love and enjoy.
And that's exactly what they did.
Blackfin X Alternatives
Other than the Blackfin Model X, there are other awesome inflatable SUPs. And it can be hard to decide between two quality boards.
Let's take a look at the iSUPs that are often compared with the iRocker Blackfin.
1. Blackfin Model X Vs iRocker All Around
The iRocker All Around board is made by the same company that makes the Blackfin Model X.
The inflatable paddle board is 11' long, 32 inches wide, and 6 inches thick. As you can see, it is slightly longer and narrower than the Model X.
When it comes to performance, expect the iRocker All Around to glide faster than the Blackfin Model X. Being narrower and more streamlined, it has less resistance. The Model X board will be slightly more stable than the All Around because it is wider.
Both SUP boards are made using the same construction and they inflate to 15 PSI. The Blackfin Model X, however, has a higher max capacity. It can hold 450 pounds while the All Around can hold 435 pounds.
While the iRocker Blackfin has 8 action mounts, the All Around has 4. But they all come with 20 D-rings and a storage area at the front and another at the rear of the board. The All Around also has safety handles, just like the Blackfin Model X.
The All Around board doesn't have carbon rails and its travel bag does not include wheels. But it is wheel-compatible, so you can buy a wheel tray. The deck pad is large and extends beyond the inflation valve, like the Blackfin's.
The iRocker All Around paddle, like the Blackfin paddle, weighs 28 ounces and it floats.
The Blackfin Model X only has three color options. The iRocker All Around has six.
These inflatable paddleboards are the same in many ways but they have a few differences.
The iRocker All Around would be ideal for the paddler who wants an all-around SUP that is fast. This is most likely a touring enthusiast. There are enough attachment points for your cargo.
The Blackfin is best for someone who is looking for exceptional stability and extra attachment points. This could be an angler or yogi.
2. Blackfin Model X Vs iRocker Cruiser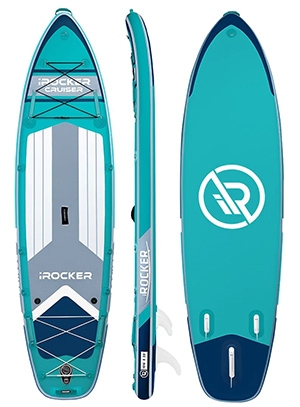 The iRocker Cruiser is one of the most popular inflatable paddleboards out there. And as you can guess from the name, it is also from iRocker SUP Company.
The Cruiser measures 10'6 x 33" x 6". It is the same length as the Blackfin Model X 10'6 but narrower by 2 inches. The difference in speed between these two paddleboards is hardly noticeable. But the Model X 10'6 iSUP is slightly more stable.
Like the All Around 11, the iRocker Cruiser offers six color options. The Blackfin Model X only offers three.
The inflatable SUPs are built using the same construction, but the Cruiser doesn't have carbon rails. It inflates to 15 psi and has a max capacity of 400 pounds. That is 50 pounds less than the Model X.
Both iSUPs have 20 D-rings but the Blackfin Model X has 4 more gear mounts than the Cruiser. And unlike the iRocker Blackfin boards, the Cruiser is not compatible with fishing rack and sand spear attachment.
The two paddleboards come with a leash, carbon shaft paddle, repair kit, backpack, and a dual-chamber hand pump. However, the Cruiser backpack does not come with wheels but it is wheel-compatible.
The iRocker Cruiser would be ideal for someone who wants a stable board, but one that is not too wide. Smaller paddlers, especially, may have trouble paddling a very wide SUP. You should also consider the Cruiser if you would like to have a brightly colored board.
The Blackfin X would be best for someone who wants the extra width and gear mounts. This could be a larger paddler who intends to bring a lot of cargo and/or a child. It also has a higher weight capacity for that.
3. Blackfin Model X Vs Atoll SUP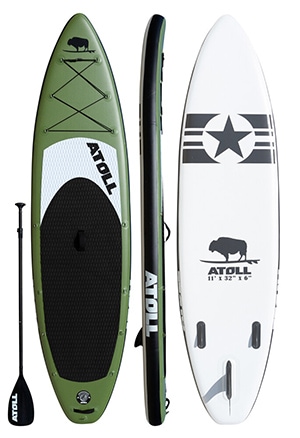 Finally, we have the Atoll 11 board. This is another SUP board that is quite popular in the paddling community.
The Atoll 11 SUP board is mainly known for its amazing balance between speed and stability.
It measures 11' x 32" x 6". It has a generally streamlined shape. The paddle board cuts through the water smoothly and with impressive speed. It is faster than the Blackfin X board. But when it comes to stability, the Model X is the winner.
The Atoll 11 board comes with an all-inclusive package, just like the Blackfin SUP board. It includes a paddle, backpack, leash, pump, and repair kit. The paddle has a carbon fiberglass shaft and a nylon blade.
While the Blackfin has all removable fins, only the center fin on the Atoll is removable. You won't have to worry about lost side fins. But you also can't change the setup.
The Atoll board has a 400-pound capacity for a single rider. It has been successfully water tested at 700 pounds with multiple riders. And it only weighs 21 pounds.
It has 15 D-rings and no gear mounts.
One thing that sets the Atoll board apart is its colors. They are muted and blend well with nature. Outdoorsy men and women will love it.
The Atoll 11 is more suited for the paddler who wants a stable but fast SUP. You may also want to consider it if you don't like bright colors.
The Blackfin Model X board is for you if you plan on angling and doing fitness routines. It has great stability and lots of attachment options.
YOU MAY ALSO LIKE: Our review of the Bote Breeze paddle board
Conclusion
The Blackfin Model X is a wonderful all-around board for all kinds of paddlers. Anyone, regardless of size and skill level, will enjoy using it.
There is a reason why it is top-rated and loved by SUPers.
It has a large stable platform– perfect for yoga, fishing, beginners, and multiple riders. And the weight capacity ensures that no one is left out.
Additionally, you can customize it for different activities, thanks to the many attachment points.
Don't hesitate to check it out!