Manually pumping up inflatable paddle boards can be tiring, especially if you do it frequently. Save your energy (and time) for paddle boarding with an SUP electric pump.
I personally tested the most popular paddle board pumps and found the OutdoorMaster Shark II to be the best electric SUP pump. It's powerful, has an automatic shutoff, and can inflate multiple paddleboards in a row—perfect for families!
If the Shark II isn't quite right for you, I've recommended 6 other electric pumps. I've also written a detailed buyer's guide that covers everything you need to know about SUP pumps.
Read on to find your perfect SUP electric pump!
RELATED: Discover the 38 best paddle board accessories of 2022
Quick Summary
If you're in a hurry, here are our best SUP electric pumps. Or continue scrolling to see our full list with in-depth reviews.
Best Overall Pump: Outdoor Master Shark II
"Fast, durable pump that inflates and deflates your board. Its active cooling systems allows you to inflate up to four boards without cooldown. Small enough to pack in your SUP bag."

Best Compact Pump: iRocker Electric Pump
"Fast, compact, portable pump that inflates and deflates your board. Great value for money."

Best Budget Pump: Sevylor Pump
"Cheap, fast pump for inflating your board. Doesn't deflate. May not be as durable, but a good choice for the occassional paddler."

Best Inflatable SUP Electric Pumps
1. OutdoorMaster Shark II SUP Air Pump – Best SUP Pump Overall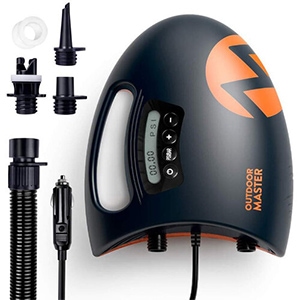 The OutdoorMaster is a two-stage high-pressure pump that can inflate three SUPs in a row, up to 20 psi. It has an active cooling system–a feature you won't find in any other SUP pump.
With most electric pumps, you have to take a break after each paddle board to prevent it from overheating. But that will not be a problem with this pump.
The OutdoorMaster is an automatic dual-stage pump and it features an auto-shutoff function. When the target pressure is reached, it will automatically turn off. It also has a deflation function. It makes everything so simple and smooth.
This pump will connect to your vehicle's 12V DC connector. It has a 12A fuse for added safety.
One thing I like about the OutdoorMaster SUP pump is that it comes with a full set of nozzles. It is compatible with most high-pressure inflatables.
All these features, plus the digital display make pumping your board super easy. This would be a great pump for you if you want an efficient pump that can inflate several boards fast.
The pump measures 11.08" x 9.45" x 4.84".
Check Price of the OutdoorMaster Shark II
2. iRocker 12V Electric Pump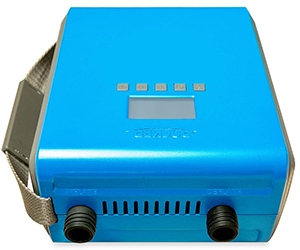 Inflate your paddle board in 12 minutes or less without wearing your arms out with the iRocker 12V SUP electric pump.
It comes with a cord storage compartment and a carry handle for convenience. The pump is not large and it will fit in the top pocket of iRocker SUP bags and most other iSUP bags.
The iRocker iSUP electric pump has an auto-shutoff function. It will stop automatically once the set psi level is reached.
The high-pressure piston pump will connect using a cigarette lighter or alligator clips to a 12V battery.
The iRocker pump measures 7″ x 8.5″ x 4″ and comes with a one-year warranty.
ALSO READ: Discover your top paddle board cooler options for keeping it cool in 2023.
Check Price of the iRocker Pump
3. Sevylor SUP Pump – Best Budget Pump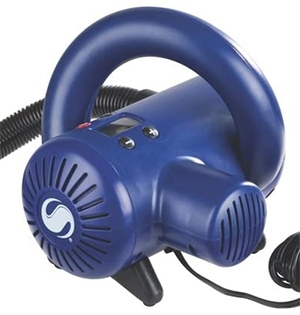 The Sevylor SUP and Water Sport electric pump is one of the best SUP electric pumps for people on a budget.
While it is not a high-end model, the Sevylor will easily inflate your SUP and even other inflatable toys.
The high-pressure pump can inflate up to 15 psi. Like the more expensive models, it has an auto-shutoff feature. Connect the hose to your paddle board and set a pressure level then let the pump do its job.
The Sevylor pump comes with a low-pressure extension hose and adapters for low-pressure inflatables. It also has a unit selection button, allowing you to choose from psi, kPa, and mbar.
The stand up paddle board electric pump is powered using a 12V vehicle outlet.
This would be a great option for you if you are looking for an affordable but quality pump for your SUP and other inflatables.
It measures 7.7" x 7.36" x 7.17".
Check Price of the Sevylor Pump
4. Seamax SUP20D Paddle Board Pump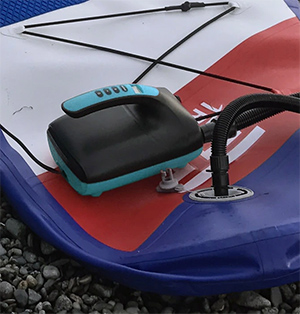 This Seamax SUP20D electric pump is an upgraded version with some fantastic features.
Its major parts are made using marine-grade ABS and nylon material. You can be sure that the pump will last a long time.
The SUP20D has a backlit LCD display and an audible indicator for your convenience as well as a built-in sand filter. It also features overheat protection, a temperature sensor, and a voltage sensor for managed inflation.
This double-stage electric air pump can inflate your paddle board and other inflatables up to 20 psi. It can pump up multiple boards. However, you have to run it in the air for a minute after each board to allow it to cool down.
The Seamax SUP20D is compatible with SUPs that have Halkey-Roberts (HR), Bravo, Naru, and similar air valves.
Its 12V DC connector features an in-built 12A fuse and includes a cigarette lighter spare fuse in the package as well.
The SUP pump measures 10.71" x 7.64" x 6.77".
Check Price of the Seamax SUP20D
5. SereneLife Rechargeable Pump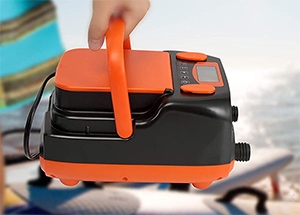 The SereneLife Rechargeable pump comes with a built-in 12V 6000 mAh rechargeable battery. You can get several full inflations out of it before you have to recharge it, which is nice. You can also power it using a car cigarette lighter.
The iSUP electric pump has a 3.3-foot flexible air hose and an LCD digital display.
It includes touch button control to make operation easy.
This 12V SereneLife paddle board pump features a 0 to 16 psi setting. You can set the target pressure to prevent over-inflation.
You will love the compact design of this pump. It even has a housing access lid for the power cable. And it comes with its own bag for easy carrying.
The SUP pump measures 9.8'' x 6.9'' x 6.1''.
Check Price of the SereneLife rechargeable Pump
6. Seamax SUP20S Electric SUP Pump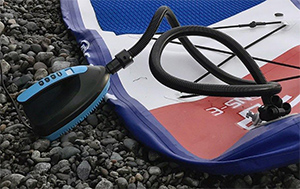 The Seamax SUP20S will inflate most paddle boards in about 10 minutes.
This single-stage electric pump is simple but efficient. It has an LCD screen and buttons that help you set your desired pressure level (up to 20 psi). You can adjust the pressure value while the pump is still inflating. You don't have to pause the inflation process.
The pump will automatically stop when the set psi level is reached or after 20 minutes of continuous pumping.
The Seamax inflatable stand up paddle board pump is compatible with Halkey-Roberts (HR), Bravo, or similar air valves. It also includes four extra universal valve adaptors in the package.
The iSUP pump's 12V DC connector features a built-in 10A fuse.
It measures 10.28" x 7.28" x 5.83" and comes with a 2-year limited warranty.
Check Price of the Seamax SUP20S
7. Bravo BP12 Single Stage Electric Pump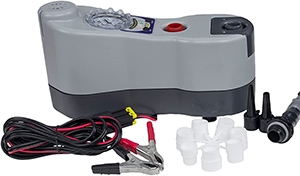 The Bravo single-stage electric pump inflates and deflates. It can inflate a paddle board up to 15 psi.
The air pressure pump comes with its own carrying case, which makes it easy to carry around. It comes with eight valve adapters, including one for the Leafield C7. It is compatible with most inflatable paddle boards.
The Bravo BTP 12 electric pump connects to a 12V battery. It features an easily accessible air filter which helps with cleaning and replacement.
The package also includes a six-foot air hose and nine-foot-long battery cables.
This pump measures 11" x 4" x 6.25".
Best SUP Electric Pumps Compared
Buyer's Guide: How to Choose the Best Electric Pump for Your Paddle Board
Knowing the top 7 SUP electric pumps and what they have to offer is nice. But they are different in many ways.
How do you know which one is perfect for you?
Well, here is all the information you need.
Do I Need an Electric SUP Pump?
Most inflatable paddle boards come with pretty good hand pumps. But the fact that you're reading this means that you want the convenience of an electric pump.
While a hand pump isn't difficult to use, inflating your SUP to the desired psi level can be quite the arm workout.
If you always have to inflate and deflate your SUP after every session, it may be too much work. The same applies to paddlers who have to pump up multiple boards or older SUPers.
The inflation process is effortless with an electric SUP pump.
Factors to Consider When Buying a SUP Pump
All electric paddle board pumps are not the same. So here is what you should consider.
1. Functions
a. Inflation and Deflation
In addition to inflating your paddle board, some electric SUP pumps also have a deflation mode. This means that you won't have to deflate your paddle board manually. If this is important to you, look for a pump that deflates.
b. Inflation Stages
As you have seen with the above pumps, some are single-stage while others are dual-stage.
A single-stage electric pump inflates your paddle board in only one stage, as you can guess from the name.
A double-stage electric pump, on the other hand, has two stages. The second stage is slower and this ensures safety.
Some pumps have been known to over-inflate paddle boards, leading to damage. Dual-stage inflation prevents this from happening.
c. Speed
Many people believe that all electric SUP pumps are fast. This is hardly the truth. Some of them are slow, taking up to 15 minutes and maybe longer.
Most of the air pressure pumps listed here can inflate your board in roughly 10 minutes, which is good.
d. PSI Level
Every electric pump is designed to pump up inflatables up to a certain psi level. Each paddle board also has a recommended psi capacity.
It is important that you inflate your board up to the recommended psi level. This means that you have to get a paddle board pump that can deliver.
If your paddle board is not properly inflated, it will ride lower in the water and won't be able to hold a lot of weight. It will be slower too.
2. Budget
Some paddle board pumps cost as much as $170 while others only cost about $60. So you have to work with your budget.
You don't have to buy the fanciest electric SUP pump. But you also shouldn't go for the cheapest option.
Make sure you get value for your money.
If you decide to buy a high-end model, check to see that it is worth it. If your budget is tight, buy an affordable SUP electric pump with all the features you need.
3. SUP Compatibility
The electric pump you buy should be compatible with the valve on your paddleboard.
Know the type of valve that your SUP has–HR, Boston, pinch, double lock, Leafield valve, etc. Then see if the air pump you want is compatible.
The electric pumps reviewed here will work with most inflatable paddle boards.
4. Power
Paddleboard pumps connect to your car battery directly or through the cigarette lighter plug. Since most paddlers transport SUPs using their cars, this makes sense.
Others, like the SereneLife pump, have a rechargeable battery. You won't need a car to inflate your board. A SUP air pump like this would be ideal for paddle boarders who don't go with their vehicles.
5. Design
The best electric pumps are those with a pressure gauge. It lets you track inflation so you don't overinflate or underinflate your SUP.
All the iSUP pumps discussed above have a pressure gauge. Even better, they have an auto-shutoff function so you can choose your pressure setting.
Something else that people forget to look at is the inflation hose length. Ensure that the hose is long enough to allow you to inflate your board comfortably in any situation.
Tips for Using An Electric Air Pump
1. Inflate to Recommended PSI
Don't overinflate or underinflate your paddleboard.
All inflatable paddle boards have a recommended psi. If you don't properly inflate your SUP, the performance will be greatly affected. As already mentioned, it will be slow and it won't be able to handle the weight it is supposed to hold.
Over inflating, on the other hand, could cause permanent damage like popping.
2. Check the Air Valve Before Inserting
Don't inflate your paddle board while the air valve is pressed down. That is the open position. When you disconnect your pump after inflating, all the air will escape.
See this video to understand what we're talking about.
3. Let It Cool Down Before Inflating Another SUP
The OutdoorMaster is a beast that can inflate three paddle boards in a row, up to 20 psi, with no problem. Most electric pumps, however, are not like this. Some can't even do more than one inflatable SUP in a row.
Usually, the manufacturer will let you know whether or not the air pump can inflate multiple boards in a row.
With the Seamax SUP20D, for instance, the manufacturer recommends letting it run in the air for one minute before pumping up the next SUP.
Pay attention to the instructions to prevent the electric pump from overheating. This can cause serious damage.
4. Use the SUP Pump to Deflate
Manually deflating your inflatable paddle board is easy. You may not even think about letting your electric pump do the job for you.
But getting all the air out of your blow-up SUP can be a little strenuous sometimes. So use your SUP electric pump. It will quickly and completely suck out all the air, making it easy to roll up the paddle board.
Best SUP Pumps FAQs
Are All SUP Pumps the Same?
No. SUP pumps are different, as you can see from the reviews above. While they do the same job, their designs differ.
Some have rechargeable batteries, others have an LCD display, others can inflate as well as deflate, etc.
The quality and features can differ greatly. So it depends on your budget and preferences.
Can You Inflate a Paddle Board with an Electric Pump?
Yes. There are tons of electric pumps made for inflatable paddle boards. They make your work easier and save you some time.
Can You Over-Inflate a SUP?
Yes. As mentioned, every inflatable paddle board has a recommended psi. While the more you inflate a SUP the better it will perform, it is possible to overdo it. And if that happens, you risk damage and your board could even pop.
How Long Does It Take to Inflate a SUP?
Generally, inflating a paddle board takes about 10 minutes. But it depends on the type of pump you are using.
With a hand pump, it may take longer to reach the max. psi. But if you try to pump faster it could take a shorter time.
A powerful electric pump can fully inflate a paddle board in roughly 5 minutes.
What PSI Should My SUP Be?
Whatever the manufacturer recommends. Many of them have a recommended psi level of 10 to 15 for best performance.
Conclusion
Electric SUP pumps are a must-have accessory for paddle boarders. You don't have to wear yourself out before you even start paddling.
The OutdoorMaster Shark II is my top recommendation for an electric pump. It's the only model with an active cooling system, which allows you to inflate multiple SUPs in a row. You can use it to deflate your board after use and it was one of the quickest boards in my test.
The Sevylor pump is proof that you don't need to spend a lot of money to get a decent SUP pump. It's super-fast and comes with attachments for every inflatable item you can think of.
If you want to upgrade to an electric SUP pump, the ones reviewed here are great options. You can't go wrong with any of them.