This is a review of the Gili Meno inflatable paddle board.
One thing that makes the Gili Meno stand out is its stability. That is what it is designed for and I can confidently confirm that it delivers. It is the ultimate multi-purpose SUP for all activities that require a stable board.
The Gili Meno is wide at 35 inches and has a weight capacity of 450/485 pounds. (It comes in two lengths, 10'6 and 11'6). It is the perfect paddle board for parents who want to paddle with kids and pets. It also makes a good SUP for heavy paddlers and yoga.
Despite its size, the Gili Meno only weighs 23/24 pounds.
The Meno SUP board comes with 18 D-rings, 5 action mounts, and a five-piece fin kit. This, plus its size, make it a versatile SUP. You can use it for fishing, recreational paddling, yoga, and more.
There is so much to say about this inflatable paddle board. The 2021 upgrade comes with even more exciting features. We will discuss all that in this detailed Gili Meno yoga board review.
Is the Meno a good paddle board for you? You're about to find out.
RELATED: Discover the 7 best yoga paddle boards of 2023
Pros and Cons
Paddle Board Specs
Length: 10'6/11'6
Width: 35"
Thickness: 6"
Weight: 23 lbs/24 lbs
Weight capacity: 450 lbs/485 lbs
Who Should Buy the Gili Meno Inflatable SUP?
The Gili Meno SUP board would be great for yoga enthusiasts, heavier paddlers, families, beginners, and anyone looking for a good all-around board.
Performing fitness routines on the water is not easy. You need a paddle board that is large and stable. The Gili Meno stand up paddle board is 10'6/11'6 long and 35 inches wide.
Whether you are a SUP fitness beginner or a yoga pro looking to try complex poses, you will appreciate this board.
Stand up paddle boards have weight limits. Some of them are too low and can be disappointing if you are on the bigger side. In addition to being large, the Gili Meno has a weight capacity of 450/485 pounds.
Heavier paddlers can ride with a child and gear comfortably. It is rigid and maintains its stability.
Some paddlers like to paddle alone. Others like to share the experience with family. With the Gili Meno SUP board, you can bring your furry friend, a kid, or even another adult. It is big enough, has a high weight capacity, and is super sturdy.
Lastly, if you are in the market for an all-around paddle board, you should consider the Gili Meno. An all-around is usually a SUP board that can do a little bit of everything. The Meno performs well in most water conditions.
You can also use it for most SUP activities, including fishing, family fun, recreational touring and so much more.
Features of the Gili Meno Paddle Board
1. Performance
In theory, the Gili Meno inflatable stand up paddle board sounds perfect. But how does it actually perform on the water?
a. Stability
This is one area where the Meno inflatable SUP excels.
Being one of the widest single-rider paddle boards around, you will never have to worry about the Meno being tippy.
The width of a paddle board is the biggest determinant of its stability.
A narrower paddle board makes it harder to stay balanced. If you are not skilled, you will find it too tippy and you may end up falling in a lot. It is also impossible to practice SUP fitness on such a board.
This is why the recommended width for newbies is at least 30 inches. For other activities like yoga and fishing, you should go wider because you have to move around a lot.
If stability is your main concern, the Gili Meno is perfect.
Another feature that contributes to the stability of the Meno is its construction. This is something you shouldn't ignore, especially when it comes to inflatable paddle boards.
The Meno is built using dual-layer military-grade PVC material. It also has carbon fiber rails. When fully inflated, this Gili inflatable board is as rigid as a solid SUP.
Why is this important for stability?
A poorly made inflatable SUP is likely to flex, more so when you put too much weight on it. This is not only frustrating but it also makes the SUP wobbly and unstable.
Gili Sports have been making reliable inflatable boards for a long time. The Meno is no different.
Lastly, The Gili Meno is six inches thick. Thinner paddle boards have less volume and can't hold much weight. They also tend to flex. The Meno is super rigid and rides nicely above the water.
b. Maneuverability
Many people may wonder about the Gili Meno inflatable SUP's maneuverability because of its width and length. But it is actually easy to control.
The 10'6 Meno would be a better option for smaller paddlers though.
Shorter and narrower paddle boards are typically more responsive and maneuverable. So if you are petite, consider the shorter Meno.
The 11'6 Gili Meno is surprisingly maneuverable. Both size boards are quite rigid and lightweight, making them a joy to paddle.
Even advanced SUP techniques will not be a problem.
c. Tracking
A stand up paddle board that doesn't track well is annoying and tiring.
The Gili Meno travels straight, despite its width. You won't have to change paddling sides more than you want to.
Both the 11'6 and the 10'6 SUP boards are moderately long. This helps with tracking.
The board also comes with a tri-fin setup: one large center fin and two small side fins. They keep the tail in place by preventing it from shifting to the side when you make a paddle stroke.
d. Speed
The Gili Meno inflatable SUP is not designed for speed.
Wide SUP boards have unmatched stability. Unfortunately, with width comes resistance. This is why most of them are sluggish.
So while you will enjoy a stable platform with the Gili Meno, don't expect much in terms of speed.
But even though it is nowhere near a racing board, I still think it glides amazingly. The rigid construction and pointed nose help with speed.
For leisure paddle boarding, you won't have a reason to complain about the speed.
2. Build Quality
The construction of a SUP is one of the most important factors to consider. It affects stability, durability, and overall performance.
This Gili inflatable paddle board is built using dual-layer fusion-laminated military-grade PVC material.
PVC is the best material for making inflatables and it is what most manufacturers use. However, some only use one layer.
Single-layer construction makes a SUP board lighter. But such a paddleboard may not be able to hold a lot of weight. Most single-layer SUPs can't handle heavier paddlers or two riders.
The SUP is also likely to have a flexing problem.
The Gili Meno's dual-layer construction is solid and reliable.
It will comfortably handle 450 lbs (10'6 Meno) and 485 lbs (11'6 Meno). Advanced riders may exceed these limits.
Additionally, this Gili Sports iSUP has a carbon fiber rail. It makes the SUP even more rigid and stable. It doesn't feel like an inflatable when fully inflated.
Despite the heavy-duty construction, the Meno only weighs 23 lbs (10'6 Meno) and 24 lbs (11'6 Meno).
Anyone can comfortably carry it around. If you plan on traveling a lot or hiking with your SUP, you might love this iSUP.
The Gili Meno is absolutely reliable. It even comes with a two-year warranty and a 60-day guarantee.
3. Design
The appearance of a paddle board is important too. Some paddlers want a gorgeous SUP that will make people stop and stare.
The Gili Meno inflatable paddle board comes in four colors: white, sand, blue, and teal. It previously only came in two colors. The blue and teal boards come with a matching color bag and leash.
This iSUP has "Save Our Reefs" written at the bottom. Every time you buy a Gili SUP, a portion of the money goes to an ocean charity. It is a nice way to let paddlers contribute to a cause that is important to them.
4. Gili SUP Board Features
a. Fins
The Gili Meno features a tri-fin setup. It has a large center fin and two small side fins.
You will receive a five-piece fin kit in the package with a 3" river fin, 4.5" speed fin, 9" center fin, and two side fins.
This is awesome. You can change the fin configuration depending on where you'll be paddle boarding.
The Meno inflatable has a versatile US fin box.
b. Deck Pad
The Gili Meno has a comfortable deck pad that covers a large part of the SUP.
The 2021 upgraded Meno traction pad has added grooves for better grip.
For even better foot support, a rear diamond pattern has also been added.
If you want to try SUP yoga, this EVA traction pad will make an amazing yoga mat. It is also pet- and child-friendly. Your furry/little passenger will be comfortable the entire time.
c. Handles
The Gili Meno features three grab handles: at the center, front, and rear. The center carry handle has a neoprene cover. It is comfortable to hold and makes it easier to carry the SUP board when alone.
The other carry handles don't have a neoprene cover but they are still comfortable to hold.
The board also comes with four removable safety handles, at the front and back. These are great for kids to hold on to when riding with you.
ALSO READ: See our Glide Lotus Yoga SUP Review – Is It As Good As They Say?
d. D-Rings and Action Mounts
The Meno stand up paddle board has a total of 18 D-rings. There is a six-point bungee cord attached to D-rings at the front and a four-point bungee cord at the back. These are for your luggage.
You can use the rest of the D-rings to attach a kayak seat or any other gear.
In addition to D-rings, the Meno comes with five action mounts for your action camera, fishing gear, and more.
The 11'6 Meno has three built-in Scotty mounts.
The SUP board also has a paddle holder.
If you are looking for an all-around SUP that will work well as a fishing SUP, the Gili Meno is great.
e. Gili Meno Inflatable Package
The Gili Meno inflatable stand up paddle board has one of the best iSUP packages.
It comes with a carbon fiber paddle, backpack, leash, manual pump, fin kit, and a repair kit.
i. Gili Meno Paddle
The lightweight Meno travel paddle has a carbon fiber shaft and a nylon blade. It breaks down into three pieces for traveling and storage.
The paddle is adjustable 67" to 86" and only weighs 29 ounces. It floats.
Both the shaft and handle are ergonomic and comfortable.
If you like, you can choose to have a full carbon fiber paddle in your package at a higher price.
But the nylon-blade paddle is amazing and super-efficient.
ii. Gili Meno Backpack
The bag is large enough to fit the inflatable paddle board along with your SUP accessories.
It has attachment points and pockets to make storage easier. If you are always forgetting your fins, you will love the new fin pocket.
The backpack is available in different colors to match your SUP. It also has wheels–you will enjoy carrying your paddle board around.
iii. Gili Meno Pump
The Gili Meno is big and manual inflation can be difficult. But the dual-chamber pump makes the process easy.
While the high-pressure manual pump does a great job, I highly recommend getting an electric pump. You will love it, especially if you inflate and deflate your paddle board frequently.
iv. Gili Meno Leash
The 8-inch coiled leash has a neoprene cuff. It feels comfortable and doesn't bother you when you're paddling.
It fits any ankle size.
v. Gili Meno Fin Kit
The kit consists of a 9" race fin, 4.5" speed center fin, 3" shallow center fin, and 4" snap-in side fins.
Optional Accessories
Gili Sports offer other optional accessories for comfort, safety, and convenience.
They include:
Electric paddle board pump
Paddle board anchor kit
Kayak conversion kit
SUP shoulder carry straps
SUP rod holder
Cupholder
Waterproof dry bag
Gili waterproof phone case
Company Review – Gili Sports
The Gili Meno inflatable paddle board is made by Gili Sports. They are known for quality paddle boards and accessories.
But how did the company start?
Jay Regan has always loved the water. Seeing the damage being done to the world's oceans saddened him and he wanted to do something about it.
While on one of his adventures, he discovered the inflatable paddle board. He realized that he could design amazing stand up paddle boards for fellow paddlers and help save the oceans at the same time.
That is the story of Gili Sports.
Paddlers love the company's products, including the Gili Meno, and their outstanding customer service.
What Users Are Saying About the Meno Stand Up Paddle Board
The manufacturer says that the Gili Meno is an amazing SUP, and I agree, based on my experience.
But I wanted to see what other paddlers think about it.
I decided to search the internet and this is what I found.
Paul was a beginner when he bought the Gili Meno. He got the 10'6 inflatable SUP. The board is stable and he had tons of fun learning. He has since bought an advanced SUP board but he still uses his Gili 10'6 for yoga and paddling with his dog.
According to Paul, the Meno is fast enough and maneuverable. But he says it can get tricky when the waves are rough.
Nicole wasn't sure about stand up paddle boarding. But she wanted a new hobby so she decided to give it a try. The Gili Meno was a gift and she couldn't love it more. It is stable and it has made her fall in love with SUP. She brings her dogs along.
Stacy couldn't recommend a better stand up paddle board for beginners. She didn't fall in once while learning (only when she was being taught how to fall). She had so much fun and she also says the board is gorgeous.
Gili Meno Paddle Board Alternatives
The Bluefin Aura Fit and Blackfin Model X are similar to the Gili Meno in many ways. Let us see how they compare.
1. Gili Meno Vs Bluefin Aura Fit
The Bluefin Aura Fit measures 10'8 x 36" x 6". It is built using exo-surface laminate PVC and pro weave drop-stitch construction. Its weight capacity is 352 lbs.
Because of its size and stability, it is marketed as a yoga paddle board.
The Aura Fit comes with everything you need to start paddling. Its package includes a fiberglass paddle, backpack, dual-action single-chamber pump, and a leash.
It comes with a five-year warranty.
As you can see, it shares many similarities with the Gili Meno inflatable paddle board. They are both wide and pretty much the same size (with the Meno 10'6).
They also come with an all-inclusive package.
However, the Gili Meno seems to have slightly better accessories in the package. Both carbon fiber and fiberglass paddles are great. But a carbon fiber paddle is lighter and more efficient.
The Meno also comes with a premium rolling bag and a fin kit. However, you pay way less for the Bluefin Aura so it is fair.
The Aura Fit is only available in one color, whereas you get color options with the Gili Meno.
It also doesn't have a center carry handle. Instead, the SUP board has two handles on either side. This gives you a nice comfortable platform for yoga.
The Gili Meno comes with a 2-year warranty while you get a 5-year warranty with the Aura Fit.
The Meno inflatable SUP would be ideal for the paddler who wants a high weight capacity. The Aura Fit can only hold 352 lbs while the Gili board can handle 450+ lbs.
You will also love it if you want color options, higher-quality accessories, and lots of gear attachment points.
The Aura Fit is suitable for the paddler who wants an affordable but high-quality SUP board. The 5-year warranty assures you that it will last a long time.
It is also a perfect yoga stand up paddle board. Read our review of the Bluefin yoga paddle board.
2. Gili Meno Vs Blackfin Model X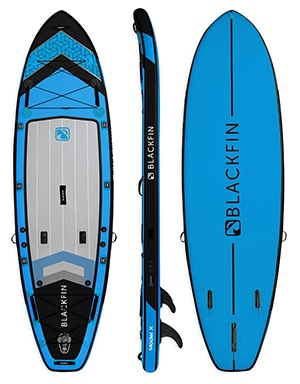 The Blackfin Model X measures 10'6 x 35" x 6". It is made using triple-layer composite PVC construction. It weighs 27 lbs and can hold up to 450 lbs.
Like the Gili Meno inflatable stand up paddle board, it comes with all the necessary accessories. The package includes a paddle, backpack, pump, leash, and a repair kit.
The Blackfin paddle has a carbon shaft and a nylon blade. Its backpack has wheels for easy transport.
This iRocker paddle board features 20 D-rings, a large traction pad, and a total of 8 action mounts.
Both paddleboards, the Meno and the Blackfin, feature durable construction which includes carbon rails. They have enough attachment points for anglers and their iSUP package is of high quality.
The Gili Meno, however, comes with a fin kit in the package, unlike the Blackfin.
The old Blackfin didn't have many color options. But the 2021 upgrade comes in summer blue, steel gray, regal blue, mossy green, ice gray, and berry pink.
The two stand up paddle boards come with a 60-day guarantee and a two-year warranty.
The Gili Meno would be great for you if you want a long SUP board, 11'6. You should also consider it if you want a fin kit in your package.
You will love the Blackfin paddle board if you want more color options.
The two SUPs have more similarities than they have differences. They are also both made by reputable companies. It all comes down to your personal preferences.
Gili Meno Inflatable Board: Final Thoughts
The Gili Meno is large and stable. It has a high weight capacity that can hold bigger paddlers or multiple riders. It is also quite light for its size, weighing only 24 pounds.
This is one of the best inflatable paddle boards for fitness enthusiasts, families, and even anglers.
The Meno package is amazing too. You get a premium wheeled backpack, high-quality pump, comfortable leash, and a carbon-fiber travel paddle. While most manufacturers stop there, Gili Sports throws in a fin kit.
This is a great deal!
Do you have any questions about the Gili Meno? Feel free to ask us below.