Whether it's for fishing, yoga, swimming, meditation, or just chilling out, you need a paddle board anchor when you want to remain stationary on your SUP.
I tested eight paddle board anchors and found the iRocker SUP Anchor to be the best overall. This grappling anchor is easy to carry yet strong enough to hold you in position.
The iRocker SUP anchor is made from hard-wearing galvanized steel and has a generous 64-feet of rope. It even includes a neat storage bag. Read more about the iRocker Anchor here
Not everyone is looking for the same things in a SUP anchor though. So, read on for some other options. I'm sure that one of the paddle board anchors below will work well for you.
Paddle Board Anchors Compared
The Eight Best Paddle Board Anchors
Check out this selection to find the best paddle board anchor for your SUP.
1. iRocker SUP Anchor – Best Overall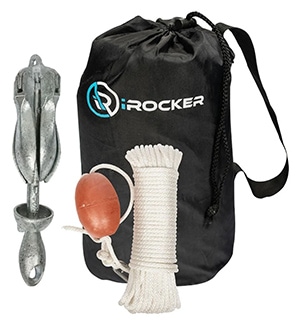 This grapnel anchor is perfect for securing your SUP. The iRocker pack includes 64-feet of rope which is the longest of any I reviewed. This makes it the best anchor here for deeper water.
While the 3.3 lbs weight isn't the heaviest, I liked how solid the anchor feels. It will hold your board perfectly on both sandy and rocky terrains. There is a stainless steel clip to attach to your board's D-ring. There's also an included buoy to make it easy to retrieve the anchor.
I especially liked the included storage bag. It has a drawstring to keep everything neat inside and a carry handle so you can sling it over your shoulder while you're walking down the beach.
2. Gili Grapnel Anchor Kit – Best for Style
Gili's 4-fluke folding anchor weighs 3.5 lbs, and you can use it for SUPs and other small watercraft. Unlike most other anchors, this kit is available in a choice of four colors. You can pick from silver galvanized or coated orange, green, or blue.
The grapnel comes with 30-feet of 7mm marine-grade rope. The rope is high-visibility yellow with the silver anchor and black with colored accents on the coated models. There is a durable stainless steel snap hook to attach to your board. There's also a PVC marker buoy.
There's a 5-liter dry bag that neatly holds the anchor and rope and stops water from leaking into your car at the end of the day.
3. Nixy Paddle Board Anchor
Our next best paddle board anchor choice is a galvanized steel grapnel anchor for paddle boards, jet skis, small boats, kayaks, and canoes.
The anchor weighs 3.5 lbs and is entirely corrosion-resistant. I found that the anchor collar was easy to use and smoothly slides to lock the four flukes in place when you are ready to stop.
40-foot of black dragline lets you anchor in medium and shallow waters, and the buoy ball makes it effortless to pull up.
The SUP anchor measures just 12" x 3" when closed and can be kept along with all the accessories in the included nylon storage bag.
4. Olivia & Aiden Folding Paddle Board Anchor
This portable folding grapnel anchor is ideal to stop your paddle board from moving in shallow waters. The anchor is made from galvanized metal to resist corrosion.
The grapnel itself weighs 3.5 lbs and comes with everything you need to use it with your SUP, canoe, or other small watercraft. There is 40-feet of ¼" anchor rope that has a buoy ball to help you to find your rope once you've detached.
In common with many grapnel anchors, I found that this anchor held my board well in a horizontal drag. The flukes did a great job gripping whatever they found on a rocky bottom.
There's a neat carrying case with the anchor kit to keep it tidy. The manufacturers offer a 60-day satisfaction guarantee, so you can return it if it's not what you need.
5. Best Marine SUP Anchor
This is a 3.5 lbs grapnel engineered from rust-resistant galvanized metal. In practice, it is easy to use and a good choice for your best paddle board anchor.
The anchor kit includes 40-foot of ¼" marine-grade rope and a 2" buoy ball. There's a good quality stainless steel clip to attach the rope to your SUP. I found that this was easy to use, even with cold hands.
The nylon storage bag is good for keeping all the parts together and has the bonus of protecting your SUP from damage from the anchor prongs.
Best Marine offers a satisfaction guarantee and says they'll give you a full refund if you're not happy.
6. Gradient Fitness Marine Anchor
The Gradient Fitness anchor is a four-fluke design grapnel anchor for small watercraft.
The drawstring bag means that everything stays together as you travel. The kit has 25 feet of 7mm diameter marine-grade rope, and there's a stainless steel snap hook to make clipping to your board easy.
This versatile anchor comes in a bright green finish. The manufacturer offers a 90-day satisfaction guarantee to ensure that you are delighted with your purchase.
7. MarineNow Portable Folding Anchor for SUP
This 3.5 lb grapnel anchor comes with 25 feet of anchor line, making it a good choice for shallow waters.
The grapnel is painted bright red. The included bag is sufficient to hold the anchor, the rope, and the float ball together. Unlike some bags, it has padding, which stops the anchor rattling on your board.
8. Attwood Folding Anchor
Our final best paddle board anchor choice is a straightforward grapnel anchor with a galvanized metal finish.
The kit includes 20 feet of rope and a mesh storage bag. It's worth knowing that a clip and float aren't included, so you'll have to add these for yourself if you want them.
The finish of the galvanized metal may be a bit rough. It's a good idea to keep this anchor inside its bag until you need it, particularly if you have an inflatable board.
Buying Guide: How to Choose the Right Paddle Board Anchor
Before you make your choice, let me take you through what to look for.
What Are The Different Types of Anchor for a Paddle Board?
Let's consider each design and how you can use them.
Grapnel Anchor
This is the most popular lightweight anchor for paddle boards. They are compact for transport and work on many different bottom compositions.
When extended, the four prongs resemble a four prong fish hook. They can hold you on sandy and rocky bottoms and oyster beds. It's generally best not to use them if there's heavy vegetation as they may get tangled.
Sandbag Anchor
Sandbag anchors are designed to reduce the weight that you need to carry with you. When you reach the beach, you fill the empty bag with sand and head off on your journey.
Sandboard anchors are good to use on sandy bottoms, but you need to take care of sharp rocks as they might tear the bag.
Corkscrew Anchor
A corkscrew is used to fix your board in very shallow water. They screw into sand or mud and provide a secure mooring. An excellent example of their use is for yoga classes which are made in shallow water over a soft bottom.
Mushroom Anchor
A Mushroom is great where there is vegetation as they won't get snagged. They are also convenient on inflatable paddle boards as you don't need to worry about any sharp edges damaging your board.
A mushroom anchor works well on a sandy or gravel bottom. They may get dragged in high currents or winds or where there are rocks as they don't have prongs to grab on.
When Might I Need an Anchor for My Paddle Board?
There are many reasons why you might want to anchor while paddle boarding.
SUP Fishing
When you've found the fish, you'll want to fix your board there so you can concentrate on casting and not keeping the board in position.
SUP Yoga
Yoga needs peace and stability for your downward dog. Anchoring makes sure you don't drift away and makes it possible to stay in the right direction for sun salutations.
Chilling Out
Anchoring means that you can relax without drifting too far from your starting point.
Swimming
If you want to be able to take a quick dip, then you need an anchor, so your board doesn't drift away.
Meditation
Meditation is a perfect example of needing a stable board to focus on the activity without having any concerns about drifting off.
Bird Watching
There's nothing more likely to scare away birds than frequent paddling. Anchoring means you can float in place quietly and get the best birdwatching opportunities.
Photography
Taking photos from a paddle board is tricky if your board is getting moved by the wind and waves. With your SUP securely anchored, you can focus on your shot.
How Do You Use a Paddle Board Anchor?
Before launching your anchor, clip or tie it to your board. Then unravel the rope so that it is free from snags.
On a grapnel anchor, lift the collar to allow the prongs to fall into their open position and then lock it down.
Throw the anchor away from your board, and then allow your SUP to drift back slowly. Tighten the rope a little to secure your position. Be careful not to try and pull too much line in if you are over a rocky bottom. You need the line to be pulling relatively horizontally so the anchor stays snagged.
What Material Is the Anchor Made Out Of?
Your anchor needs to be made from material that won't corrode. Galvanized metal is a great option. Painted finishes can also prevent rust, but you need to be careful not to chip the finish.
How Much Anchor Line Is Included?
Ensure that the included rope length is sufficient for your needs. Your rope length needs to be 7 to 10 times the water depth you will anchor in.
Does the Kit Include a Surface Buoy Float?
A surface buoy makes it easier to retrieve your anchor. It even makes it possible to leave the anchor in place and return to it later.
Does the Anchor Include a Clip, or Will You Need To Tie It?
A clip makes it simple to attach the line to your SUP. This could be a stainless steel carabiner or another type of stainless steel hook. You can tie the rope directly to a D-ring, but a clip is much easier.
How Much Does the Anchor Weigh?
Make sure the anchor is suitable for your board and its load. Generally, an anchor should weigh at least half a pound for every 100 pounds of total loaded board weight.
Is the Anchor Suitable for the Bottom Composition?
The grapnel anchor is the most versatile design of SUP anchors. However, different anchor types might be more suitable. For example, a mushroom anchor may be a better choice if there is a large amount of vegetation.
Paddle Board Anchor FAQs
Can You Anchor a Paddle Board?
Yes, you can anchor a paddle board to keep your board stable in one place.
When Might I Want to Anchor My Paddle Board?
You might want to anchor your paddle board for activities such as yoga, SUP fishing, photography, or just to take a rest.
How Heavy Should a Paddle Board Anchor Be?
An anchor should weigh at least half a pound for every 100 pounds of loaded weight.
Can You Anchor a Paddle Board in Deep Water?
Yes, you can anchor in deep water so long as you have a suitably long rope.
How Much Anchor Line Should You Use if the Water Is 20 Feet Deep?
You need seven to ten times the length of rope for the approximate water depth. Accordingly, for 20 feet depth, you need at least 140 feet of rope.
Conclusion
I found that the best paddle board anchor is the iRocker SUP Anchor. It has a galvanized finish and includes 64-feet of rope which is considerably more than the other anchors I looked at.
The iRocker anchor is suitable for most bottom compositions. It comes with a good quality storage bag to keep all its accessories together.
I've looked at some excellent anchors for your paddle board, but if you're not sure which one to choose, I recommend you check out the iRocker SUP Anchor.