This is a review of the Gili Air inflatable SUP.
The Gili Air is an affordable entry-level paddle board from Gili Sports. Unlike many paddle boards in this price range, its quality exceeds expectations. It is mainly a beginner board. But based on my experience, it is also an awesome budget intermediate SUP.
The Gili Air inflatable SUP is lightweight, stable, and easy to handle. It is a great choice for anyone looking to try paddleboarding. The size also makes the Gili a good youth SUP. It is responsive and light enough for anyone to carry.
Despite being incredibly lightweight, the Gili Air can handle 280 pounds. You can bring a dog or child along and the inflatable SUP will still be sturdy and stable.
Additionally, the paddle board comes with D-rings, action mounts, and bungee storage. These features make it a nice, versatile but affordable option for advanced paddlers.
This SUP may seem like a simple budget board but it has a lot of fascinating features. We are going to talk all about them in this Gili Air review, including the recent upgrades.
Is the Air Gili a good budget inflatable paddleboard? Read on to find out.
RELATED: What are the best cheap paddle boards of 2023?
Pros and Cons
Gili Air Paddle Board Specifications
Length: 10'6
Width: 31"
Thickness: 6"
Weight: 19 lbs
Weight Capacity: 280 lbs (advanced riders may exceed)
Who Should Buy the Gili Air Inflatable SUP?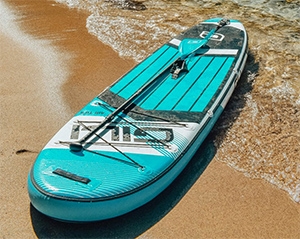 The Gili inflatable paddleboard is suitable for beginners, paddlers on a budget, adventurous SUPers, youth, and smaller paddlers.
Newbies typically want a paddleboard that is stable and affordable. SUP is easy to learn but an unstable paddle board can frustrate you.
With the Gili Air, you get stability and quality at a friendly price. You can even continue using it when your skills improve and you become a pro.
Stand up paddle boards can be expensive. You already know this if you have been browsing the internet looking for one. Although there are many cheap options, their quality is questionable.
I'd recommend the Gili Air to anyone who doesn't have a lot of money to spend on a SUP. You will get a quality paddleboard, with a two-year warranty from a company you can trust.
For youth and smaller paddlers, a big paddleboard may be too much to handle. It's a pain to carry around, especially when fully inflated. It also won't be easy to control when paddling.
The Gili Air's size is just right if you are on the smaller side, or if you want to buy an inflatable SUP for a teen.
Lastly, adventurous paddleboarders should consider the Gili Air 10'6. If you travel a lot, looking for new SUP spots, you'll need a compact and lightweight paddleboard. The Gili only weighs 19 pounds. You can travel with it wherever you want.
You can use the Air Gili to paddle a slow-moving river, ocean, or calm lake.
Features of the Gili 10'6 Inflatable Board
1. Performance
What can you expect when you take the Gili Air SUP board out to the water?
a. Stability
Being able to stand and paddle without falling takes practice and effort. An unstable SUP board makes it harder and can be frustrating, especially for beginners.
The Gili Air inflatable has amazing stability. While it is not the widest entry-level SUP out there, it is not tippy at all. The 31-inch width is actually great because it improves performance without hindering stability.
The thickness and construction also contribute to stability. Thicker, well-made paddleboards are sturdy. They don't flex, something that may cause the SUP to wobble. This is a common issue among some of the super cheap inflatables you see online.
Regardless of your experience level, you will be happy with how stable the Air Gili is.
b. Maneuverability
The weight of the Gili Air SUP may have you worried, more so if you expect to paddle in windy situations. It is easy for a lightweight vessel to be tossed around.
However, this paddleboard will surprise you. It is maneuverable and you will enjoy paddling it.
The Gili is responsive and turns quickly when you want it to.
c. Tracking
The Gili Air board tracks well. You won't have a hard time making it go straight when paddling.
A SUP board that tracks poorly is annoying because it will keep going off course. You will find yourself changing paddling sides more often than necessary.
The Air paddleboard comes with three fins: one center fin and two side fins. They help with tracking by keeping the tail in place when you push back water with your paddle.
The size of the Gili Air inflatable board is also helpful when it comes to tracking. It may not be as long and narrow as a racing SUP but it is just right for beginners.
d. Speed
Entry-level paddleboards are not usually designed for speed. For a SUP board to be super fast, it has to be very narrow and long. This shape is good for speed but reduces stability.
The Gili Air inflatable SUP tries to balance the two. At 31 inches, it is wide enough for stability, but not too wide that it becomes sluggish. An extremely wide paddleboard may be super stable but it faces more resistance, making it quite slow.
The Gili board is definitely not a racing SUP but it glides decently. You will have tons of fun cruising leisurely on the water.
2. Build Quality
So the performance of the Air Gili inflatable is great, for a beginner SUP, but is it a quality paddleboard?
Well, the inflatable board is constructed using military-strength PVC material over a dropstitch core.
Some people express concern over the fact that the Gili inflatable SUP is made using one PVC layer. Most reputable companies use two or more layers for extra rigidity and durability.
The Air 10'6 paddle board, however, is quite rigid. It inflates up to 15 psi and feels like a solid board once fully inflated. It can easily handle up to 280 pounds (300 pounds if you're experienced).
You won't have to worry about it flexing when you're trying to paddle. This is usually a problem with many single-layer construction paddle boards.
The biggest benefit of single-layer PVC is weight. As already mentioned, the Gili Air SUP board weighs 19 pounds only.
It is fun to paddle, carry around, and travel with it wherever you wish to go.
You also won't have to complain about dents and dings, thanks to the military-grade construction. The durability of the Gili Air inflatable is guaranteed.
To assure you of the board's quality, the manufacturer offers a two-year warranty. Some more expensive SUP boards only come with a one-year warranty.
ALSO READ: Are inflatable paddle boards worth the money?
3. Design
The Gili Air 10'6 inflatable comes in five colors for you to choose from: teal, blue, green, coral, and camo.
The camo SUP is unique and perfect if you want a board that stands out. All the other colors are gorgeous too, and some of them come with matching color accessories.
The Air has a turtle drawing at the bottom and the words, "Save Our Turtles".
The board also has a rounded nose that makes it more stable. This is especially useful when you have a dog or kid on board. They typically sit at the front and they can be restless. The added stability prevents the board from being too tippy.
4. Gili Air 10'6 Board Features
a. Fins
The Gili Air inflatable SUP board features a three-fin setup. It has one center fin and two small side fins.
All the fins are removable.
There are several advantages of having snap-in removable fins. You can change the setup to suit different paddling situations.
With all fins removed, the inflatable SUP board folds compact and fits nicely into the bag.
The fins help with tracking, stability, and maneuverability.
b. Deck Pad
The 10'6 Air traction pad is large and comfortable. In the 2021 upgraded version, they have added more grooves and extended the traction pad.
The deck pad ensures comfort when paddling. It also keeps you from sliding on the wet paddleboard.
Once you become a better paddler, you can try paddle board yoga. The traction pad also acts as a yoga mat.
c. Handles
Previously, the Gili Air inflatable paddleboard only came with two grab handles. It had a neoprene center handle and a nose handle.
The 2021 upgrade features an extra rear grab handle.
With the handles, you can comfortably carry your fully-inflated SUP across the beach and drag it into and out of the water.
d. D-Rings and Action Mounts
D-rings and action mounts make a paddle board more versatile. You can attach different accessories and use the board in different ways.
The Gili Air inflatable comes with enough D-rings for you to attach whatever you like. There is a six-point bungee storage area at the front and a four-point bungee at the back. The rear bungee storage is removable, in case you need to attach something else.
You can use the extra D-rings to attach a kayak seat.
The 2021 Air Gili 10'6 now comes with three action mounts. This is not a common feature in this price range. You can bring your action camera, rod holders, etc.
Lastly, there is a paddle holder, mounted on the side. No more worrying about losing your paddle.
e. Gili Air 10'6 Inflatable Package
As with most inflatable paddleboards, the Gili Air comes with everything you need to start paddling. The all-inclusive package includes a SUP backpack, hand pump, travel paddle, leash, and a repair kit.
i. Gili Air Backpack
The heavy-duty nylon bag is big enough to fit the Gili Air inflatable SUP and all your accessories.
It has padded waist and shoulder straps, making it easier to carry your board.
The 2021 SUP version comes with a redesigned bag. It features more pockets, including a fin pocket. It also looks much better than the old backpack.
ii. Gili Air Paddle
The paddle is made of aluminum with a nylon blade and is adjustable 64 to 86 inches. It breaks down into three pieces for storage and transport.
The aluminum paddle is a little disappointing. The Gili Air is such a nice paddle board. It would have been great if it came with a fiberglass paddle.
Aluminum is heavy and less efficient when paddling.
However, you can choose to have a fiberglass paddle in your package when buying your Air Gili 10'6.
iii. Gili Air Pump
The dual-action manual pump is sturdy and high-quality. It is easy to use and will definitely last long.
The hand pump will quickly inflate your Gili Air to the recommended 12 to 15 psi. You will be done in less than 10 minutes.
The manual pump works well, but you can always upgrade to a SUP electric pump.
iv. Gili Air Leash
The 10-foot coiled Gili leash is comfortable and fits all ankle sizes.
Optional Accessories
The accessories that come with your Air Gili 10'6 paddle board are a must-have to get started with paddle boarding.
Gili Sports offers other optional accessories that could make the experience safer and more fun.
They include:
Electric paddle board pump
Paddle board anchor kit
Kayak conversion kit (seat and extra blade)
SUP carry straps
Paddle board cup holder
Waterproof dry bag
Waterproof phone case
Action camera GoPro adapter
Gili Air 10'6 Warranty
Gili Sports have no doubt that you will love this paddle board. So you get a 60-day guarantee. If you don't like the Gili Air 10'6 you can return it for a full refund.
The inflatable paddle board also comes with a two-year warranty.
For people buying a SUP board for the first time, this is a good deal. You have 60 days to try it out.
Company Review – Gili Sports
The Gili Air inflatable paddle board is made by Gili Sports.
The company was started by Jay Reagan. He has always been a watersports enthusiast for as long as he can remember. Paddle boarding and surfing are some of his favorite water sports.
When he discovered the inflatable paddle board, he realized that he could offer a quality product to fellow paddle boarders. And through his company, he could also help save the world's oceans.
That is how Gili Sports was born.
Every time you buy a Gili paddle board, a percentage of the money goes to saving the oceans.
In addition to offering quality SUP products and helping preserve the environment, Gili also has amazing customer support.
What Users Are Saying about the Gili Air
If asked, I'd say that the Gili Air paddle board is a fantastic SUP. But it is nice to see what other paddlers think.
So I searched through the internet for other users' reviews and comments on different platforms.
Here is what they have to say.
This Redditor wanted help picking out a beginner paddle board. He was looking for a cheap quality iSUP. So he asked other users for suggestions.
Many people gave their opinions.
teajayyyy replied saying that he owns the Gili Air 10'6 and it is worth it. It is solid and he has been having fun surfing small waves with it. The pump that came with his Air Gili was faulty but Gili Sports sent him a new one.
Another beginner was looking for a nice entry-level paddle board. He planned on paddleboarding on lakes and rivers. He was also hoping for something affordable.
This paddler replied saying that he'd never paddled before. He bought the Gili Air 10'6 and he loves it.
Elsewhere…
Beth writes saying she has used her Gili Air 10'6 twice so far. Once fully inflated, "it is perfect"–her words.
She loves her Gili inflatable SUP because she lives in an apartment and it doesn't take up a lot of space.
Mandy noticed a leak in her Air Gili after using it for a few months. She contacted Gili Sports and they sent her another one. She commends their customer service and couldn't recommend them enough.
Before buying her first inflatable SUP, Karen thoroughly researched her options. She finally decided to go with the Gili Air 10'6. She contacted Gili Sports and they answered all her questions.
Manually inflating this iSUP was easier and quicker than Karen expected. She also has no problem carrying it even when fully inflated. She loves her Gili Air and she recommends it to anyone who cares to listen.
Gili Air 10'6 Alternatives
How does the Gili Air compare to the iRocker Nautical, another awesome entry-level SUP?
Gili Air iSUP Vs iRocker Nautical 10'6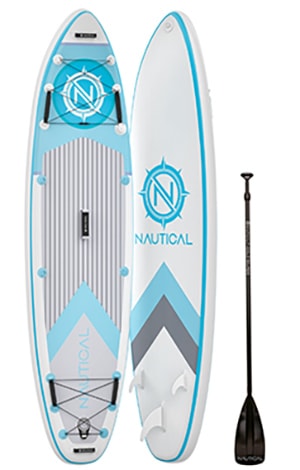 The Nautical 10'6 is iRocker's entry-level paddleboard. It measures 10'6 x 32" x 6".
The paddle board is constructed using dual-layer military-strength material. It is extremely sturdy and can hold up to 240 pounds. The SUP has a one-year warranty.
The Nautical inflatable comes with everything you need to get started paddle boarding. It includes a fiberglass paddle, backpack, dual-action hand pump, leash, and repair kit.
The paddleboard features three removable fins, D-rings, bungee storage, and grab handles, just like the Gili Air.
The 2021 version also comes with an action mount.
When you look at their features, the Air Gili and the Nautical are the same in many ways. They are even almost the same size.
The Gili 10'6 is narrower by an inch and may, thus, be slightly faster. The Nautical, being wider may be more stable. The difference, however, is hardly noticeable.
While the Gili Air paddle is made of aluminum, the Nautical paddle is made of fiberglass. The latter is lighter and easier to use.
Getting a fiberglass paddle in your Gili package will cost you more.
Both paddleboards offer color options. But the Air has some unique colors that you won't get with the Nautical or many other SUPs.
The iRocker Nautical SUP doesn't come with action mounts. It may limit people who want to attach gear. The Gili Air has three action mounts–which is amazing.
Another difference is seen in the construction of these paddleboards. The Nautical uses dual-layer construction while the Gili Air uses single-layer construction.
In many cases, more layers translate to a sturdier and more durable board. But Gili Sports have backed the Air with a two-year warranty to show you that it is reliable.
The Nautical would be ideal for the paddler who wants a slightly wider paddle board. You may love it if you are a total beginner who isn't confident in their SUP skills.
You should also consider the Nautical if you prefer a lighter fiberglass paddle and a premium backpack. The 2021 Nautical bag can be converted into a wheeled bag.
The Gili Air would be suitable for someone who is looking for affordable versatility. With the D-rings and action mounts, you can use your Gili Air in multiple ways.
It is also a good choice for those who want unique colors. Camo and coral are not common inflatable board colors.
Gili Air Inflatable Board: Final Thoughts
Is the Gili Air inflatable paddle board any good? Yes, it is.
The Air Gili is lightweight and stable. It is a good beginner paddle board as it is fun and easy to paddle. Smaller or teen paddleboarders won't have a problem carrying it around. Its weight also makes it perfect for those who hike/travel with their paddleboards.
The Gili comes with everything you need to get started paddleboarding. Its package includes a pump, paddle, bag, leash, and repair kit. Get a life jacket and you'll be good to go. If you are looking to save money, this package is a great deal.
Lastly, the Gili Air is tough and reliable. Unlike many iSUPs in this price range, it features quality materials and construction. The PVC used is military-grade and it holds up well. You can be adventurous without having to worry about dings and dents.
Besides, it comes with a 60-day guarantee and a two-year warranty.
So check it out. This might be the perfect inflatable paddle board for you.
Do you have any questions or comments about the Gili Air SUP? Feel free to leave a comment below.