This is a review of the iRocker All Around 11′ stand up paddle board.
Years ago, a lot of the inflatable paddle boards were quite specialized. Luckily now we have great all around boards that are diverse enough to use in different situations or bodies of water; like this fantastic inflatable SUP from iRocker boards.
I found the iRocker All Around 11' inflatable paddle board to be a fantastic package that can do just about anything you could care to try. It's a super stable platform that you can use for all types of SUP boarding.
In addition to wanting a versatile board, I'm also tall and, yes, could stand to lose a few pounds. I used to worry about the SUP being capable of carrying me securely. This is another reason that the iRocker SUP All Around 11' is so great. It's 11' long, so there is plenty of room for me and whatever cargo or passengers I bring.
This longer board also has a very high maximum weight capacity of 435 lbs, so I don't need to have any concerns about it not being able to manage.
I love the high-quality complete equipment package that comes with the board. In particular, the dual-chamber pump which makes inflating the SUP to the required pressure a breeze.
I think the iRocker All Around 11' is a fantastic choice for anyone who wants a "do anything" board. There's plenty of room to take passengers or pets. If you are taller or heavier, it can carry you safely without affecting the boarding experience.
Will the iRocker All Around 11' be the right SUP for you?
Read on to find out.
iRocker SUP All Around 11' Pros and Cons
iRocker All Around 11′ Board Specs
| | |
| --- | --- |
| Length | 11′ |
| Width | 32″ |
| Thickness | 6″ |
| Board Weight | 26 lbs |
| Weight Limit | 435 lbs |
Who Should Buy the iRocker All Around 11' Paddle Board?
This is an excellent choice if you're looking for a solid board that can cope with most conditions. The iRocker All Around 11' works well at flat water paddling in lakes and marinas but it can also stand small waves, choppy water, or perform in small surf.
The iRocker inflatable board is excellent for larger paddlers over 5'8" tall, but it's worth noting that iRocker also offers the All Around 10', a smaller board to cater to shorter paddlers.
The 11' x 32" footprint means that you have plenty of deck space if you're looking to carry extra passengers without exceeding the weight limit. The All Around 11 is also ideal for anyone looking at boards with a high weight capacity (435 lbs).
The iRocker All Around board has excellent maneuverability, stability, and speed. This makes it suitable for both beginners and experienced paddlers.
There are both nose and tail storage areas and plenty of d-rings for securing items like a paddle board deck bag or an accessory like the iRocker kayak seat. So this is an ideal choice for anyone wanting to carry extra gear. Overall the iRocker All Around 11' is a solid choice for most novice to intermediate paddlers.
iRocker All Around 11' Stand Up Paddle Board Features
Let's take an in-depth look at the features that make the iRocker All Around 11' such a great choice.
1. Excellent Quality Construction
I was really impressed with how well-built this board is – iRocker makes all their boards to a high standard with quality materials and the All Around 11' is no exception.
Military-grade, triple-layer construction PVC is used for the skin, so you can be sure that it will be highly durable. The drop stitch core is high density meaning that the SUP is very rigid when inflated.
2. Warranty and Satisfaction Guarantee
iRocker backs up the excellent build quality with a 2-year warranty which is longer than many manufacturers. This means you can be sure that the All Around 11' will last you a long time.
iRocker also provides a 60-day satisfaction guarantee which means that if you don't like the board for any reason, you can return it for a full refund; meaning you can choose this board with confidence!
3. Suitable for the Taller or Heavier Boarder
The iRocker All Arounds 11' x 32" footprint and higher weight capacity mean that you can use it for a wide range of activities. If you happen to be a taller or heavier boarder like me, you don't need to worry.
The longer than average length makes for a stable board that's comfortable when paddling, no matter your height. The maximum weight limit of 435 lbs is one of the highest you'll find on any equivalent inflatable SUP. So whatever you want to carry, the board will give you more weight capacity than smaller boards without any problems.
4. Versatile Board Design
The All Around 11' is one of the most versatile boards you can buy. Its shape makes it stable in almost all paddle environments so it is an excellent choice for beginners.
You can choose this board knowing that you'll be solid on the traction pad just as well in a little chop or surf as you are on a flat water lake. The flip-lock fins help the board to track and glide smoothly.
The extra length gives plenty of room for both you and extra passengers so if you want to take the kids or the dog along, you can. It also means that if you want to try out some SUP yoga you have plenty of room to stretch out.
The All Around is perfect for almost any SUP activity you can think of. If you feel like trying some SUP fishing then you have the space you need to move while still having enough for your cooler and fishing rod holder. You could also try sitting down with the easily fitted available kayak conversion kit.
5. Excellent Capacity for Cargo and Accessories
All the onboard space that I've told you about wouldn't be as valuable if iRocker didn't provide you with ways to secure your cargo and paddle board accessories. Thankfully, to enhance the board's "do anything" concept, there are several storage options.
There are bungee locations at both the board's nose and tail, which are a safe and secure place to keep your vital dry bag, water bottle and flip flops. These are each secured by six d-rings which you can also use to clip on other items.
A further six d-rings are mounted in the middle of the board. These are ideal for securing a cooler box or can be used for attaching iRockers kayak seat if you feel like taking a seat.
In addition, there is an ankle leash d-ring at the tail. There is also one at the nose for towing or securing the board at the dock. There is also one on the underside of the nose that is great for tying an anchor.
Finally, there are two action mount fittings mid-board and two at the nose that you can use for any standard action accessory. This could be your action camera, Bluetooth speakers, fishing rod holder, or even cup holders.
ALSO READ: Why are stand up paddle boards so expensive?
6. Comes With a Complete SUP Equipment Package
This kind of versatile SUP attracts many new SUPers. It's accordingly great to see that the iRocker All Around 11' comes with all the necessary accessories to get you out on the water. Even experienced boarders will be happy with the high quality of all the gear. Plus, it's always nice to have everything matching your new board.
a. Wheeled Backpack Bag
As an upgrade for 2021, iRocker has included a new premium bag for storing the SUP and all its accessories. The bag is backpack style and has comfortable cushioned straps for when you need to carry the gear. The significant improvement is that the bag has sturdy wheels as well. Now you can easily tow your equipment behind you, which is a bonus when traveling.
The bag has pockets for all the various accessories along with extra spaces for your personal belongings. There are handles all over the bag to make moving it easy. iRocker has even thought to include a handy external bungee. This is great for carrying the pump when changing location and not packing everything away.
b. Carbon Matte iRocker Paddle
Another 2021 upgrade is the fully adjustable carbon iRocker paddle. The full-carbon matte paddle shaft makes it incredibly light at just 28.8 oz. I found that this helps stop you from getting tired when paddling long distances.
The paddle has a nylon blade, and this is highly durable and resists damage even when I was a little clumsy. It's also great to know that the paddle will float just in case you have an accident.
c. Pump
The twin-chamber pump included with the All Around 11' is one of the best I've ever seen. While I do love the ease of using the iRocker electric pump, there are some circumstances where this isn't possible. Your manual backup must be up to the job, and this is a full-throttle pump.
The 24" triple action hand pump is as easy as it gets to inflate a board manually. There's an integrated pressure gauge to tell you when you're ready to hit the water. I found that it took just 7 minutes to get the triple layer PVC board filled. That's nearly as fast as an electric pump!
If you want an electric pump, then it's worth knowing that iRocker offers theirs at a discount when you purchase your board. You can check out our guide to the best electric pumps here.
d. Fins
The All Around 11 comes with three removable fins (one center fin and two side fins). I found that these really make the board track and glide well.
The fins use iRockerS flip-lock technology and are really easy to swap in and out as you need them. The only downside is that this means you can't use standard US-fin box accessories. However, iRocker offers a full range of different fins, so you will be able to get the ideal one for your particular needs.
e. Ankle Leash
A high-quality ankle leash is included to ensure that your board doesn't float away if you accidentally fall off.
The leash has a comfortable ankle strap padded with neoprene and easily adjustable to fit any ankle. The coil itself is heavy-duty and stretches to up to five times its length. Once released, the leash will coil back to reduce its size. This makes sure that it doesn't trail in the way as you paddle and cause drag or tangles.
Usefully, iRocker has included a key pocket in the ankle strap so you can keep your all-important house key safe no matter what you get up to on the water.
f. Repair Kit
Finally, iRocker has included a repair kit so you can fix any minor damage in the field. It comes with several different patches, but you will need to buy glue locally due to shipping restrictions. There is also a hand wrench tool to tighten the air valve as required.
7. Great Range of Colors
I really like the range of colors that the iRocker All Around 11' comes in. Everyone will find something that they want from the choice of six that covers:
Blue
Teal
Aqua
White
Orange
Gray
8. Great Deck Pad
The non-slip deck pad on the iRocker All Around 11' is grooved to shed water and provides very high levels of grip.
The padding is incredibly comfortable standing, kneeling, or sitting, so you don't need to worry about board fatigue being a problem.
9. Handles
Many boards come up short when it comes to handles but not the iRocker All Around 11'. As well as the standard center carry handle, there are also handles at the board's nose and tail. These make managing the board easy. All handles are padded for comfort.
There are also integrated safety handles fitted to the front bungee area. These are a great addition. If you have brought along a young passenger, they provide a secure place for them to hold on while sitting on the front deck pad.
It's well worth knowing that the side d-rings on the iRocker All Around 11' are available to fit a shoulder-carrying strap. This is an excellent bonus if you have to carry the board a long way.
What Users Are Saying About iRocker Paddle Boards
As you've worked through this board review, you've probably realized that I think that the iRocker All Around 11 is a fantastic inflatable SUP.
To see how other users thought this great board performs, I scoured the internet and found many highly positive paddle board reviews.
Reddit user "smakkythecamel" said that "I love it… Support has been responsive and friendly. The board is solid, portable and so much fun."
Another Reddit user "Kingrex123" added that the iRocker All Around 11' was "my first board, but it seems really stable and tracks well." He said that all the accessories were "good quality for the money" and that "I am really happy with my purchase."
iRocker All Around 11'Alternative Inflatable Paddle Boards
There are many other boards on the market that you might also want to consider. The following are two of the very best versatile SUPs that I think are well worth looking at before deciding if the iRocker All Around 11 is for you.
1. iRocker All Around 11 vs iRocker Cruiser 10'6" Stand Up Paddle Board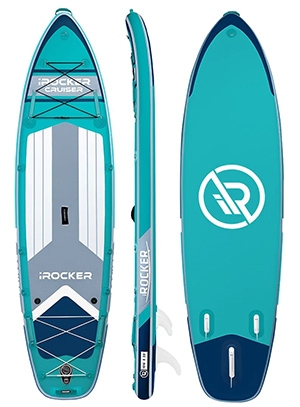 The iRocker Cruiser 10'6" is another awesome inflatable SUP from the same stable as the All Around 11.
The Cruiser comes with the same high manufacturing quality standards and materials as the All Around. There is a complete accessory kit that is identical and the same two-year warranty and 60-day satisfaction guarantee.
So what are the differences between this and the All Around 11'? Firstly, the Cruiser is 6" shorter than the All Around and is 33" wide with a broader tail. This gives the Cruiser less in common with touring boards and more focus on stability for beginners.
iRocker says that the Cruiser is the steadiest inflatable SUP on the market, and indeed it performed very well when I tried it for on-water yoga.
The Cruiser is an excellent beginner board that can grow with your experience. The differences between the All Around are subtle and mainly focus on the Cruiser having slightly less space. You'll also find that the All Around gets better speed and is more manageable over distance.
Finally, the iRocker Cruiser has a weight capacity of 400 lbs which, while significant, is less than the All Around 11's.
2. iRocker All Around 11 vs Atoll 11' 2021 Stand Up Paddle Board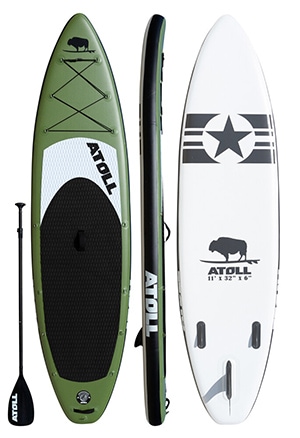 The Atoll is one of our favorite multi-use SUPs, and like the All Around, it is also 11' long by 32" wide. The weight limit is 400 lbs, which is less than the All Around but the same as the Cruiser. However, Atoll says that it has been tested with over 700 lbs.
A standout feature of this board is that it weighs only 19 lbs. On the face of it, this sounds fantastic compared to the All Around at 26lbs.
Some of this difference comes from Atol using dual-layer PVC rather than the triple-layer that iRocker uses. Atoll notes that their material is the strongest and lightest iSUP material available.
The Atoll 11' paddle board comes with a complete accessory kit similar to what you get with the All Around. The backpack travel bag is well made with solid zippers and excellent padding, but unfortunately, it doesn't come with wheels. The included pump is dual-action, but only a single-chamber design, so it will take you longer to fill this board, meaning an electric pump is recommended.
Like the All Around 11', there is an excellent carbon fiberglass paddle with a nylon blade that can take a kayak blade attachment. Unlike the iRocker SUP, Atoll uses a standard US-Fin box center fin, so you can readily change the fin for commonly available options.
There are similar numbers of d-rings to attach gear, including an available kayak seat kit. However, the Atoll doesn't have the All Arounds action mounts.
The Atoll 11' is a great board with a wonderful combination of speed, maneuverability, and stability. Many users like its more muted design and colors, and it is one of my favorite multi-use boards.
Conclusion
If you're looking for a versatile inflatable stand up paddle board, I strongly recommend the iRocker All Around 11'.
It's perfect for taller paddlers, and you don't need to have any concerns about weight limits, thanks to its 435 lb weight capacity.
This is a board that you could use comfortably in a variety of water conditions and has plenty of space to bring along passengers and cargo. The All Around also has the room to try activities like SUP yoga or fishing.
The iRocker All Around 11' is exceptionally well made and comes from a reputable company. It includes a two-year warranty and a 60-day satisfaction guarantee so you can purchase in confidence.
I strongly suggest that you check it out for yourself right away.